In this edition of Romance Rewind we would like to introduce you to some extremely hot men.  They're all bad boys, reformed but not confined to a good boy mold.  They are now the Wild Riders, a somewhat secret group that takes on special assignments and some government work.  Oh and did I mention they're all hot bikers? The Wild Riders series is erotic romantic suspense and when I say erotic I mean turn on the air conditioner and get a tall glass of water because you might start sweating.  Hot, action packed, suspenseful.  If you haven't read them, you have to!
RIDING WILD
Wild Riders # 1
by Jaci Burton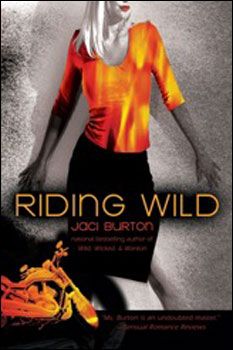 He's a Harley-riding ex-thief…she's a gun-toting ex-socialite. Together they'll take the ride of a lifetime in this erotic romance from "an undoubted master."*
Mac Canfield was the last man Lily West expected to see again, never mind aim her gun at. But there he was, the bad boy who'd broken her heart years ago – still a thief, hijacking a priceless artifact – and it was all she could do to push aside the memories of how it felt to have his perfectly chiseled body next to hers.
Mac was no less shocked to see the beautiful girl next-door again, threatening to shoot him. Little did she know she was blowing his cover. He had to get her out of harm's way without succumbing to his desire to take her on a hot trip down memory lane.
But Lily has no intention of going anywhere with Mac, which means he'll have to resort to kidnapping. Unless she agrees to let him take her for the kind of ride destined to drive them both unbelievably wild.
"This was the wild life, the madness she's always wanted, needed with Mac.  No one else had ever been able to give it to her.  Only Mac could give her what she craved."
Purchase Links: Amazon
RIDING TEMPTATION
Wild Riders # 2
by Jaci Burton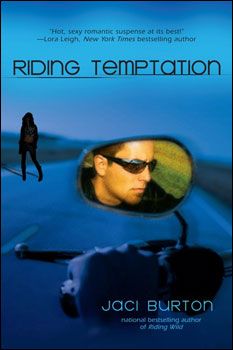 From the national bestselling author of ?wickedly naughty?(Romance Junkies) erotic romance comes the latest scorching Wild Riders novel.
He's a biker working undercover for the Feds. She has reasons of her own for joining the Wild Riders. Together, they?re burning up the asphalt and tearing headlong into danger and passion?
The guys always thought of Jessie as their kid sister, except Diaz Delgado. The past few years he?s been watching her?and Jessie?s glad somebody is. Delgado?s dark good looks and killer body have tempted her since day one. Diaz?s unbrotherly urges have been hard to fight but the last thing he wants is to hurt Jessie. But when they both go undercover with killer survivalists, he knows it?ll be hard to keep his distance?especially when the mission takes a risky turn. Now Diaz has no choice but to open himself up to the one woman strong enough to take him on.
"Oh, he noticed.  All the wrong things.  Like her curves.  Her breasts.  Her long legs and sexy voice.  Her mouth.  Her laugh and her quick wit.  She made his dick hard.  And he'd known her since she was a kid.  Yeah, he noticed her all right.  He'd tried to avoid her since her eighteen birthday when she turned those gorgeous green eyes on him in a way that made his balls quiver.
She was smart – too damn smart for her own good.  Jessie was one hellaciously sexy package that he couldn't touch.  She made him crazy.
He wasn't going to survive this assignment."
Purchase Links: Amazon

RIDING ON INSTINCT
Wild Riders # 3
by Jaci Burton
"Hot, sexy, romantic suspense at its best"(New York Times bestselling author Lora Leigh) from the national bestselling author of Riding Temptation.
Department of Justice agent Shadoe Grayson is out to prove she's no rookie, and eagerly accepts her first undercover assignment at a strip club in New Orleans. Working with the Wild Riders, a government agency of bad boy bikers, her goal is to expose a corrupt DEA agent. All she has to do is learn to strip like a pro.
Standing in Shadoe's way is arrogant and smokin' hot Spencer King, her new partner and one of the Wild Riders. Spence thinks she looks more like a schoolteacher than a stripper, and doubts her ability to do the job. But when he mockingly challenges Shadoe to strip just for him, he finds out there's more to the surprisingly sexy agent than by-the book rules and Government Issue pantsuits…
"You heard me." He pulled the chair around and sat in it.  "I'm a paying customer.  Strip for me."
Spence's gaze followed her, and she teased him with a roll of her hip near his shoulder, barely grazing him.  Emboldened by the sudden flash of heat in his eyes, she took it further, dragging the hem of her T-shirt up, baring the skin of her belly.
Purchase Links: Amazon
Wild Riders # 4
(in Nauti and Wild anthology)
by Jaci Burton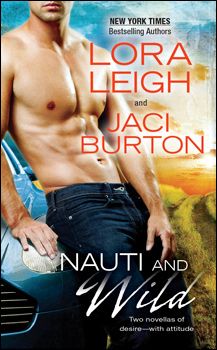 Two bestselling authors join forces in this pair of new stories of hot men, fast motorcycles, and the women who ride both.
They ride into town straddling 73 cubic inches of throbbing horsepower, and hook up with the kind of women made for high speed handling…
#1 New York Times bestselling author Lora Leigh revisits her sultry Southern landscape with a story of a good girl gone bad. But she's not the only one going down that road…
Jaci Burton, the national bestselling author of Riding Wild and Riding Temptation, lets loose in a story of a hot biker hired to keep an eye on the reckless daughter of a Nevada senator. She's hooked up with a rival biker gang–a dangerous move that makes the wild beauty more vulnerable than she imagined…
Ava blinked, forcing her eyes to adjust to the sudden light.  Rick stood in front of her, bare-chested, his jeans unzipped all the way.  She swallowed – or tried to – but found nothing to coat her throat.  Da-yum.  The man before her was a god, pure and simple.  Tall, well muscled, bronzed, and gorgeous, with the kind of wicked smile that could make a woman hope and pray that he was thinking about her.  Her gaze traveled down his chest, the wall of muscle at his abdomen, to the dark line of hair that led down to the hidden place where his jeans lay open.
Purchase Links: Amazon
Wild Riders # 5
by Jaci Burton
AJ and Pax are undercover operatives for a government agency of bad-boy bikers known as the Wild Riders. 
While AJ is visiting Teresa, a high school sweetheart, a fight erupts in her bar between two biker gangs. One man is left dead and Teresa's brother is wrongly accused of murder. 
With no proof and Teresa as the only eyewitness, AJ, Pax, and Teresa point their Harleys toward the annual bike rally in South Dakota in hot pursuit of the real killer, and Teresa discovers a passion that brings both men to their knees.
A normal woman would have died to be in the same room with these two men.

A normal woman would have.
Purchase Links: Amazon
NAUTIER AND WILDER
by Lora Leigh and Jaci Burton
Two hot talents. Two new novellas. One big sexy package.
From the authors of Nauti and Wild come two all new novellas. Lora Leigh returns to the sexy world of her New York Times bestselling Nauti series, while Jaci Burton revisits the scorching setting of her Wild Riders series.
Latest posts by Under the Covers Book Blog
(see all)