World Cup Fever: Soccer Romance Recommendations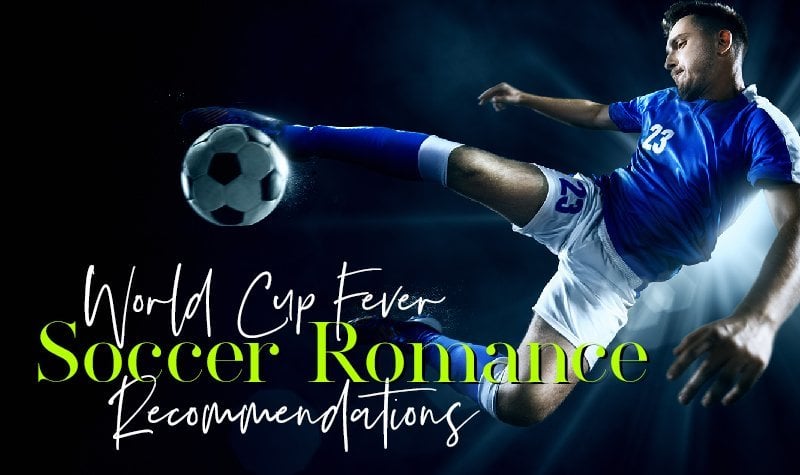 Every four years my regular life comes to a stop and hours of time get invested into watching the World Cup.  It's been a tradition in my house since forever.  I can vividly remember screaming at the TV back in 1994 when Roberto Baggio missed his penalty in the final match.  Or the joy when Italy finally won again back in 2006 and Mauro Camoranesi cut his ponytail right on the field after.  Lets not talk about the fact that the Italy team didn't even qualify this year, because that's a rant for another day.  In case you haven't noticed, Italy is my team (I was born there after all) and some of my first celebrity crushes were Italian soccer players (I'm thinking about you, Fabio Cannavaro).  So it was really no surprise that I would seek out soccer romances to read!  I've put together a list of my recommendations for you today, so that you can feed your World Cup Fever and get ready for those final matches this weekend.
In no particular order…
The Player by Claire Contreras
This is a standalone novel set in NYC mostly and features a fiery Latin heroine who has no clue who the hot guy chasing after her is because she doesn't really follow soccer.  Warren is determined to get Camila to pay attention to him so he agrees to see New York on her budget.
[new-release title="The Player" author="Claire Contreras"]
One Good Man by Emma Scott
If you are looking for something short to quench that soccer thrist, then look no further than this standalone novella.  Set in 1970 Paris.  Janey wants to be a true journalist and talk about real issues.  Make a difference during times when Vietnam is going on.  Instead she gets shipped off to Paris by her father and she's assigned an interview with cocky soccer star Adrien.  There's so much more to this story than a simple playboy jock and I loved uncovering that along with Janey.  Full of chemistry and emotion.  Previously published in Team Player anthology.
[new-release title="One Good Man" author="Emma Scott"]
Kulti by Mariana Zapata
You could call this a student teacher romance because Kulti, the big time soccer player, is coming to coach Sal's team for the season.  But this is more than a hot for coach story.  Kulti is Sal's idol from ever since she can remember.  Idol worship level.  If you like your heroes a bit on the jerk side, you'll eat this stuff up.  This is a standalone novel and I love the fact that the active soccer player is the heroine.
[new-release title="Kulti" author="Mariana Zapata"]
Challenge by Amy Daws
Why settle for a standalone when you can sink your teeth into a full series about soccer stars?  Challenge is the first book in a soccer romance series about the Harris brothers. If you love reading about sports/athlete families, then you won't want to pass this one up.  Plus there's quite a bit of humor in this one!  There was also a short story from this series  in the Cocktales anthology which is the wedding of the couple in this first book.  And coming up soon, a two part story (book 4 and 5) releasing July 19 and August 2.
[new-release title="Challenge" author="Amy Daws"]
Scoring Wilder by R.S. Grey
While I admit this isn't my favorite of the bunch, it's also the youngest of the recs.  In age, I mean.  This is a standalone novel about a nineteen year old soccer player that wants to make the Olympic team and, similarly to Kulti, a professional soccer player is brought in to make sure they make it.  Hot for Coach Wilder.  If you are in the mood for a new adult story, then go for this one.
[new-release title="Scoring Wilder" author="R.S. Grey"]
For the Win by Sara Rider
If what you're looking for is to immerse yourself in the sport, Sara Rider is your choice.  I only read this first book but with both main characters in this one being professional soccer players and playing at the same stadium, you'll get no shortage of game talk.  But don't get scared, is just the perfect balance.  The pacing is great, the romance and chemistry are sizzling.  Definitely a sports series that should be on your list.
[new-release title="For the Win" author="Sara Rider"]
Love, in English by Karina Halle
I figured why not stretch it a bit.  This one isn't soccer centered but the hero is an ex pro soccer player, so I had to mention it here. Plus he's a Spaniard!  And yes, he's also married with children and falling in love with someone else.  I really enjoyed this story with a little of taboo.
[new-release title="Love, in English" author="Karina Halle"]
Have you read a good soccer romance?
Share it with us in the comments below!
 ♡ Don't want to miss any of our posts? ♡ 
Latest posts by Francesca
(see all)