World Cup Fever: Soccer Romance Recommendations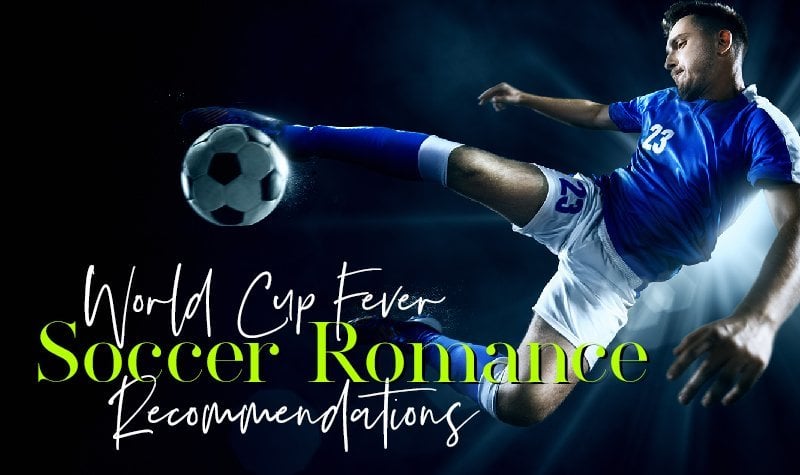 Every four years my regular life comes to a stop and hours of time get invested into watching the World Cup.  It's been a tradition in my house since forever.  I can vividly remember screaming at the TV back in 1994 when Roberto Baggio missed his penalty in the final match.  Or the joy when Italy finally won again back in 2006 and Mauro Camoranesi cut his ponytail right on the field after.  Lets not talk about the fact that the Italy team didn't even qualify this year, because that's a rant for another day.  In case you haven't noticed, Italy is my team (I was born there after all) and some of my first celebrity crushes were Italian soccer players (I'm thinking about you, Fabio Cannavaro).  So it was really no surprise that I would seek out soccer romances to read!  I've put together a list of my recommendations for you today, so that you can feed your World Cup Fever and get ready for those final matches this weekend.
In no particular order…
The Player by Claire Contreras
This is a standalone novel set in NYC mostly and features a fiery Latin heroine who has no clue who the hot guy chasing after her is because she doesn't really follow soccer.  Warren is determined to get Camila to pay attention to him so he agrees to see New York on her budget.
Released:
October 10th 2016
Genre:
Contemporary Romance
Published by
EverAfter Romance
Pages:
320
I'm naturally gifted on the field and between the sheets. With flashy cars and enough media attention to put the Royal Family to shame, I'm the definition of Most Eligible Bachelor.

I've never met a man who doesn't want to be me or a woman who doesn't want to tame me. Until I meet Camila.

From the moment I lay eyes on her, I know I have to have her.

She wants to keep me at arm's length.
I want her naked in my bed.

She thinks our worlds are too different.
All I want her to think about is screaming my name.

She says I'm bad news.

I have three weeks to prove her wrong.
One Good Man by Emma Scott
If you are looking for something short to quench that soccer thrist, then look no further than this standalone novella.  Set in 1970 Paris.  Janey wants to be a true journalist and talk about real issues.  Make a difference during times when Vietnam is going on.  Instead she gets shipped off to Paris by her father and she's assigned an interview with cocky soccer star Adrien.  There's so much more to this story than a simple playboy jock and I loved uncovering that along with Janey.  Full of chemistry and emotion.  Previously published in Team Player anthology.
Released:
April 19 2018
Genre:
Historical Romance
It's spring, 1970. The Vietnam War has been raging for years with no end in sight. Janey Martin, a California college student and aspiring journalist is tired of writing puff pieces about her university men's sports teams. She wants to be taken seriously as a journalist and as a woman. With riots at their doorstep, her wealthy father sends Janey to the Sorbonne in Paris to finish her college education away from the chaos.

Janey is reluctant to leave the Big Story that is Vietnam, but vows to prove herself. Much to her dismay, her first assignment is to interview the hotshot star forward of a local soccer team. Janey is sure Adrien Rousseau is going to be like every other playboy jock she's ever dealt with, but quickly learns there is much more to Adrien than meets the eye.

The mysterious, sexy footballer just might be the biggest story of Janey's life.

First published as part of the Team Player anthology, releasing as a standalone with bonus, extended epilogue, April 19th!
Kulti by Mariana Zapata
You could call this a student teacher romance because Kulti, the big time soccer player, is coming to coach Sal's team for the season.  But this is more than a hot for coach story.  Kulti is Sal's idol from ever since she can remember.  Idol worship level.  If you like your heroes a bit on the jerk side, you'll eat this stuff up.  This is a standalone novel and I love the fact that the active soccer player is the heroine.
Released:
March 20 2015
Genre:
Contemporary Romance
Pages:
570
"Trust me, I've wanted to punch you in the face a time or five."

When the man you worshipped as a kid becomes your coach, it's supposed to be the greatest thing in the world. Keywords: supposed to.

It didn't take a week for 27-year-old Sal Casillas to wonder what she'd seen in the international soccer icon - why she'd ever had his posters on her wall or ever envisioned marrying him and having super-playing soccer babies.

Sal had long ago gotten over the worst non-break-up in the history of imaginary relationships with a man who hadn't known she'd existed. So she isn't prepared for this version of Reiner Kulti who shows up to her team's season: a quiet, reclusive shadow of the explosive, passionate man he'd once been.
Challenge by Amy Daws
Why settle for a standalone when you can sink your teeth into a full series about soccer stars?  Challenge is the first book in a soccer romance series about the Harris brothers. If you love reading about sports/athlete families, then you won't want to pass this one up.  Plus there's quite a bit of humor in this one!  There was also a short story from this series  in the Cocktales anthology which is the wedding of the couple in this first book.  And coming up soon, a two part story (book 4 and 5) releasing July 19 and August 2.
Released:
September 23, 2016
Genre:
Contemporary Romance
Published by
Self Published
He's her patient. She's his doctor. They shouldn't. But God, do they want to.

Camden Harris, the famously hot, hulk of a footballer is laid up in a London hospital. But his busted knee doesn't stop him from running his well-practiced game on Indie Porter—his redheaded spitfire of a doctor. She's not his type, not even close. But she could be the perfect distraction from the soul-crushing damage this injury could cost him.

Indie's tired of her naivety putting a target on her back. As a gifted child, she's let her education take the front seat her whole life. But a fling with a footballer like Camden might be just what she needs to grab life by the balls.

And he could be the perfect guy for the plan she's been sitting on for over two years.

But when feelings make a final play, there's no amount of medicine that can heal the damage to their hearts.
Scoring Wilder by R.S. Grey
While I admit this isn't my favorite of the bunch, it's also the youngest of the recs.  In age, I mean.  This is a standalone novel about a nineteen year old soccer player that wants to make the Olympic team and, similarly to Kulti, a professional soccer player is brought in to make sure they make it.  Hot for Coach Wilder.  If you are in the mood for a new adult story, then go for this one.
Released:
June 15, 2014
Genre:
Contemporary Romance
Published by
R.S. Grey
Pages:
402
What started out as a joke— seduce Coach Wilder—soon became a goal she had to score.

With Olympic tryouts on the horizon, the last thing nineteen-year-old Kinsley Bryant needs to add to her plate is Liam Wilder. He's a professional soccer player, America's favorite bad-boy, and has all the qualities of a skilled panty-dropper.

• A face that makes girls weep – check.
• Abs that can shred Parmesan cheese (the expensive kind) – check.
• Enough confidence to shift the earth's gravitational pull – double check.

Not to mention Liam is strictly off limits . Forbidden. Her coaches have made that perfectly clear. (i.e. "Score with Coach Wilder anywhere other than the field and you'll be cut from the team faster than you can count his tattoos.") But that just makes him all the more enticing…Besides, Kinsley's already counted the visible ones, and she is not one to leave a project unfinished.

Kinsley tries to play the game her way as they navigate through forbidden territory, but Liam is determined to teach her a whole new definition for the term "team bonding."

A fun & sexy New Adult Romance (age 17+)
For the Win by Sara Rider
If what you're looking for is to immerse yourself in the sport, Sara Rider is your choice.  I only read this first book but with both main characters in this one being professional soccer players and playing at the same stadium, you'll get no shortage of game talk.  But don't get scared, is just the perfect balance.  The pacing is great, the romance and chemistry are sizzling.  Definitely a sports series that should be on your list.
Released:
June 6th 2016
Genre:
Contemporary Romance
Published by
Pocket Star
Pages:
336
What happens when you fall for your biggest competition? Sara Rider scores with this charming romance about soccer stars battling their tough opponents and playing the field of love.

Lainey Lukas has sacrificed everything—sleep, family, carbs, a life—to earn her spot as the top player and captain of the Seattle Falcons women's soccer team. She's determined to lead her team to a national championship and finally earn the sport the respect it deserves—and nothing will throw her off her game. When Lainey's hero Gabe Havelak, star of the Seattle Surge, crashes her team's first press conference—making the Falcons look like a joke to the local media and humiliating Lainey in the process—she's hell-bent on revenge.

Charming, confident Gabe is practically a god to Seattle soccer fans, but he doesn't mind a little friendly competition from tough-as-nails Lainey, with her top-notch athletic skills, her mile-long legs, and her girl-next-door freckles. But when he learns the Falcons are booting the Surge from their coveted practice space to the notoriously cursed Cricket Field, those warm feelings give way to crippling superstition. With his contract up for renewal and his thirty-fourth birthday just weeks away, Gabe will risk anything to protect his position with the Surge.

The rivals agree to settle their differences in a Battle of the Sexes competition—a test of skills, fitness, and willpower. At first the situation seems win-win: Gabe gets the chance to earn back the Surge's practice space, and Lainey's team will finally get some much-deserved media attention. But as the friction between them becomes hot enough to spark and smolder, Lainey and Gabe are entering new territory—and with both of their careers on the line, love might just be the toughest opponent of all.
Love, in English by Karina Halle
I figured why not stretch it a bit.  This one isn't soccer centered but the hero is an ex pro soccer player, so I had to mention it here. Plus he's a Spaniard!  And yes, he's also married with children and falling in love with someone else.  I really enjoyed this story with a little of taboo.
Released:
April 20th 2014
Genre:
Contemporary Romance
Series:
Love in English #1
Pages:
439
He's thirty-eight. I'm twenty-three.

He speaks Spanish. I speak English.

He lives in Spain. I live in Canada.

He dresses in thousand-dollar suits. I'm covered in tattoos.

He's married and has a five-year old daughter.

I'm single and can't commit to anyone or anything.

Until now. Because when they say you can't choose who you fall in love with, boy ain't that the f*#king truth.

***

To a restless dreamer like Vera Miles, it sounded like the experience of a lifetime. Instead of spending her summer interning for her astronomy major, she would fly to Spain where she'd spend a few weeks teaching conversational English to businessmen and women, all while enjoying free room and board at an isolated resort. But while Vera expected to get a tan, meet new people and stuff herself with wine and paella, she never expected to fall in love.

Mateo Casalles is unlike anyone Vera has ever known, let alone anyone she's usually attracted to. While Vera is a pierced and tatted free spirit with a love for music and freedom, Mateo is a successful businessman from Madrid, all sharp suits and cocky Latino charm. Yet, as the weeks go on, the two grow increasingly close and their relationship changes from purely platonic to something…more.

Something that makes Vera feel alive for the first time.

Something that can never, ever be.

Or so she thinks.
Have you read a good soccer romance?
Share it with us in the comments below!
 ♡ Don't want to miss any of our posts? ♡