Our heroes have fought and won their first round and now emerge bloody and delightfully sweaty for the next round in our Saints vs Sinners battle. Today, we pit the fearsome, yet saintly Jamie Fraser from Diana Garbaldon's Outlander series against the extremely naughty sinner Javier Bernal from Karina Halle's The Artists Trilogy and Dirty Angels. They both emerged victorious last time, but who will manage to fight their way to the final?
Jamie Fraser vs Javier Bernal
#TEAMSAINT: Jamie Fraser
Coming in from the first round of battles by kicking Barrons ass with 54.23% of the 485 votes, is our #TeamSaint Jamie Fraser!
I wanted to start off by saying that Jamie Fraser is an amazing book boyfriend.
As a matter of fact, James Alexander Malcolm Mackenzie Fraser (JAMMF) is an absolute SAINT.
If you're unfamiliar with JAMMF, let me fill you in on all the reasons I think he should be at the top of your book boyfriend list.
First off, he's a hot, Scottish, ginger-headed Highlander.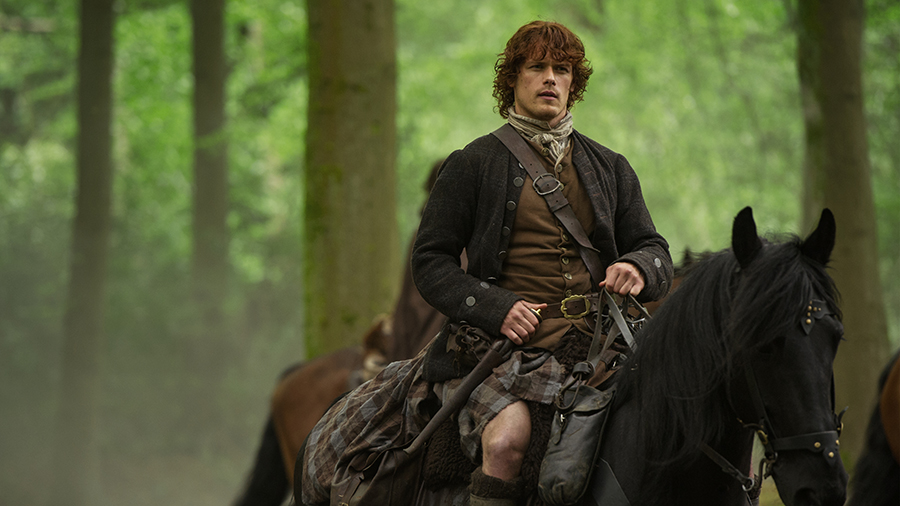 Oh, and he wears a kilt. So, score!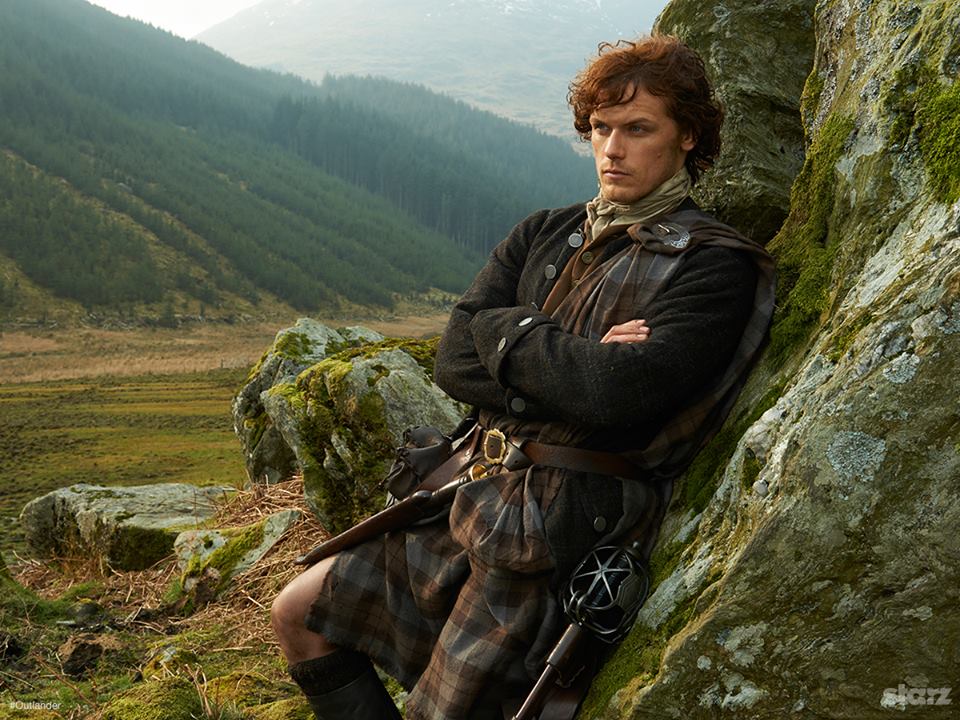 He's good with his tongue, er…I mean he speaks several tongues…*swoon*
He speaks English, Gaelic, French, and dabbles into Italian & Chinese (which you'll find in the later books in the Outlander series).
He's also an absolute wordsmith. He knows just what to say to make you feel all the things: protected, cherished, loved, and yes, turned on.
Let me break it down by pulling some Jamie Fraser quotes found throughout the series:
He's here to protect you…
"There is an oath upon her," he said to Arch, and I realized dimly that he was still speaking in Gaelic, though I understood him clearly. "She may not kill, save it is for mercy or her life. It is myself who kills for her."

"You are safe," he said firmly. "You have my name and my family, my clan, and if necessary, the protection of my body as well. The man willna lay hands on ye again, while I live."
He'll make you swoon whenever he vocalizes his undying love for you…
"If ye were no longer there—or somewhere—" he said very softly, "then the sun would no longer come up or go down." He lifted my hand and kissed it, very gently.
"When the day shall come that we do part," he said softly, and turned to look at me, "if my last words are not 'I love you'-ye'll ken it was because I didna have time."
"You are my courage, as I am your conscience," he whispered. "You are my heart—and I your compassion. We are neither of us whole, alone. Do ye not know that, Sassenach?"

"If I die," he whispered in the dark, "dinna follow me. The bairns will need ye. Stay for them. I can wait."
"Your face is my heart Sassenach, and the love of you is my soul"
He knows just what to say to get your juices flowing…
"Aye, verra good. Now then, if ye'll just put your hands above your head and seize the bedstead—"
"And I mean to hear ye groan like that again. And to moan and sob, even though you dinna wish to, for ye canna help it. I mean to make you sigh as though your heart would break, and scream with the wanting, and at last to cry out in my arms, and I shall know that I've served ye well."
"Does it ever stop? The wanting you?"
"Even when I've just left ye, I want you so much my chest feels tight and my fingers ache with wanting to touch ye again."
I rest my case.
~ Stephanie at No BS Book Reviews
[new-release title="Outlander" author="Diana Gabaldon"]
#TEAMSINNER: Javier Bernal
Without taking a break between bloodshed, #TeamSinner Javier Bernal comes to us after defeating Acheron with an astounding 71.06% of 311 votes!
When it comes to Sinners, Javier Bernal from Karina Halle's The Artists Trilogy and Dirty Angels series, is hands down one of THE baddest sinners in the contemporary romance/suspense world. Some may think that being fascinated and obsessed with Javier is unhealthy – even sick – but we like to think of it as living on the edge. Javier definitely has a unhealthy does of evil in hum, but he possessed many characteristics that would wipe the floors clean with the Saints.
Here's a few reasons why you should be voting #TeamJavier and #TeamSinner:
1.) He's challenging and mysterious – Being with Javier will never be boring. You will never know what the bastard has up his sleeves and you're always on your tows waiting to see what evil things he's going to do next. You think you've figured him out and then the next second he surprises you will his evil ways.
"She needed to appreciate the art of violence, the beauty in fear, the fragility of her own life."
2.) His loyalty is unwavering – The man might be a certifiable psycho, but his loyalty to the people he loves is unwavering. He'll lie, cheat and kill for the ones he loves and will have no remorse for what he's done as long as the people he loves is protected. He's definitely that guy you want on your team when shit hits the fan.
"You have me, my black heart and my dirty soul."
3.) He's a badass with feelings – Just because he's a ruthless drug lord doesn't mean he doesn't feel. The man feels emotions down to his bones and is not afraid to pour his heart out, to cry, and plead for the love he desperately needs.
"I hated her and I still loved her. And if I dwelled on it anymore it was going to tear me apart. But maybe I needed to be torn apart, just for a minute, because I deserved shit just as much as she did."
4.) He empowers his women – Javier Bernal is the King of his world and he wants nothing more than a worthy Queen to rule with him. He'll walk through hell and back, and destroy anyone for his Queen and will do it with a sinister smile on his face.
"She had become my family, my confidante, my lover, my friend. She had become everything to me, in bed and outside of it. But she was a weakness, my weakness. She was what the world would go after next, the last thing I could possibly lose. Unless I lost her first."
5.) He is a Sinner and a Saint – It might be hard to believe, but it's true. Javier is a man that wears many masks. He isn't bad all the time. Yes, he is a murderous, drug dealing bastard at times, but when he isn't, he is tender, caring, loveable and uber protective. He's got his moments of goodness in a world full of shit, and deep down, he just wants to build  a family of his own. Something that's his and something that he will protect till the day he dies.
"When Javier was cruel he was brutal, but when he was tender, it was almost more disarming."
When it comes to find a guy who will ride or die for you, Javier Bernal is definitely the man you want to make that journey with. Why have a sweet and boring book boyfriend when you could have the cocky, psychotic bastard who will worship you and share his kingdom with. So, if you're willing to live dangerously with a nefarious drug lord, vote for #TeamSinner and Javier Bernal.
~ Debbie, Ali and Tiffany from  Black Heart Reviews 
[new-release title="Dirty Angels" author="Karina Halle"]
START VOTING!
Semi Finals will be Friday and Saturday  and you have to get your votes in for both between those days.  Another semi final battle will post tomorrow so be sure to check in to make your vote count.
The Final Battle will be Sunday!
[polldaddy poll="9130063″]
 ♡ Don't want to miss any of our posts? ♡ 
Follow Under the Covers: Facebook | Twitter | Tsu | GoodReads | Email 
Latest posts by Under the Covers Book Blog
(see all)