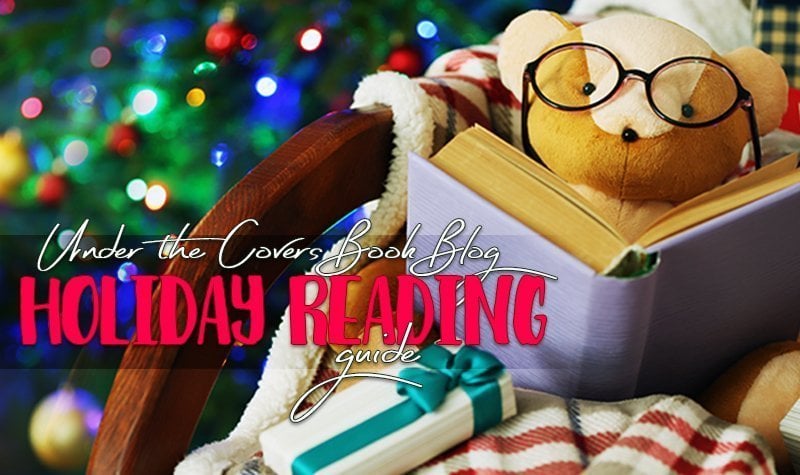 Can you believe it?! It's the time of year again. When the weather is getting colder and you finally get to utilise your vast collection of chunky scarves, where chocolate for breakfast is not only acceptable but encouraged and when we can finally crack open all those fantastic seasonal reads full of holiday magic. We've already been delving into the plethora of Christmas books and we thought we would give you some of our favourites. All of them are perfect for curling up by the Christmas tree and dreaming of mistletoe kisses, so if you are in the mood for some holiday reading, check out our recommendations below!
CHRISTMAS WISHES AND MISTLETOE KISSES by Jenny Hale
This is certainly the most unexpected one for me this year and maybe my favorite?  I was swept off my feet!  I mean look at that cute cover!!!  But the book and the romance in this story is endearing and heart warming and the author has a way of wrapping you up in all that seasonal magic.  There's a grouchy billionaire, a single mom, an adorable little boy and plenty of decorations.  Sweet and adorable!
MERRILY EVER AFTER by Jenny Holiday
This is a novella about the couple that was getting married in the first book of the Bridesmaids Behaving Badly series.  Don't let the fact that it's part of a series deter you if you haven't read the books yet.  This can be enjoyed as a standalone and then you'll want to read more about the rest of the gang!  But back to these two.  I was happy to see a rocky marriage story with a little holiday cheer.  While this one may be a little less festive than some others on this list it's still a very sweet addition and will end up leaving you all warm and fuzzy.  Because what's sweeter than a Christmas wedding with some snow?
MISTRESS CHRISTMAS by Lorelei James
Didn't want to leave out the steamier reads and while this book came out YEARS ago I never got the chance to read it.  I was very excited to see that it was available on audiobook.  If you are a fan of the Rough Riders, you know their tamer cousins the West boys.  This is the first book in that spin off (and a spin off I always hold out hope that will expand).  MISTRESS CHRISTMAS is a stripper but she's out sick and the club owner has asked her accountant friend to replace her for a few days because Mistress Christmas is a staple of the club.  While doing her few days stint and parading around in a sexy outfit she meets sexy cop and West boy, Nick.  And the one night of passion that comes from that will have you fanning yourself all the way.
HOW THE DUKES STOLE CHRISTMAS by Tessa Dare, Sophie Jordan, Sarah MacLean and Joanna Shupe
When it comes to holiday stories, I have the biggest soft spot for historical romances.  They just make me smile.  This anthology is the so perfect that if you only pick up one book you may as well consider this one.  First of all…. amazing HR authors.  But besides that the 4 stories have a connecting thread of shortbread cookies and certain magic they can carry.  Who knows, you may find a new favorite author!
KISS ME AT CHRISTMAS by Valerie Bowman
Mixing historical romance, holiday cheer, a sexy Bow Street Runner and an indecent proposal that he takes the heroine's virginity before she has to marry someone she's been somewhat forced to.  This has a slight edge of mystery and danger and certainly some adorable characters you'll enjoy reading about.
*Musical Intermission*
THE CHRISTMAS SISTERS by Sarah Morgan
Switching things up for a women's fiction novel that will take you to the snowy capped Highlands.  A story about family connection and love, and also family drama.  Expectations, obligations, life changes.  It's an uplifting novel in a way that Sarah Morgan does really well!
ALL I WANT FOR CHRISTMAS IS A COWBOY by Jessica Clare
A sexy cowboy and a city girl stranded with him after a car crash left her with amnesia.  This is adorably sweet and will fulfill all your Christmas Cowboy wishes.
MY GIFT IS YOU by Rachel Lacey
If you are looking for a good guy and a more rugged hero, then this is the one for you.  The main characters were each others' first back in school but never developed a relationship after.  He always thought she was the one who got away.  Then she hits a bird while driving on the highway and him being a Wildlife rescuer comes… well to the birds' rescue!  A really cute second chance story!
Check out our previous years recommendations: 2017 | 2016 | 2015| 2014 | 2013 | 2012 | 2011
What are your holiday recommendations?
 ♡ Don't want to miss any of our posts? ♡ 
Latest posts by Under the Covers Book Blog
(see all)