Prime Mating Agency Series by Regine Abel: Guide, Reading Order and Review
What am I always in the mood for? Sci fi alien romance, the more alien or monster like the hero, the better. And Regine Abel delivers this in spades in her Prime Mating Agency series. Today I am going to give a general overview of the series and then do a mini review of each of the books.
Before I start talking about the individual books in the series, I am going to give a brief over view so you know what to expect when going in. Don't worry, I will avoid spoilers!
This post contains affiliate links. That means we receive a small commission at no cost to you from any purchases you make through these links
What is the Prime Mating Agency series about?
The Prime Mating Agency is a galactic match making service that tries to give arrange perfect matches. However, there is an underlying benevolent agenda, they want to help "primitive" societies reach their full potential. What better way to do this then to pair up the leaders of these societies with soulmates who also happen to have just the skills they need?
Each book in the series features an alien hero, each one completely different and a human heroine who turns to the Prime Mating Agency as a last resort. But, despite most of the heroes monster like appearance this isn't a dark series. Even though all the heroes look completely different, they have one thing in common; they are complete marshmallows for their heroine.
A lovely little add with the Prime Mating Agency series is that at the back of the book, there are illustrations of the hero. It's just a small thing, but I love seeing if how I have imagined the hero is similar to the drawing.
This series is available on Kindle unlimited
Series Reading Order and buy links
Lets breakdown the books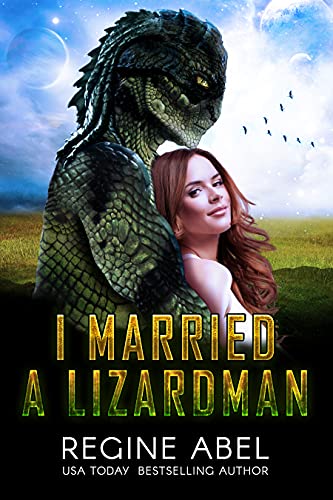 I Married A Lizardman by Regine Abel
The book that started the obsession! This one has grumpy-sunshine vibes and I really enjoyed how the romance built up. Plus, the more monster romance and alien romance books I read, the more I find myself gravitating to the lizardman hero…I think I've found my kink!
I Married A Naga by Regine Abel
I have read a few snake alien books now. It's not something I really expected I would enjoy. And yet…I do. Admittedly this isn't my favourite in the series, but that's more personal preference rather than it being "worse" in some way than the other books.
I Married A Birdman by Regine Abel
A couple of the books have a fated mates story, and this is one of them. The hero knows on sight that the heroine is his soul mate and is fully prepared to fall instantly in love. The heroine is pretty on board as well…I imagine you can guess the rest. I really liked this one, the hero was so lovely…and he cooed!
I Married A Minotaur by Regine Abel
This one was my favourite in the series. The hero was a mix of minotaur and orc. He was fierce and big and all I wanted to do with give him a cuddle. I really like how the hero and heroine were working together to achieve something and falling in love along the way.
I Married A Merman by Regine Abel
Merfolk seem to be really popular at the moment. And I get it, especially if this book is to judge by! This was another fated mates story and our hero was a complete cinnamon roll. Although one of my favourite scenes was what the hero and heroine's first met, it awkward and adorable and made me love them all the more.
I Married A Dragon by Regine Abel
I am a sucker for a nerdy, awkward hero, which is why I loved this book. Although our hero looks fierce and is a mighty warrior, he's hella awkward around our heroine. Raised in relative isolation our hero isn't sure how to act around women. His honesty and eagerness to please was so lovely especially against his scary appearance.
in conclusion
These books are great if you want to tip your toe in the monster romance or alien romance genre but don't want anything too dark or extreme. Because, at heart no matter what the appearance of the characters, these are sweet romance between characters who have their hearts wide open.
If you want more…
Pin it for later