There are many things I love about being a reader, one of those things is seeing what covers that authors put out. Some of them are beautiful, some of them are cheesy and some are just downright odd. But, I love seeing all my favourite covers sitting pretty on my book case. But, not all books live up to the promise given by their covers. So, I have scouted out all my favourites from 2018 and some favourites of the other girls and put together a list of all our top picks which have a fantastic cover to match!
Burn Bright
by Patricia Briggs
#5 Alpha & Omega series
Patricia Briggs does the best covers, but she's really out done herself with Burn Bright. I love the yellow flowers and vines twinned round the fierce looking wolf trying to protect the red headed woman. The hand drawn look is beautiful and I have happily bought this book just to have it decorating my shelf. But, the cover isn't the only reason to buy this book, the Alpha and Omega series is fantastic and this instalment was action packed and exciting, with a twist I never saw coming.
Released:
March 6th 2018
Genre:
Urban Fantasy
Pages:
384
They are the wild and the broken. The werewolves too damaged to live safely among their own kind. For their own good, they have been exiled to the outskirts of Aspen Creek, Montana. Close enough to the Marrok's pack to have its support; far enough away to not cause any harm.

With their Alpha out of the country, Charles and Anna are on call when an SOS comes in from the fae mate of one such wildling. Heading into the mountainous wilderness, they interrupt the abduction of the wolf–but can't stop blood from being shed. Now Charles and Anna must use their skills–his as enforcer, hers as peacemaker–to track down the attackers, reopening a painful chapter in the past that springs from the darkest magic of the witchborn…
Add series to GoodReads   Read our reviews of this series  Get on Amazon
Saving Askara
 by J.M. Link
It can be said that some of the sci fi alien romance books have some very dodgy covers. It doesn't matter I love them anyway and the really cheesy ones make me smile. However, Saving Askara has such an eye catchingly pretty cover it became one of my favourites of 2018. I love the picture of the galaxy in the background, full of light and stars. Then there is the central figure of the intriguing looking male silhouetted against the universe. How could I not pick this up? And I am glad I did, it is one of my favourite reads of 2018.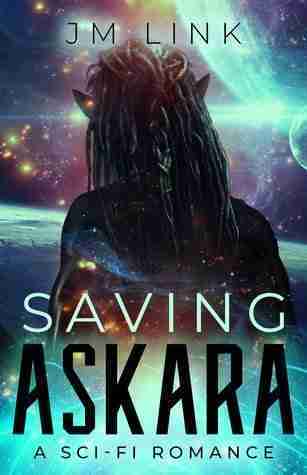 Released:
February 5th 2018
Genre:
Sci Fi
Series:
Askara #1
Victoria's day starts out like any other aboard the transorbital ship, Phoenix. Such is the life of an emergency medicine specialist in the age of "post-discovery". Sure, she had always dreamed of interacting with intelligent extraterrestrial life- the real thing, not those microbes on distant moons. Who wouldn't? She was still happy with her career, however mundane and demanding it might be. That's what it took to run a ship the size of a small city smoothly. Monotony. But all that changes one morning, and suddenly she's not so sure she didn't stick her foot in it...

Be careful what you wish for.

***
Escape had been their only drive, and even death was preferable to the alternative. But they never thought their flight for freedom would put them in an uncharted system. Forced to interact with an isolated world and its inferior, albeit curious people. When it affords them an unforseen and unprecedented opportunity to take back their world from those who seek to destroy them, however, Aderus begins to wonder if it wasn't fate. Earth's proposal is shocking and uncomfortable for a fierce, independent race that relishes in their solitude. But the more he learns of humans, the more he comes to admire and respect them. One, in particular.
Add series to GoodReads   Read our reviews of this series  Get on Amazon
Gunslinger Girl
by Lyndsay Ely
There's something about a drawn cover that I love, they always seem so much prettier. With Gunslinger Girl the pose of the girl is eye catching and mysterious, it especially stands out with the splash of a purple sky and the city in the background. The whole set up makes me want to read and find out who she is and what she's doing.
Released:
January 2nd 2018
Genre:
Young Adult
Published by
Jimmy Patterson
Pages:
432
James Patterson presents a bold new heroine--a cross between Katniss Everdeen and Annie Oakley: Serendipity Jones, the fastest sharpshooter in tomorrow's West.

Seventeen-year-old Serendipity "Pity" Jones inherited two things from her mother: a pair of six shooters and perfect aim. She's been offered a life of fame and fortune in Cessation, a glittering city where lawlessness is a way of life. But the price she pays for her freedom may be too great....
In this extraordinary debut from Lyndsay Ely, the West is once again wild after a Second Civil War fractures the U.S. into a broken, dangerous land. Pity's struggle against the dark and twisted underbelly of a corrupt city will haunt you long after the final bullet is shot.
Add book to GoodReads   Read our reviews of this series  Get on Amazon
Dr. Strange Beard
by Penny Reid
#5 Winston Brothers series
I love the covers for the Winston Brother series and Dr Strange Beard is no different. Much like the books themselves the covers are quirky and a lot of fun. The hand stitched look really makes this cover stand out from the crowd.
Released:
July 30th 2018
Genre:
Contemporary Romance
Series:
Winston Brothers #5
Hunches, horse races, and heartbreak

Ten years after Simone Payton broke his heart, all Roscoe Winston wants is a doughnut. He'd also like to forget her entirely, but that's never going to happen. Roscoe remembers everything—every look, every word, every single unrequited second—and the last thing he needs is another memory of Simone.

Unfortunately, after one chance encounter, Simone keeps popping up everywhere he happens to be . . .

Ten years after Roscoe Winston dropped out of her life, all Simone Payton wants is to exploit him. She'd also like some answers from her former best friend about why he ghosted her, but if she never gets those answers, that's a-okay. Simone let go of the past a long time ago. Seriously, she has. She totally, totally has. She is definitely not still thinking about Roscoe. Nope. She's more than happy to forget he exists.

But first, she needs just one teeny-tiny favor . . .
Add series to GoodReads   Read our reviews of this series  Get on Amazon
The Devil's Revolver
by V.S. McGrath
#1 The Devil's Revolver series
I just LOVE this cover. I know it's not to everyone's taste but I love how fiercesome the girl looks. With her teeth showing in a grimace of rage and her gun up, you just know it's about to get bloody. And, that's about right. This is a gritty YA western with a twist of magic, it's a unique and interesting idea and a fantastic book.
Released:
September 5th 2017
Genre:
Young Adult
Series:
The Devil's Revolver #1
She is Hettie Alabama — unlikely, scarred, single-minded, and blood bound to a revolver forged by a demon.

The first book in an epic, magic-clad series featuring the Wild West reimagined as a crosscultural stereoscope of interdimensional magic and hardship, The Devil's Revolver opens with a shooting competition and takes off across the landscape after a brutal double murder and kidnapping — to which revenge is the only answer. Hettie Alabama, only seventeen years old, leads her crew of underdogs with her father's cursed revolver, magicked to take a year off her life each time she fires it. It's no way for a ranch girl to grow up, but grow up she does, her scars and determination to rescue her vulnerable younger sister deepening with every year of life she loses.

A sweeping and high-stakes saga that gilds familiar Western adventure with powerful magic and panoramic fantasy, The Devil's Revolver is the last word and the blackest hat in the Weird West.
Add series to GoodReads   Read our reviews of this series  Get on Amazon
A Choice of Secrets
by Barb Hendee
#4 Dark Glass series
This whole series has beautiful covers, but A Choice of Secrets is my favourite. I love how feminine and pretty it is. Most of it being a subtle peaches and cream with a splash of purple with the text. So, although its isn't the most eye catching cover in this list, I just love the delicate prettiness of it.
Released:
November 13th 2018
Genre:
Fantasy
Series:
Dark Glass #4
Published by
Rebel Base Books
Pages:
304
Ever since raiders from the north began attacking villages, Lady Nicole Montagna has known that defending her people would come at a cost. The betrothal of her sister Chloe to a neighboring lord seems the perfect solution, forging a powerful alliance. But shortly before the wedding, Nicole is shocked to discover that her sister is with child—and not by her husband-to-be. Now she must make a choice. She has just hours to decide . . .

~Should she tell her soldier brother—who will take swift, ruthless action to ensure the family's safety?

~Should she hold her tongue, let her sister deceive her husband into believing the child is his—and then hope Chloe can get away with the lie?

~Should she tell her family, hoping they will know the right thing to do?

With the help of a magic mirror, Nicole lives out each path, fighting to protect herself and those she loves with the weapons she has: wits, herbs, and fortitude. But no matter her cleverness, neither she nor her family can escape unscathed—for there are repercussions she could never have foreseen, involving her own heart . . .
Add series to GoodReads   Read our reviews of this series  Get on Amazon
Imperator
by Anna Hackett
#11 Galactic Gladiator series
Although I love a cover with beautiful artwork I can't deny that my eyes always snags on covers with some beautiful man titty. I can't help it, those abs and gorgeously muscled arms call to me. And Imperator is my favourite half-naked-men covers of 2018. Not only does it have the aforementioned abs and arms, but he looks all battle scarred, tattooed and dangerous. Yum. This is actually the last book in the Galactic Gladiator series and what a fantastic ending it was! If you want some action packed sci fi with some strong heroines and sexy heroes then you need to give this a try.
Released:
July 8th 2018
Genre:
Sci Fi
Series:
Galactic Gladiators #11
Space station security specialist Sam has done one thing since her abduction by alien slavers…fight to survive. But now one strong alien gladiator stands at her side and Sam knows she is no longer alone.

Thrust into a lawless desert arena, Sam Santos has done terrible things in order to stay alive. As the Champion of Zaabha, she's been fighting to find a way out. Everything changes when the Imperator of the House of Galen sacrifices his freedom to help her. The hard-bodied, fierce man has vowed to help her escape, but getting out of Zaabha is only the first deadly task they face.

Galen was bred to be a royal bodyguard and protect his prince. With his planet now destroyed, he's grown powerful and forged his wealthy gladiatorial House on the desert planet of Carthago. All Galen knows is honor, service, and sacrifice. Now his life depends on working with one battle-hardened woman of Earth as they fight together to survive. But Sam Santos is not what he expected. Tough, yes. A brilliant fighter, for sure. But there is a softer side to the woman as well. And Galen finds himself irrevocably drawn to all of Sam's captivating facets.

Then they uncover a devious plot by the Thraxians that could bring down the foundations of the Kor Magna Arena and all they hold dear. Galen and Sam will stop at nothing to defeat the evil alien slavers, even if it means war. In amongst the fighting, Sam may finally show a man who lives for everyone else, that he deserves more than just honor and freedom, but love as well…if they survive the coming battle.

Note to readers: This sci fi romance contains a lot of action (think wild fights and daring escapes), tough gladiators (the warriors of the House of Galen and the House of Rone) and a steamy romance (between a sexy, mysterious imperator and a tough fighter from Earth). So if you like it fast, and gritty, and sexy, this is for you!
Add series to GoodReads   Read our reviews of this series  Get on Amazon
The Kiss Quotient
by Helen Hoang
I think I may be the only person in the world who hasn't read this book, but I really want to! Not least because I love the cute cover. I like the simplicity of it, with most of the cover being taken over by the text with the couple kissing in the top corner. It has a very traditional chick lit look to it. I look forward to reading this book in 2019.
Released:
June 5 2018
Genre:
Contemporary Romance
Series:
The Kiss Quotient #1
Published by
Berkley
A heartwarming and refreshing debut novel that proves one thing: there's not enough data in the world to predict what will make your heart tick.

Stella Lane thinks math is the only thing that unites the universe. She comes up with algorithms to predict customer purchases--a job that has given her more money than she knows what to do with, and way less experience in the dating department than the average thirty-year-old.

It doesn't help that Stella has Asperger's and French kissing reminds her of a shark getting its teeth cleaned by pilot fish. Her conclusion: she needs lots of practice--with a professional. Which is why she hires escort Michael Phan. The Vietnamese and Swedish stunner can't afford to turn down Stella's offer, and agrees to help her check off all the boxes on her lesson plan--from foreplay to more-than-missionary position...

Before long, Stella not only learns to appreciate his kisses, but to crave all the other things he's making her feel. Soon, their no-nonsense partnership starts making a strange kind of sense. And the pattern that emerges will convince Stella that love is the best kind of logic...
Add book to GoodReads   Read our reviews of this series  Get on Amazon
Archangel's Prophecy
by Nalini Singh
#11 Guild Hunter series
I love the Guild Hunter covers, even the UK versions, where we usually get short changed on beautiful covers, are really good. But it was the US version of Archangel's Prophecy that caught my eye. The beautiful wings, the female warrior angel striding forward with two daggers in her hand, the cold colours of the foreground contrasting with the warm colours of the background. It immediately screams "READ ME!"
Released:
October 30, 2018
Genre:
Urban Fantasy
Series:
Guild Hunter #11
Published by
Berkley
Pages:
368
Return to New York Times bestselling author Nalini Singh's darkly passionate Guild Hunter world, where human-turned-angel Elena Deveraux, consort to Archangel Raphael, is thrust center stage into an eons-old prophecy...

Midnight and dawn, Elena's wings are unique among angelkind--and now they are failing. The first mortal to be turned into an immortal in angelic memory, she's regressing. Becoming more and more human. Easier to hurt. Easier to kill.

Elena and Raphael must unearth the reason for the regression before Elena falls out of the sky. Yet even as they fight a furious battle for Elena's very survival, violent forces are gathering across the world. In China, the Archangel Favashi is showing the first signs of madness. In New York, a mysterious sinkhole filled with lava swallows a man whole. In Africa, torrential monsoon rains flood rolling deserts. And in Elena's mind, a haunting voice whispers that isn't her own.

This time, survival may not be possible...not even for the consort of an archangel.
Add series to GoodReads   Read our reviews of this series  Get on Amazon
Dead of Night
by Jonathan Maberry
#1 Dead of Night series
I love this cover! It's so ominous, my eye is immediately drawn to it. The hands reach forward to the reader…are they trying to escape the zombies in the background or are they coming for you next? You don't know. However, I am dying to find out and this is one of the books I have on my TBR to read next year. **This book didn't come out in 2018 but we talked about it here this year.
Released:
October 25, 2011
Genre:
Horror
Series:
Dead of Night #1
Published by
St. Martin's Griffin
Pages:
358
A prison doctor injects a condemned serial killer with a formula designed to keep his consciousness awake while his body rots in the grave. But all drugs have unforeseen side-effects. Before he could be buried, the killer wakes up. Hungry. Infected. Contagious. This is the way the world ends. Not with a bang…but a bite.
Add series to GoodReads   Read our reviews of this series  Get on Amazon
 What are your favorites of 2018?
 ♡ Don't want to miss any of our posts? ♡