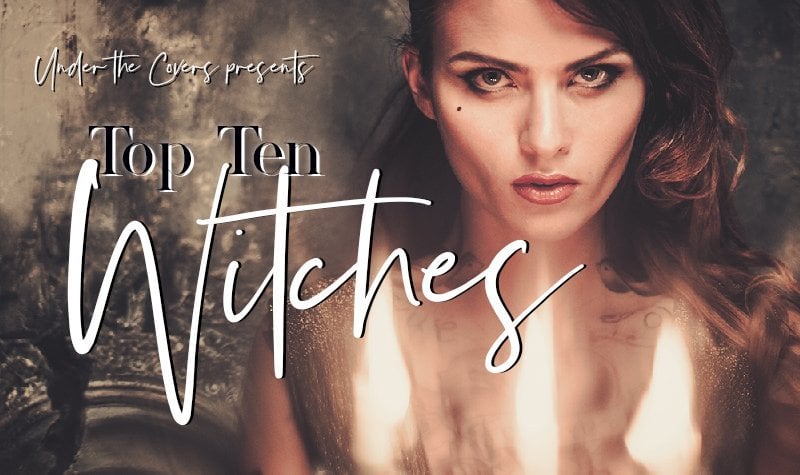 It's no secret that we at Under the Covers love our books with a paranormal twist. Whether it's a red hot paranormal romance with a fanged and broody hero, or an action packed urban fantasy with a shifter warrior by our side. But, as it is Halloween season we wanted to talk about a figure that is synonymous with the holiday; witches. However, the witches we are talking about aren't the manically cackling black garbed and green skinned old ladies with an unfortunate wart problem. Instead, our witches are powerful female figures who use their magic to save the day and the get the guy!
Talaith
from About a Dragon by G.A. Aiken
#2 Dragon Kin series 
Here's another Fantasy series for you, but this time it has a much lighter tone. Talaith is by far one of my favorite witches because of her ability to take no shit from anyone. If you've ever read one of these books, then you know that the dragon heroes of this series can be quite a handful, but Talaith manages to corral Briec well. But if he ever steps out of line, Talaith has a slew of tricks up her sleeve.
Released:
December 1st 2008
Genre:
Fantasy
Series:
Dragon Kin #2
Published by
Zebra
Pages:
360
C'mon dragon, light my fire…

For Nolwenn witch Talaith, a bad day begins with being dragged from bed by an angry mob intent on her crispy end and culminates in rescue by—wait for it—a silver-maned dragon. Existence as a hated outcast is nothing new for a woman with such powerful secrets. The dragon, though? A tad unusual. This one has a human form to die for, and knows it. According to dragon law, Talaith is now his property, for pleasure…or otherwise. But if Lord Arrogance thinks she's the kind of damsel to acquiesce without a word, he's in for a surprise…

Is the woman never silent? Briec the Mighty knew the moment he laid eyes on Talaith that she would be his, but he'd counted on tongue-lashings of an altogether different sort. It's embarrassing, really, that it isn't this outspoken female's magicks that have the realm's greatest dragon in her thrall. No, Briec has been spellbound by something altogether different—and if he doesn't tread carefully, what he doesn't know about human women could well be the undoing of his entire race…
Add series to GoodReads   Read our reviews of this series  Get on Amazon
The Wird sisters
from the Weird Girls Series by Cecy Robson
This series is a story of four sisters cursed to be doomed, but came out with powers beyond their dreams. But as we all know with great powers come with BS responsibilities and well, Celia and her sisters became part of a prophecy to eventually fight evil. Cecy Robson did a great job making the Wird Sisters pretty kick-ass in wielding their magic and powers. They are smart and sassy to boot. She also packed this series with action, sexy romance, humor, and more. If you like paranormal romance  reads, I highly recommend this series.  You will not be disappointed.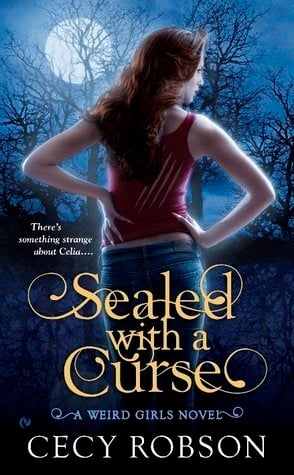 Released:
December 31st 2012
Genre:
Paranormal Romance
Series:
Weird Girls #1
Published by
Signet Eclipse
Pages:
360
Celia Wird and her three sisters are just like other twenty-something girls—with one tiny exception: They're the products of a curse that backfired and gave each of them unique powers that make them, well, a little weird…

The Wird sisters are content to avoid the local vampires, werebeasts, and witches of the Lake Tahoe region—until one of them blows up a vampire in self-defense. Everyone knows vampires aren't aggressive, and killing one is punishable by death. But soon more bloodlust-fueled attacks occur, and the community wonders if the vampires of Tahoe are plague-ridden.

Celia reluctantly agrees to help Misha, the handsome leader of an infected vampire family. But Aric, the head of the werewolf pack determined to destroy Misha's family to keep the area safe, warns Celia to stay out of the fight. Caught between two hot alphas, Celia must find a way to please everyone, save everyone, and—oh, yeah—not lose her heart to the wrong guy or die a miserable death. Because now that the evil behind the plague knows who Celia is, he's coming for her and her sisters.

This Wird girl has never had it so tough.
Add series to GoodReads   Read our reviews of this series  Get on Amazon
Ivy Wilde
from The Lazy Girl's Guide to Magic by Helen Harper
There are plenty of gritty and dark witchy reads, but sometimes you just want to put the doom and gloom behind you and have some fun. Enter Ivy Wilde from Helen Harper's series The Lazy Girl's Guide to Magic. Ivy is my kind of heroine… she prefers a chocolate biscuit (or four) and a good lounge in front of the TV rather than racing around trying to save the day. Unfortunately, our laid back, but powerful heroine seems to get dragged into solving murders and saving the day far too often for her liking. I highly recommend this series it is a light-hearted and romantic urban fantasy with a unique heroine.
Released:
June 8th 2017
Genre:
Urban Fantasy
Series:
The Lazy Girl's Guide to Magic #1
Published by
Createspace Publishing Platform
Pages:
342
Let's get one thing straight - Ivy Wilde is not a heroine. In fact, she's probably the last witch in the world who you'd call if you needed a magical helping hand, regardless of her actual abilities. If it were down to Ivy, she'd spend all day every day on her sofa where she could watch TV, munch junk food and talk to her feline familiar to her heart's content.

However, when a bureaucratic disaster ends up with Ivy as the victim of a case of mistaken identity, she's yanked very unwillingly into Arcane Branch, the investigative department of the Hermetic Order of the Golden Dawn. Her problems are quadrupled when a valuable object is stolen right from under the Order's noses. It doesn't exactly help that she's been magically bound to Adeptus Exemptus Raphael Winter. He might have piercing sapphire eyes and a body which a cover model would be proud of but, as far as Ivy's concerned, he's a walking advertisement for the joyless perils of too much witch-work.

And if he makes her go to the gym again, she's definitely going to turn him into a frog.
Add series to GoodReads   Read our reviews of this series  Get on Amazon
Chess Putnam
from Downside Ghosts by Stacia Kane
The Downside Ghosts series is one of my favourite series, which is why it's all the more frustrating why it will probably never be finished. But, despite the unfinished state of this series it's still worth the read. Chess takes you on a dark journey, both through her personal demons as a drug addict and the most ghostly dangers that she has to combat with her witchy powers. She can frustrating and self-destructive, all whilst also being brave, clever and vulnerable, you want to shake her and look after her all at once. Then there's the romance. If Chess is a fantastic heroine, just wait until your meet Terrible…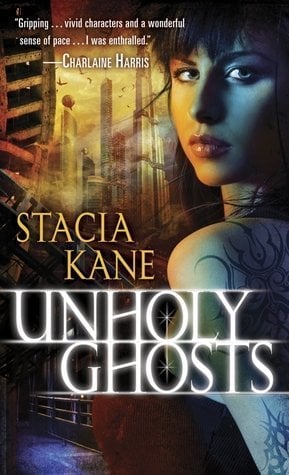 Released:
May 25th 2010
Genre:
Urban Fantasy
Series:
Downside Ghosts #1
Published by
Del Rey
Pages:
339
THE DEPARTED HAVE ARRIVED.

The world is not the way it was. The dead have risen, and the living are under attack. The powerful Church of Real Truth, in charge since the government fell, has sworn to reimburse citizens being harassed by the deceased. Enter Chess Putnam, a fully tattooed witch and freewheeling ghost hunter. She's got a real talent for banishing the wicked dead. But Chess is keeping a dark secret: She owes a lot of money to a murderous drug lord named Bump, who wants immediate payback in the form of a dangerous job that involves black magic, human sacrifice, a nefarious demonic creature, and enough wicked energy to wipe out a city of souls. Toss in lust for a rival gang leader and a dangerous attraction to Bump's ruthless enforcer, and Chess begins to wonder if the rush is really worth it. Hell, yeah.
Add series to GoodReads   Read our reviews of this series  Get on Amazon
Mariketa the Awaited
from Wicked Deeds on a Winter's Night by Kresley Cole
#4 Immortals After Dark series

Not everything has to be serious, and Mari is definitely a fun girl!  Really, all the witches in the Immortals After Dark series are just a little crazy and out of their mind and the kinds of girls you just want to go out with.  You know you'll end up getting in lots of trouble.  She knows what she wants and goes for it, but she's also kick ass and can hold her own.  If you want to read about a feisty witch, look no further than this book and this series.
Released:
November 1st 2007
Genre:
Paranormal Romance
Series:
Immortals After Dark #4
Published by
Pocket Star
Pages:
359
Her breathless kiss haunts him...

Bowen MacRieve of the Lykae clan was nearly destroyed when he lost the one woman meant for him. The ruthless warrior grew even colder, never taking another to his bed—until a smoldering encounter with his enemy, Mariketa the Awaited, reawakens his darkest desires. When sinister forces unite against her, the Highlander finds himself using all his strength and skill to keep her alive.

His slow, hot touch is irresistible...

Temporarily stripped of her powers, Mari is forced to take refuge with her sworn adversary. It's rumored that no one can tempt Bowen's hardened heart, but soon passion burns between them. Though a future together is impossible, she fears he has no intention of letting her go.

No deed is too wicked for her seduction...

If they defeat the evil that surrounds them, can Mari deny Bowen when he demands her body and soul—or will she risk everything for her fierce protector?
Add series to GoodReads   Read our reviews of this series  Get on Amazon
Paige Winterbourne
from Dime Store Magic by Kelley Armstrong
#3 Women of the Otherworld series
If you haven't read the Women of the Otherworld series by Kelley Armstrong then you're missing out. It's a fantastic mix of urban fantasy and paranormal romance and contains a plethora of paranormal creatures, including witches. Paige is a witch, the head of the leader of the American Covens, at least in name. All the other witches believe that she's too young, wild and inexperienced to lead them. However, Paige is determined to drag them into this century. What I love about Paige is that although she isn't the most powerful witch in this series, her curiosity and fierce loyalty still make her a formidable foe. She also had one of my favourite romances in the series, everyone talks about Clay, but Lucas' quiet confidence steals the show for me.
Released:
March 27th 2007
Genre:
Urban Fantasy
Series:
Women of the Otherworld #3
Published by
Spectra Books
Pages:
414
Paige Winterbourne was always either too young or too rebellious to succeed her mother as leader of one of the world's most powerful elite organizations- the American Coven of Witches. Now that she is twenty-three and her mother is dead, the Elders can no longer deny her. But even Paige's wildest antics can't hold a candle to those of her new charge- an orphan who is all too willing to use her budding powers for evil... and evil is all too willing to claim her. For this girl is being pursued by a dark faction of the supernatural underworld. They are a vicious group who will do anything to woo the young, malleable, and extremely powerful neophyte, including commit murder- and frame Paige for the crime. It's an initiation into adulthood, womanhood, and the brutal side of magic that Paige will have to do everything within her power to make sure they both survive.
Add series to GoodReads   Read our reviews of this series  Get on Amazon
Jaenelle Angelline
from The Black Jewels series by Anne Bishop
In this very dark fantasy, Jaenelle, the foretold witch has the ability to cross through the realms. This world should come with a warning. It's both fascinating and disturbing at the same time but so worth the read for the world building alone. The characters are unlike any of the ones listed here. And I think you'll be very intrigued by Bishop's darker style. If you want something that has witches, magic, and mystical creatures, you should definitely pick up this book and meet Jaenelle.
Released:
March 1st 1998
Genre:
Fantasy
Series:
The Black Jewels #1
Pages:
388
Seven hundred years ago, a Black Widow witch saw an ancient prophecy come to life in her web of dreams and visions. Now the Dark Kingdom readies itself for the arrival of its Queen, a Witch who will wield more power than even the High Lord of Hell himself. But she is still young, still open to influence—and corruption.

Whoever controls the Queen controls the darkness. Three men—sworn enemies—know this. And they know the power that hides behind the blue eyes of an innocent young girl. And so begins a ruthless game of politics and intrigue, magic and betrayal, where the weapons are hate and love—and the prize could be terrible beyond imagining...
Add series to GoodReads   Read our reviews of this series  Get on Amazon
Savannah Levine
from Waking the Witch by Kelley Armstrong
#11 Women of the Otherworld series
Another one of those characters that we see mature throughout a series, Savannah starts off as a young girl in the earlier books.  She loses her mother and is raised by another couple.  Plus she has to deal with the knowledge of some of the bad actions of both of her parents.  Strive not to be evil.  She has to learn to use her powers at the same time as dealing with her teenage years.  It can be tough on anyone handling the responsibility and power she has, especially someone so young.  But in the end we see her grow and become totally fierce and strong.  I really loved going on that journey with her and caring for her along the way.
Released:
July 27th 2010
Genre:
Urban Fantasy
Series:
Women of the Otherworld #11
Published by
Dutton Adult
Pages:
309
At twenty-one, Savannah Levine-orphaned daughter of a notorious dark witch and an equally notorious cutthroat sorcerer-considers herself a full-fledged member of the otherworld. The once rebellious teen has grown into a six-foot-tall, motorcycle-riding jaw-dropper, with an impressive knowledge of and ability to perform spells. The only problem is, she's having a hard time convincing her adoptive parents, Paige and Lucas, to take her seriously as an adult. She's working as the research assistant at the detective agency they founded, and when they take off on a romantic vacation alone, leaving her in charge, Savannah finds herself itching for a case to call her own. (She's also itching for Adam, her longtime friend and colleague, to see her as more than just a little girl, but that's another matter.)

Suddenly, Savannah gets the chance she's been waiting for: Recruited by another supernatural detective, she travels to Columbus, Washington, a small, dying town. Two troubled young women have been found in an abandoned warehouse, murdered. Now a third woman's dead, and on closer inspection small details point to darker forces at play. Savannah feels certain she can handle the case, but with signs of supernatural activity appearing at every turn, things quickly become more serious- and far more dangerous-than she realizes.
Add series to GoodReads   Read our reviews of this series  Get on Amazon
Rachel Morgan
from The Hollows series by Kim Harrison
If there was ever a witch that needed some struggling to come into her full potential, that was Rachel.  She starts off the series without really knowing all she has the power to do and with just a desire for doing good.  It takes some time for her to understand things aren't as black and white as she's always thought and sometimes to do good, you have to taint yourself with some bad.  The growth she shows throughout the series is one of the things that make her so endearing to me.  That, and the fact she is still a little of a hot mess.  If there was one witch that I would love to see come to life on any screen, she is the one.  This is one of my all time favorite UF series as a whole and perfectly imperfect Rachel is one of the main reasons why. She's just as much fun as she is badass.
Released:
July 1st 2004
Genre:
Urban Fantasy
Series:
The Hollows #1
Published by
HarperTorch
Pages:
416
All the creatures of the night gather in "the Hollows" of Cincinnati, to hide, to prowl, to party... and to feed.

Vampires rule the darkness in a predator-eat-predator world rife with dangers beyond imagining - and it's Rachel Morgan's job to keep that world civilized.

A bounty hunter and witch with serious sex appeal and an attitude, she'll bring 'em back alive, dead... or undead.
Add series to GoodReads   Read our reviews of this series  Get on Amazon
Elara Harper
from Iron and Magic by Ilona Andrews
#1 Iron Covenant series, #9.5 Kate Daniels series
Technically, I am unsure if Elara is a witch, however, she certainly is powerful and controls magic, she's also known as the White Warlock. So, I decided that she qualifies for this list. Elara leads a rag tag group of people, all with their own magical capabilities and all view her as a mixture of their leader and their goddess. To keep them safe she has made a deal with the devil aka Hugh D'Ambray, Preceptor of the Iron Dogs and all round ruthless Warlord. That's when we watch the sparks fly as these two powerful individuals try to work together to keep themselves and their people safe. I loved Elara, she's powerful, smart and ruthlessly loyal to her people, if you are after a strong female protagonist Elara is perfect. But, what is really fantastic about this book is the interplay between Hugh and Elara. Both are used to being in-charge and their mixture of dislike and attraction that grows into respect and more is enthralling to read.
Don't forget to check out our series guide to see our fantasy case of both Hugh and Elara!
Released:
June 26 2018
Genre:
Urban Fantasy
Series:
The Iron Covenant #1
Published by
NYLA
No day is ordinary in a world where Technology and Magic compete for supremacy…But no matter which force is winning, in the apocalypse, a sword will always work.

Hugh d'Ambray, Preceptor of the Iron Dogs, Warlord of the Builder of Towers, served only one man. Now his immortal, nearly omnipotent master has cast him aside. Hugh is a shadow of the warrior he was, but when he learns that the Iron Dogs, soldiers who would follow him anywhere, are being hunted down and murdered, he must make a choice: to fade away or to be the leader he was born to be. Hugh knows he must carve a new place for himself and his people, but they have no money, no shelter, and no food, and the necromancers are coming. Fast.

Elara Harper is a creature who should not exist. Her enemies call her Abomination; her people call her White Lady. Tasked with their protection, she's trapped between the magical heavyweights about to collide and plunge the state of Kentucky into a war that humans have no power to stop. Desperate to shield her people and their simple way of life, she would accept help from the devil himself—and Hugh d'Ambray might qualify.

Hugh needs a base, Elara needs soldiers. Both are infamous for betraying their allies, so how can they create a believable alliance to meet the challenge of their enemies?

As the prophet says: "It is better to marry than to burn."

Hugh and Elara may do both.
Add series to GoodReads   Read our reviews of this series  Get on Amazon
Who are your favorite witches?
 ♡ Don't want to miss any of our posts? ♡