If you've been following us for some time, you may remember our monthly Pick It for Me challenges on our GoodReads group.  We always had a lot of fun doing them but had to stop them some time ago.  Recently, we were trying to push books on each other and decided to bring this back in a modified way.  Each month one of us girls at UTC will pick a random book for another one to read.  The next month, we will do a mini review and give you guys the opportunity to win one of those three books.  Check out the giveaway at the end of this post!  Feel free to follow along and read one of these three as well this month!
Annie's pick for Francesca…
Midnight's Master

Book Info
Released:
May 22, 2012
Genre:
Paranormal Romance
Series:
Dark Warriors #1
Published by
St. Martin's Paperbacks
Pages:
361
Defenders against evil. Bound by the gods. The Dark Warriors are taking their battle from ancient Scotland to the modern world—where a woman's love can set them free…

A MYSTERY OUT OF TIME

Gwynn Austin has no idea why her father has disappeared on a mysterious trip to Scotland. When she goes on a desperate mission to search for him she finds more than she bargains for in a ruggedly handsome, wickedly exciting Highlander who exudes danger and mystery. And when she discovers her own link to Scotland, she'll have to trust her heart to help lead her...

A LEGEND IN THE FLESH

Propelled through time by powerful Druid Magic, Logan Hamilton uses his immortality and powers of the god inside him to help prevent the awakening of an ancient evil in the modern world. He never expects to find help in the form of a beautiful, alluring, and all too tempting woman whose passion and strength matches his own. Together, Logan and Gywnn must fight for their love—before a demon from the past destroys them both…
Suzanne's pick for Annie…
Stillhouse Lake

Book Info
Released:
July 1st 2017
Genre:
Thriller
Series:
Stillhouse Lake #1
Pages:
302
Gina Royal is the definition of average—a shy Midwestern housewife with a happy marriage and two adorable children. But when a car accident reveals her husband's secret life as a serial killer, she must remake herself as Gwen Proctor—the ultimate warrior mom.

With her ex now in prison, Gwen has finally found refuge in a new home on remote Stillhouse Lake. Though still the target of stalkers and Internet trolls who think she had something to do with her husband's crimes, Gwen dares to think her kids can finally grow up in peace.

But just when she's starting to feel at ease in her new identity, a body turns up in the lake—and threatening letters start arriving from an all-too-familiar address. Gwen Proctor must keep friends close and enemies at bay to avoid being exposed—or watch her kids fall victim to a killer who takes pleasure in tormenting her. One thing is certain: she's learned how to fight evil. And she'll never stop.
Francesca's pick for Suzanne…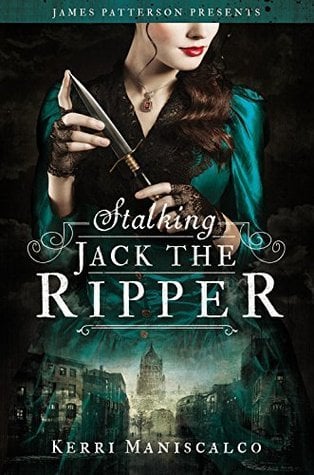 Stalking Jack the Ripper

Book Info
Released:
September 20th 2016
Genre:
Young Adult
Series:
Stalking Jack the Ripper #1
Published by
Jimmy Patterson
Pages:
326
Presented by James Patterson's new children's imprint, this deliciously creepy horror novel has a storyline inspired by the Ripper murders and an unexpected, blood-chilling conclusion...

Seventeen-year-old Audrey Rose Wadsworth was born a lord's daughter, with a life of wealth and privilege stretched out before her. But between the social teas and silk dress fittings, she leads a forbidden secret life.

Against her stern father's wishes and society's expectations, Audrey often slips away to her uncle's laboratory to study the gruesome practice of forensic medicine. When her work on a string of savagely killed corpses drags Audrey into the investigation of a serial murderer, her search for answers brings her close to her own sheltered world.

The story's shocking twists and turns, augmented with real, sinister period photos, will make this dazzling, #1 New York Times bestselling debut from author Kerri Maniscalco impossible to forget.
Giveaway sponsored by Under the Covers
Win your choice of one of the books below
International
Latest posts by Under the Covers Book Blog
(see all)