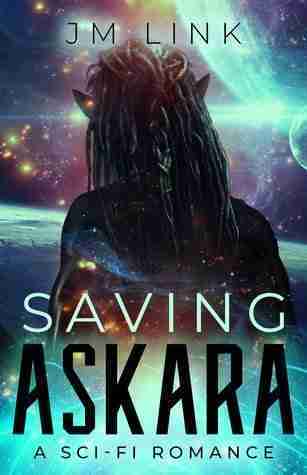 BOOK INFO
Released:
February 5th 2018
Series:
Askara #1
Format:
eBook
Recommended Read!
"This is the debut novel by author J.M. Link and she has certainly started with a bang! I loved it. "
~ Under the Covers
Very recently I have been laid out with really severe back problems. I literally couldn't do anything, even now tying shoe laces requires a quick rest and some painkillers afterwards to recover. But, there has been a little light in the recently dark miasma of pain. I couldn't do much more than lie down, so I had plenty of time to further develop my obsession with all things alien romance related. This is how Saving Askara wandered into my world.
This is the debut novel by author J.M. Link and she has certainly started with a bang! I loved it. Link's aliens were unique and interesting and I really like the intrepid Victoria, the heroine of this book. Victoria and Aderus, our alien hero, did far more to keep my mind occupied and away from the war zone that was my back than my stacks of painkillers. Instead my mind was floating off into space with the very prickly Askara who were an anti social race with a tendency towards violence as displays of dominance and who are on the brink of annihilation due to war.
If you follow my reviews, you know that I love my aliens to be as unusual as possible. I need to get myself a mug saying "The weirder the better!". And I like my aliens to be different in more than just appearance, so although the Askara race were definitely NOT just humans with pretty colour skin, their differences were more than just skin deep. Their culture was also worlds apart and I really enjoyed seeing Aderus and Victoria slowly getting to know one another an try and over come the massive culture shock.
Now, here comes the stinger. This ended in a cliffhanger! Most of this book showed Victoria integrating with the Askara and her developing and tumultuous relationship with their appointed leader Aderus. Then just as things started to heat up. BOOM. It was over. I was devastated and I am now anxiously awaiting the release of the next book so I can see the continuation and conclusion of Victoria and Aderus'relationship and then hopefully Link will contine with more Askara human romances afterwards.
This book won't be for every one, however, if you like an intense alien romance with a fierce and non-human alien (although still humanoid, don't worry no tentacles this time!) than you need to give this a try.

What did you think of our review?
Let us know your thoughts in the comment box below!
♡ Don't want to miss any of our posts? ♡
Gosh, we all seem to be admitting our ages…and I hate that I am at the point in life when admitting my age is a "thing"…whodda thunk it? I was kind of hoping I would remain 21 forever. However, I have moved out of that New Adult stage of my life and am now strictly in the Contemporary Romance age zone of 28. I would prefer to be in an Urban Fantasy arena, but I don't think I own enough black leather. However, I could probably squeeze into some PNR, I am fully prepared to give a horn job to my favourite demon, or suck on my sexy vamps…fangs and I am definitely up for some heavy petting with some fine looking shifters. Than again their's always Sci Fi…I am fully prepared to do the right thing and help some poor alien race with more 6 packs than a supermarket repopulate their planet. Not that I am loose woman or anything.

Annnnnd I will stop myself there, before I start waxing lyrical about my love of historical romance and fantasy as well; no one needs to know about my elf fantasies. As you can tell, I adore and day dream about most romance genres, and my three big loves are 1) reading about romance 2) writing about romance and 3) talking about romance with my gals. Which, is why I love Under the Covers so much, I get all my bookish needs satisfied and don't get judged when I talk about my favourite characters like they are real people. Which they are right?