So my dear friends, let us rollback to the days of yore, when the books were paper only and a kindle was but a dream. Well, I may be exaggerating! But with Rollback Reads, we want to celebrate some of the older books that we have read in the month. Whether they really are before the time of kindles or were just last year. We wanted to give some space to books that may no longer be in the spotlight, but are still worth highlighting … or ranting about. So please come and join us in our discussions of these rollback reads!
APRIL 2018
SUZANNE'S SCI-FI CORNER
My head has been in the clouds this month. Or rather in outer space. This month I read a galaxy's worth of sci-fi romance…specialising in alien sci-fi romances. I'm blaming the back injury I recently had that meant I couldn't do much more than lie down! So prepare to be rocked out of the milky way with my April roll back reads!
I'm going to be do this by series as I basically binge read quite a few series in quick succession and this post would be waaaay too long if I spoke about each individual book. So here we go:
Funny Aliens
For alien romance beginners…
If you want something that is going to make you laugh and not push you too far outside your comfort zone in terms of how weird the aliens look, then you need to try out Sadie Carters Zerconian Warriors series. The aliens are basically humans but built on a larger scale (and ladies, they are larger everywhere) and whose eyes change colour with their emotions. The heroines were feisty and funny, the heroes were adorably arrogant, occasionally grumpy and had mad bedroom skillz. Perfect light reading! Also, at the time of writing, the first book in this series is FREE.
Action Packed Aliens
For alien romance beginners...
Anna Hackett has popped up on my recommendations for ages, so I have no idea why I never picked her books up until now. Hackett has a couple of series out, but the one I just finished reading was the action packed Galactic Gladiators. Which pretty much does as it says on the tin. They're gladiators and they're galactic aka aliens. The series start when a group of humans are taken and sold as slaves in an alien gladiator arena. Luckily, there is a group of honourable, not to mention gorgeous, gladiators who help the humans out. This series was fast paced and fun, with lots of sword fights, gun battles and running around in the desert. It's another good series to read if you don't read much sci-fi, and if you enjoy the romantic suspense genre then this is a great series for you to begin with. I promise there aren't too many weird alien things, once again the aliens basically look human just a lot bigger.
Alien Aliens
For alien romance groupies…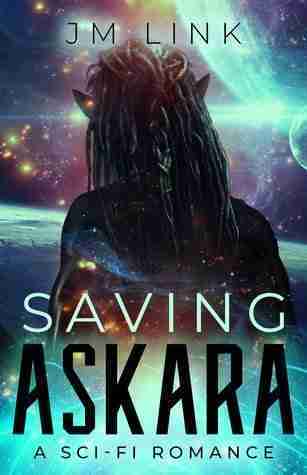 As much as I love the other two series, these are the books that I adored this month. These are the books that are a little different and the aliens aren't just over grown human men. They are aliens.
Saving Askara by J.M. Link – This may have been my favourite book of the entire month, even if it annoyed the shit out of me by ending on a cliffhanger! Our heroine has to be an ambassador to the Askara an aggressive and anti-social race that doesn't normally mingle with the rest of the universe. Both the hero and heroine of this one are surprised by the mutual attraction that grows as they grow to know one another.
Ruth & Gron series by V.C. Lancaster – Every time I think of this series I can't help but awwww to myself. I loved Ruth and Gron, they were such an adorable couple. Ruth managed to look past his pelt, tail and gigantic teeth…as well as the fact that they were unable to verbally communicate…and fall in love with the sweet Gron. Awwwww.
Cottonwood by R. Lee Smith
– This one made me cry. Aliens have landed on Earth, only the didn't mean to their ship crashed and now they're stranded. Fast forward a few decades later and all the aliens are in squalid camps "for their own good" as they are believed to be stupid and violent. It doesn't help that they look like bugs with a humanoid body. Our heroine naively goes into the Cottonwood, a new reservation for the "Bugs" as she wants to help them and integrate them with human society. What she finds is horrifying, and as she gets to know Sanford and his adorable son T'aki she knows she has to help them. I loved this book, the romance aspect was slow to grow and would be a friends-to-lovers type story, but it wasn't just the love story that I loved. It was the story, it was sad and tragic and probably a little closer to the truth than is comfortable. I highly recommend you give it a try!
I only read three older releases this month but they were pretty good. The first winner for me was RESCUE ME by Christy Reece. I have been meaning to read this author for some time now and finally got the chance now. I'm so glad that I did! I love her writing and am glad to have found another Romantic Suspense author that I love. I haven't been reading much of his genre lately, so I feel like this series will help me get back into it.
I also finally read IRON GOLD by Pierce Brown. I had some pretty high expectations for this book but I was a little disappointed with the pacing. I did, however, still like the author's writing style.
Lastly, I read my pick it for me book and that was THE LAST WOLF by Maria Vale. This is the first time reading this author for me and I did enjoy a lot of points of this book. The only thing that was a miss was the erratic pacing. I felt like there were some parts of the story that I liked way better.
I feel like April was a big catch up month for me.  I fell terribly behind on my reading schedule, especially with ARCs, in March so I didn't have as much time as I wanted to read older releases in April.  But I managed a few!
Starting off with RELAY by Layla Reyne.  I've had this since it came out and I wanted to read this author so bad!  I wasn't in love with the story in Relay but I didn't mind it, it was ok and I'll still read more of her books.  Plus it's not as bad since this book just re-released as self pub in March so I don't look as bad now right?  LOL  Another LGBT read was FREE FALLING by S.E. Jakes and I won't go too much into it but this was a miss for me.
Continuing on I finally read THE SMALLEST PART by Amy Harmon.  This has been on my list for a while and I was literally dying to read it but kept pushing it back.  I didn't love it as much as I wanted to but it was still a good read.
My PIFM book was SHOW NO MERCY by Cindy Gerard and it was a good read.  I do think there's something more old school about this series and maybe not as intense and dark as I want my RS but I enjoy her writing and what comes across as good knowledge of real life in these situations.
I also picked up MIDSUMMER DELIGHTS by Eloisa James which is a few very short stories.  I liked that they were fun and sweet but they were also very short and about characters I didn't know anything about so they were a fun way to pass the time but not to get invested or be memorable.
THE GENTLEMAN'S GUIDE TO VICE AND VIRTUE by Mackenzi Lee was my surprise for the month.  This I picked up for the Roundabout Challenge and I was so happy I did!  I definitely loved the feel of this novel and the main character and I can't wait to read the next one.
I stumbled across A DECEMBER BRIDE by Denise Hunter and the title caught my eye because it's the same as a Hallmark movie that I've watched at LEAST 3 times maybe more.  And then once I looked at the blurb and reviews I saw this was the story that moved was based on.  So it didn't matter that it's not Christmas, I just had to read it.  And maybe it's the fact that I have a soft spot for the movie, but I really loved the story!
And last but not least I finally listened to the Audible Original GETTING SCHOOLED by Emma Chase and OMG I loooooooved it!  If you like second chance romances and just nice guy heroes then read this.  It has just the right amount of sexy as well and I really enjoyed it.
I will confess, the past month has been crazy and I only had the chance to read ARCs.  I have not read any Rollback Reads as I planned,  but my next Rollback is Eidolon by Grace Draven.  This is the second book of her Wraith Kings series. I was enamored by the first book, Radiance that reading the second is just a must.  It's a story of a prince and noblewoman arranged to be married and how they are able to tolerate each other(despite their not-so-pleasant feelings for each other).  Funny think is, they both think the other is hideous and ugly though they respect each other.   I love how their relationship bloomed out of respect.  I'm dying to know more on what happens with their romance and I need to know more of their world.   If you like Romantic Fantasy, I highly recommend trying out the fist book.
Have you read any older books this month?
 ♡ Don't want to miss any of our posts? ♡ 
Latest posts by Under the Covers Book Blog
(see all)