2017
Sometimes it isn't just new authors  your discover, it's those that have been out for a while, yet for some reason you seem to be the last to know. That's what this post is here to celebrate; those authors that we only got our hands on in 2017 and then developed a humongous case of author love.
Please note, that although this is a top ten, the authors aren't in a particular order, picking our favourites would be like choosing our favourite children or our favourite chocolate bar. It all depends on our mood.
BOOK INFO
Released:
June 13th 2017
Series:
Stealing Storms #1
Published by
Tor Teen
Pages:
352
In a land ruled and shaped by violent magical storms, power lies with those who control them.

Aurora Pavan comes from one of the oldest Stormling families in existence. Long ago, the ungifted pledged fealty and service to her family in exchange for safe haven, and a kingdom was carved out from the wildlands and sustained by magic capable of repelling the world's deadliest foes. As the sole heir of Pavan, Aurora's been groomed to be the perfect queen. She's intelligent and brave and honorable. But she's yet to show any trace of the magic she'll need to protect her people.

To keep her secret and save her crown, Aurora's mother arranges for her to marry a dark and brooding Stormling prince from another kingdom. At first, the prince seems like the perfect solution to all her problems. He'll guarantee her spot as the next queen and be the champion her people need to remain safe. But the more secrets Aurora uncovers about him, the more a future with him frightens her. When she dons a disguise and sneaks out of the palace one night to spy on him, she stumbles upon a black market dealing in the very thing she lacks—storm magic. And the people selling it? They're not Stormlings. They're storm hunters.

Legend says that her ancestors first gained their magic by facing a storm and stealing part of its essence. And when a handsome young storm hunter reveals he was born without magic, but possesses it now, Aurora realizes there's a third option for her future besides ruin or marriage.

She might not have magic now, but she can steal it if she's brave enough.

Challenge a tempest. Survive it. And you become its master.
Cora Carmack –
Since my adventure of reading YA/Fantasy last year, I've discovered a new love for this genre.  Cora Carmack is one of my new discoveries and I believe this is also her first touch on fantasy.  If you look at the cover, it's easy to jump right in and want to read this book. I wasn't disappointed, this book had a heroine coming to age of maturity and power and she is on her way to becoming someone great.  I'm happy to watch this character do that.  I can't wait for the next book.
BOOK INFO
Released:
July 21st 2015
Series:
Winston Brothers #1
Published by
Self Published
Pages:
382
Beards, brothers, and bikers! Oh my!

Identical twins Beau and Duane Winston might share the same devastatingly handsome face, but where Beau is outgoing and sociable, Duane is broody and reserved. This is why Jessica James, recent college graduate and perpetual level-headed good girl, has been in naïve and unhealthy infatuation with Beau Winston for most of her life.

His friendly smiles make her tongue-tied and weak-kneed, and she's never been able to move beyond her childhood crush. Whereas Duane and Jessica have always been adversaries. She can't stand him, and she's pretty sure he can't stand the sight of her…

But after a case of mistaken identity, Jessica finds herself in a massive confusion kerfuffle. Jessica James has spent her whole life paralyzed by the fantasy of Beau and her assumptions of Duane's disdain; therefore she's unprepared for the reality that is Duane's insatiable interest, as well as his hot hands and hot mouth and hotter looks. Not helping Jessica's muddled mind and good girl sensibilities, Duane seems to have gotten himself in trouble with the local biker gang, the Iron Order.

Certainly, Beau's magic spell is broken. Yet when Jessica finds herself drawn to the man who was always her adversary, now more dangerous than ever, how much of her level-head heart is she willing to risk?
Penny Reid –
I know, I know. Most book buddies I know has read Penny Reid and love her books. Why I've just discovered her now, I have no idea.  But wow! I love her Winston Brothers series.  I literally read and listen to all the books one after the next.  It was all very sweet, sexy, and some funny.  Love, loved it all. I'm now on her Knitting in the City Series.  Yes, loving it the same!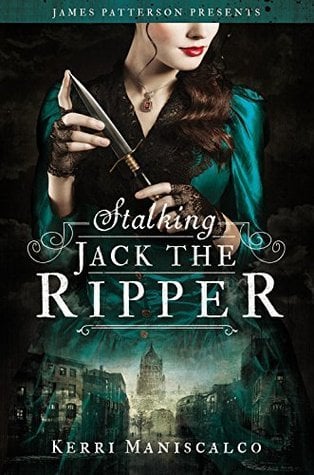 BOOK INFO
Released:
September 20th 2016
Series:
Stalking Jack the Ripper #1
Published by
Jimmy Patterson
Pages:
326
Presented by James Patterson's new children's imprint, this deliciously creepy horror novel has a storyline inspired by the Ripper murders and an unexpected, blood-chilling conclusion...

Seventeen-year-old Audrey Rose Wadsworth was born a lord's daughter, with a life of wealth and privilege stretched out before her. But between the social teas and silk dress fittings, she leads a forbidden secret life.

Against her stern father's wishes and society's expectations, Audrey often slips away to her uncle's laboratory to study the gruesome practice of forensic medicine. When her work on a string of savagely killed corpses drags Audrey into the investigation of a serial murderer, her search for answers brings her close to her own sheltered world.

The story's shocking twists and turns, augmented with real, sinister period photos, will make this dazzling, #1 New York Times bestselling debut from author Kerri Maniscalco impossible to forget.
Kerri Maniscalco – I had been drooling over the cover and topic of the first book by this author and I was hesitant to pick it up because there was a lot of hype around it.  I took my time and eventually I read it and OMG why did I wait so long?  Seriously this was the perfect Gothic horror story!  It's packed with all the mystery elements I love, has a great set of leading characters that I've managed to care for a lot in just two books and then there's that bit of romance and humor tht lighten up the otherwise somber mood.  Really, this series and author is everything and I can't wait to continue reading.
BOOK INFO
Released:
February 7th 2017
Published by
Ballantine Books
Pages:
288
From the "New York Times" bestselling author of "Blackberry Winter "and "The Violets of March" comes a gripping, poignant novel about the kind of love that never lets go, and the heart s capacity to remember.
While enjoying a romantic candlelit dinner with her fiance, Ryan, at one of Seattle s chicest restaurants, Kailey Crane can t believe her good fortune: She has a great job as a writer for the "Herald" and is now engaged to a guy who is perfect in nearly every way. As they leave the restaurant, Kailey spies a thin, bearded homeless man on the sidewalk. She approaches him to offer up her bag of leftovers, and is stunned when their eyes meet, then stricken to her very core: The man is the love of her life, Cade McAllister.
When Kailey met Cade ten years ago, their attraction was immediate and intense everything connected and felt" right." But it all ended suddenly, leaving Kailey devastated. Now the poor soul on the street is a faded version of her former beloved: His weathered and weary face is as handsome as Kailey remembers, but his mind has suffered in the intervening years. Over the next few weeks, Kailey helps Cade begin to piece his life together, something she initially keeps from Ryan. As she revisits her long-ago relationship, Kailey realizes that she must decide exactly what and whom she wants.
Alternating between the past and the present, "Always" is a beautifully unfolding exploration of a woman faced with an impossible choice, a woman who discovers what she s willing to save and what she will sacrifice for true love.
Praise for Sarah Jio
"Goodnight June"
Sarah Jio s delightful and uplifting novel is guaranteed to melt even the toughest cynic and deserves a top rating of five stars (plus the moon). "Historical Novel Society"
A tribute to family and forgiveness. "Booklist"
""
"Morning Glory"
Jio explores the degree to which time and distance give comfort to those who have experienced loss [with] a depth of feeling in her writing. "Publishers Weekly"
Jio has become one of the most-read women in America. "Woman s World"
"Blackberry Winter"
Compelling . . . an intoxicating blend of mystery, history, and romance. "Real Simple"
Ingenious . . . imaginative. "The Seattle Times""
Sarah Jio – I've seen this authors' work around for years and have been tempted to read her but for some reason or another I always push them back on the TBR.  But then this new release landed in my hands and I just thought, this is it.  Now is the time.  I literally couldn't put it down.  I started and no work, no family, no obligations, got in my way.  It was a beautiful experience and it made me giddy with excitement because I loved ALL THE WORDS.  Beautiful story, beautiful writing.  I have been stalking the author ever since to see when the next book is coming out, but I have plenty of a backlist to dive into as well.
BOOK INFO
Released:
April 3rd 2015
Series:
Ice Planet Barbarians #1
Published by
Self Published
Pages:
186
You'd think being abducted by aliens would be the worst thing that could happen to me. And you'd be wrong. Because now, the aliens are having ship trouble, and they've left their cargo of human women - including me - on an ice planet.

And the only native inhabitant I've met? He's big, horned, blue, and really, really has a thing for me...
Ruby Dixon – If you have read any of my posts and reviews or seen any of my YouTube vids for 2017 you have suddenly noticed Ruby Dixon's name cropping up. Alot. Ever since I read her Ice Planet Barbarian series I have been Obsessed. And yes, obsessed does deserve to be capitalised. I love her sweet and sexy sci-fi alien romances, which I have in the Ice Planet Barbarian series and her new Ice Home spin off. I love her ferocious and slightly insane dragons in her Fireblood Dragons PNR series. Basically I can't get enough and I eagerly await every single new release.
BOOK INFO
Released:
May 16th 2017
Series:
Morgan Dane #1
Published by
Montlake Romance
Pages:
336
After the devastating loss of her husband in Iraq, Morgan Dane returns to Scarlet Falls, seeking the comfort of her hometown. Now, surrounded by family, she's finally found peace and a promising career opportunity—until her babysitter is killed and her neighbor asks her to defend his son, Nick, who stands accused of the murder.

Tessa was the ultimate girl next door, and the community is outraged by her death. But Morgan has known Nick for years and can't believe he's guilty, despite the damning evidence stacked against him. She asks her friend Lance Kruger, an ex-cop turned private eye, for help. Taking on the town, the police, and a zealous DA, Morgan and Lance plunge into the investigation, determined to find the real killer. But as they uncover secrets that rock the community, they become targets for the madman hiding in plain sight.
Melinda Leigh – For me 2017 was the year I discovered thrillers and one of the authors that helped me with that was Melinda Leigh and her Morgan Dane series. Not only did I love the thriller aspect of this book, I also loved that it showed the family life of our heroine Morgan Dane and had a little romance added in for good measure as well. All these added insights in to Morgan's life didn't overwhelm the thriller plot line, which was still the main focus, but did a lot for fleshing out the character and adding to the tension in the book. I can't wait to read more by Leigh in 2018.
BOOK INFO
Released:
September 27th 2016
Series:
Spindle Cove #5
Published by
Avon Books
On the night of the Parkhurst ball, someone had a scandalous tryst in the library.
•Was it Lord Canby, with the maid, on the divan?
•Or Miss Fairchild, with a rake, against the wall?
•Perhaps the butler did it.

All Charlotte Highwood knows is this: it wasn't her. But rumors to the contrary are buzzing. Unless she can discover the lovers' true identity, she'll be forced to marry Piers Brandon, Lord Granville—the coldest, most arrogantly handsome gentleman she's ever had the misfortune to embrace. When it comes to emotion, the man hasn't got a clue.

But as they set about finding the mystery lovers, Piers reveals a few secrets of his own. The oh-so-proper marquess can pick locks, land punches, tease with sly wit … and melt a woman's knees with a single kiss. The only thing he guards more fiercely than Charlotte's safety is the truth about his dark past.

Their passion is intense. The danger is real. Soon Charlotte's feeling torn. Will she risk all to prove her innocence? Or surrender it to a man who's sworn to never love?
Tessa Dare – I may be cheating a little with Tessa Dare, because I am fairly sure that before 2017 I had read some of her books. However, that small smattering of reading does not compare to the obsessive Tessa Dare reading I did in 2017. You see, I started reading her Spindle Cover series. Oh My. To say I was hooked was a MASSIVE understatement. I believe I read every book in that series within a few days and then I started looking for more books to read by her. I am already a lover of historical romance and Dare managed to confirm exactly why it is on of my favourite genres.
BOOK INFO
Released:
March 1st 2012
Series:
Hayley Powell Food and Cocktails Mystery #1
Published by
Kensington Books
Pages:
327
Welcome to Bar Harbor, Maine, one of New England's most idyllic coastal towns. But as new food writer Hayley Powell is about to find out, the occasional murder can take a bite out of seaside bliss. . .

Single mom Hayley Powell is barely keeping her leaking roof over her head when her boss at the Island Times gives her a new assignment--taking over the paper's food column. Hayley's not sure she has the chops--she's an office manager, not a writer, even if her friends clamor for her mouth-watering potluck dishes. But the extra income is tempting, and Hayley's chatty first column is suddenly on everyone's menu--with one exception.

When rival food writer Karen Appelbaum is found face-down dead in a bowl of Hayley's creamy clam chowder, all signs point to Hayley. To clear her name, she'll have to enlist some help, including her BFFs, a perpetually pregnant lobster woman, and a glamorous real estate agent. As she whips up a list of suspects, Hayley discovers a juicy secret about the victim--and finds herself in a dangerous mix with a cold-blooded killer.
Lee Hollis – I'm so glad that I found this author duo! The Hayley Powell Food and Cocktail Mystery series has quickly become one of my favorite Cozy Mystery series. With its hilarious characters and fun banter, this series is one that I continue to love no matter if I'm reading the newest release or one of the earlier books in the series. I love the mix of the small town with the dark twist. It certainly keeps readers like me on their toes.
BOOK INFO
Released:
November 1st 2011
Series:
Tara Holloway #1
Published by
St. Martin's Paperbacks
Pages:
341
Tara Holloway has got your number. A special agent on the IRS's payroll, she's dead-set on making sure that money crimes don't pay…

Tax cheats, beware: The Treasury Department's Criminal Investigations Division has a new special agent on its payroll. A recovering tomboy with a head for numbers, Tara's fast becoming the Annie Oakley of the IRS—kicking ass, taking social security numbers, and keeping the world safe for honest taxpayers. Or else.

Tara's latest mission finds her in hot pursuit of ice-cream vendor Joseph "Joe Cool" Cullen. Along with frozen treats he's selling narcotics—and failing to report his ill-gotten gains on his tax returns. Over Tara's dead body. Then there's Michael Gryder, who appears to be operating a Ponzi scheme…with banker Stan Shelton…whose lake house is being landscaped by Brett Ellington…who happens to be dating Tara. If following that money trail isn't tough enough, now Tara must face a new conundrum: Should she invest her trust in Brett—or put him behind bars? New love always comes at a cost but justice? Priceless.
Diane Kelly – I've had this author's books on my shelf for a very long time but only picked it up on a whim. I loved the brilliant covers and quickly realized how great the writing inside is as well. Kelly's writing is really something. If you like a spunky heroine who has a TON of personality then I'm sure you'll love the Tara Holloway series. It's great blend of Romantic Suspense and Cozy Mysteries, which is actually quite difficult to come by if you ask me. So this is definitely a great find for 2017!

Released: May 3rd 2016
Published by Simon Pulse
Genres: Young Adult
Pages: 389

"I made the wrong choice."

Lina is spending the summer in Tuscany, but she isn't in the mood for Italy's famous sunshine and fairy-tale landscape. She's only there because it was her mother's dying wish that she get to know her father. But what kind of father isn't around for sixteen years? All Lina wants to do is get back home.

But then she is given a journal that her mom had kept when she lived in Italy. Suddenly Lina's uncovering a magical world of secret romances, art, and hidden bakeries. A world that inspires Lina, along with the ever-so-charming Ren, to follow in her mother's footsteps and unearth a secret that has been kept for far too long. It's a secret that will change everything she knew about her mother, her father—and even herself.

People come to Italy for love and gelato, someone tells her, but sometimes they discover much more.
Jenna Evans Welch – Welch is an author I discovered very late in 2017 but the sweet cover of the book reeled me in. For a Young Adult Romance, this book captures everything first love is about. But there's also an darker touch to it that gives the book a lot of emotion. This is the author's debut book so I am looking forward to checking out what else she has in store for readers.
What new to you authors did you discover in 2017?
Share with us in the comments!