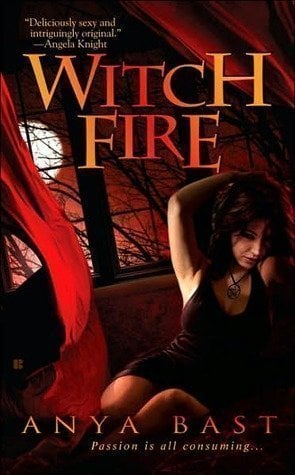 Book Info
Released:
June 5th 2007
Series:
Elemental Witches #1
Published by
Berkley Sensation
Format:
Paperback
"…although I did like this book, it didn't enthrall me."
~ Under the Covers
This book has been on my bookshelf for a long time and it's one of those that I keep meaning to pick up, but never get around to it. However, as part of my effort to clean up my bookcase of all the books I have lingering around, but have never read I chose Witch Fire as my October Clearing-my-Case read. And I was excited! Everyone was saying what a great series this was, so admittedly I went in with very high expectations. Maybe too high. Because although I did like this book, it didn't enthrall me. I didn't immediately rush off and grab the next book in the series.
I've been trying to pinpoint exactly what it was about Witch Fire that I found lacking, that didn't hook me in. Nothing really stood out, which I think may have been my issue with this whole book. Nothing grabbed me. The hero, Jack, was okay but he didn't have much of a personality beyond his womaniser-with-daddy-issues thing. Mira was okay, but much like Jack, she was ultimately forgettable. The relationship itself was very hot, they did have great chemistry and Bast wrote some fantastic sex scenes between them. The problem was, was that I was disinterested.
Then there was the world, now full of witches, warlocks and magic! Exciting right? Meh. I would have liked to have known more, but you weren't given many facts and Mira didn't seem to ask any questions, so the world felt very under developed. It seemed like it was created just so that Mira could be put in a dangerous situation and Jack could save her.
I am making Witch Fire sound awful! But it isn't! It's a short and sexy paranormal romance, unfortunately I didn't feel like either the world, nor the characters had much depth. Because of this I found myself bored whilst I was reading it. I would give this series a second chance and read the next one, Bast's writing was nicely polished and she did write a great sex scene. Maybe it was just a mediocre start!
What did you think of our review?
Let us know your thoughts in the comment box below!

This giveaway is sponsored by Under the Covers
Paperback copy of WITCH FIRE by Anya Bast
International
 ♡ Don't want to miss any of our posts? ♡