If there's one thing we all love about Halloween, it's the sweets. A chance to get a massive bucket of your favourites and pretend they are for all those trick or treaters. Or is that just me? Another great thing about Halloween, which compliments that massive bucket of sweets is all the spooky reads that start coming out! So, we've gathered all our favourites and divided them into two categories:
Trick – for the scarier category of books – they aren't for the faint of heart!
Treat – something where you won't necessarily have to hide behind your pillow and has a nice dollop of romance.
So, grab that aforementioned bucket of sweets, pick your favourite book and chow down this October 31st with a creepy trick or a sweet treat!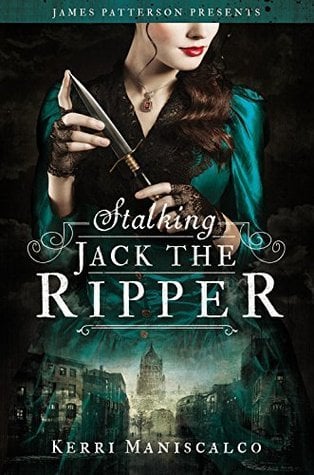 BOOK INFO
Released:
September 20th 2016
Series:
Stalking Jack the Ripper #1
Published by
Jimmy Patterson
Pages:
326
Presented by James Patterson's new children's imprint, this deliciously creepy horror novel has a storyline inspired by the Ripper murders and an unexpected, blood-chilling conclusion...

Seventeen-year-old Audrey Rose Wadsworth was born a lord's daughter, with a life of wealth and privilege stretched out before her. But between the social teas and silk dress fittings, she leads a forbidden secret life.

Against her stern father's wishes and society's expectations, Audrey often slips away to her uncle's laboratory to study the gruesome practice of forensic medicine. When her work on a string of savagely killed corpses drags Audrey into the investigation of a serial murderer, her search for answers brings her close to her own sheltered world.

The story's shocking twists and turns, augmented with real, sinister period photos, will make this dazzling, #1 New York Times bestselling debut from author Kerri Maniscalco impossible to forget.
"One taste of warm blood is never enough, Miss Wadsworth."
This series (and author) right here is one of my best discoveries of 2017.  No seriously.  This book was easily a favorite of mine and I couldn't put it down.  And as much as I loved the gothic horror vibe (for really any time of the year) it's especially perfect for getting you in the Halloween mood.  I mean, this is a twist on Jack the Ripper, so that should tell you something.  And if you pick this up, don't stop there and keep reading the second book, HUNTING PRINCE DRACULA.  So good!  Deliciously creepy, eerie settings, dead bodies, autopsies and engaging mysteries.  All that with really great main characters.  I can't recommend this one enough.
BOOK INFO
Released:
September 30th 2014
Series:
You #1
Published by
Atria/Emily Bestler Books
Pages:
422
When a beautiful, aspiring writer strides into the East Village bookstore where Joe Goldberg works, he does what anyone would do: he Googles the name on her credit card.

There is only one Guinevere Beck in New York City. She has a public Facebook account and Tweets incessantly, telling Joe everything he needs to know: she is simply Beck to her friends, she went to Brown University, she lives on Bank Street, and she'll be at a bar in Brooklyn tonight—the perfect place for a "chance" meeting.

As Joe invisibly and obsessively takes control of Beck's life, he orchestrates a series of events to ensure Beck finds herself in his waiting arms. Moving from stalker to boyfriend, Joe transforms himself into Beck's perfect man, all while quietly removing the obstacles that stand in their way—even if it means murder.
"The only thing crueler than a cage so small that a bird can't fly is a cage so large that a bird thinks it can fly."
If you want to be completely creeped out about something that could SO EASILY happen in real life today, then you have to read this book.  It's told from the killer's POV and I honestly had a love/hate relationship with Joe.  I know, he's a killer and a stalker.  But he was likeable, okay!?  This was a breath of fresh air to read and it completely pulled me in, even when I would cringe at how stupidly common sense went out the window for the unsuspecting victim.
BOOK INFO
Released:
September 26th 2017
Published by
Gallery/Scout Press
Pages:
304
'Once you start Catherine Burns's dark, disturbing, and enthralling debut novel, it's hard to stop. The Visitors is bizarrely unsettling, yet compulsively readable.' Iain Reid, Internationally Bestselling Author of I'm Thinking of Ending Things

Marion Zetland lives with her domineering older brother, John in a decaying Georgian townhouse on the edge of a northern seaside resort. A timid spinster in her fifties who still sleeps with teddy bears, Marion does her best to shut out the shocking secret that John keeps in the cellar.

Until, suddenly, John has a heart attack and Marion is forced to go down to the cellar herself and face the gruesome truth that her brother has kept hidden.

As questions are asked and secrets unravel, maybe John isn't the only one with a dark side.
"You are the kind of evil that comes from nothing, from neglect and loneliness. You are like mold that grows in damp dark places, black dirt gathered in corners, a fatal infection that begins with a speck of dirt in an unwashed wound."
This is Burn's debut novel and wow, she has really entered the scene with a bang. This has to be one of my favourite reads this year. It's insidious and creepy and managed to invoke pity, disgust and horror all at once. It isn't your typical fast paced thriller nor an ice cold tale about a serial killer. Instead…the characters could be your next door neighbour, the middle aged woman at the bus stop the nice lady you seen in the supermarket. If you want something fantastic this Halloween then give this a try. 
BOOK INFO
Released:
September 29th 2015
Series:
Menagerie #1
Published by
Mira
Pages:
432
From New York Times bestselling author Rachel Vincent comes a richly imagined, provocative new series set in the dark mythology of the Menagerie…

When Delilah Marlow visits a famous traveling carnival, Metzger's Menagerie, she is an ordinary woman in a not-quite-ordinary world. But under the macabre circus black-top, she discovers a fierce, sharp-clawed creature lurking just beneath her human veneer. Captured and put on exhibition, Delilah in her black swan burlesque costume is stripped of her worldly possessions, including her own name, as she's forced to "perform" in town after town.

But there is breathtaking beauty behind the seamy and grotesque reality of the carnival. Gallagher, her handler, is as kind as he is cryptic and strong. The other "attractions"—mermaids, minotaurs, gryphons and kelpies—are strange, yes, but they share a bond forged by the brutal realities of captivity. And as Delilah struggles for her freedom, and for her fellow menagerie, she'll discover a strength and a purpose she never knew existed.

Renowned author Rachel Vincent weaves an intoxicating blend of carnival magic and startling humanity in this intricately woven and powerful tale.
"But if monsters could look like humans, and humans could look like monsters, how could anyone ever really be sure that the right people stood on the outside of all those cages?"
What good is a Halloween reads list without a good creepy circus book?  In Menagerie, Rachel Vincent created an alternate reality where all kinds of paranormals used to live among humans until The Reaping. A supernatural attack that killed a lot of the human population. After that, humans have taken control again and paranormals have been exposed and stripped of their rights. They are nothing more than animals in society. Our heroine thought she was a human until one visit to a traveling circus and a trigger and she's exposed as a cryptid and kept in captivity.  This is a dark and gruesome fantasy world painted in very vivid detail.
BOOK INFO
Released:
July 8th 2014
Series:
Deanna Madden #1
Published by
Redhook
Pages:
336
I haven't touched a human in three years. That seems like it would be a difficult task, but it's not. Not anymore, thanks to the internet.

I am, quite possibly, the most popular recluse ever. Not many shut-ins have a 200-member fan club, a bank account in the seven-figure range, and hundreds of men lining up to pay for undivided attention.

They get satisfaction, I get a distraction. Their secret desires are nothing compared to why I hide... my lust for blood, my love of death.

Taking their money is easy. Keeping all these secrets... one is bound to escape.

What if you hid yourself away because all you could think of was killing? And what if one girl's life depending on you venturing into society?

Enter a world of lies, thrills, fears, and all desires, in this original thriller from A. R. Torre.
"No one is normal. Everyone is just pretending to be normal."
When it comes to likeable psychotic killers, I have a soft spot in my heart for Deanna Madden.  She's secluded herself away in an apartment, locked in at night by her neighbor so she can't act on her urges to kill.  Until one man slowly tries to change her routine and get close to her, but can she dare?  This is a completed trilogy now and I was very pleased with how this turned out.
BOOK INFO
Released:
September 26th 2017
TONIGHT, SHE PLANS TO LET GO.

Dressed up and anonymous, Sadie Liberato feels powerful, sexy and free. Where better to lose herself than a masked party?

Gear Blackstone's cheating ex and scheming best friend have managed to spin his life into a serious downward spiral. At least with a mask on he can cut loose for one night. And cut loose he does—with the sexiest, snarkiest chick he's ever met.

After a scorching-hot encounter, Sadie and Gear are desperate to find each other in real life. But can the heat last when the masks come off?
For a Halloween treat that's a little more on the lighter side, Marie Harte has a wonderful Halloween theme story that is light-hearted and full of laughs. Great for a quick refresher, this story will definitely get you into the trick-or-treating mood!