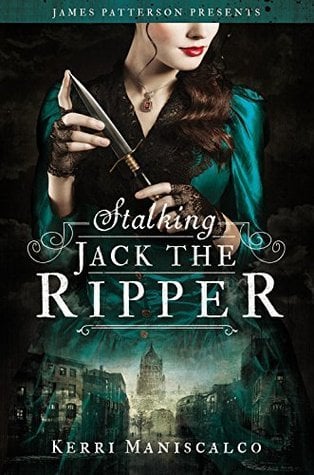 BOOK INFO
Released:
September 20th 2016
Series:
Stalking Jack the Ripper #1
Published by
Jimmy Patterson
Narrator:
Nicola Barber
Length:
9 hrs and 26 mins
Pages:
326
Format:
Audiobook
Recommended Read!
"Just when I've been feeling like there's nothing original out there anymore, here comes Kerri Maniscalco and gives us something delicious to sink our teeth into."
~ Under the Covers
I'm going to be honest, this book has been on my radar for quite some time because that cover is just so gorgeous. But I was hesitant to pick it up because it seems to have a lot of hype around it. Sometimes, I go against the hype. But that cover kept calling my name and I finally caved and bought it. Best decision ever. Just when I've been feeling like there's nothing original out there anymore, here comes Kerri Maniscalco and gives us something delicious to sink our teeth into.
STALKING JACK THE RIPPER could fit in several genres and I love novels like this because they are so well rounded. It is, primarily, young adult because the main narrator is a teenager and historical because of the setting, but the mystery element in this book is also quite prominent. At the base, though, the story is sort of a gothic horror novel. I was so happy that I went into it quite blind. I didn't read a lot of actual reviews other than the fact I've seen people raving about it. The blurb was the only thing I had to go by and the title, which implied a Jack the Ripper reference. I've always been intrigued by Jack the Ripper stories and I love how the author twisted those elements into this book. Some liberties were taken, but a lot of what we know of the true story was used and I think she did a brilliant job with it.
The writing is flawless and engaging, and the story line kept me turning the pages. But it was the characters that really gripped my interest. Audrey and Thomas are unlike other characters I've read from the time. They have interests that are outside the norm (I mean, a seventeen year old girl of the time who isn't interested in fashion and balls but is all about dissecting dead bodies and forensic science), determination for such a young age, and courage to face some creepy situations. There's also a bit of a romance that was perfectly done.
In the end, I couldn't have enjoyed this book more. It's very unique, creepy, dark and the writing feels fresh. I won't even hold against it that I had figured out Jack the Ripper's identity pretty early on, it's always hard for me not to it seems, but it was still very well developed and ended perfectly. I cannot believe this is the authors' debut and I can't wait to read more from her.
What did you think of our review?
Let us know your thoughts in the comment box below!
♡ Don't want to miss any of our posts? ♡
Follow Under the Covers: Facebook | Twitter | Tsu | GoodReads | Email
I'm a 30 something sun lover living in the Big Apple (read New York).I'm a book and coffee addict and lover of all things elephants.

I get easily distracted by pictures of sexy guys and have tons of book boyfriends.I keep all my alpha males chained to my basement and guard them fiercely.*Back off bitches*I like to see Jason Momoa as a lot of those boyfriends, because ….. mmmmmmm JASON.MOMOA!

I'm a part time graphic designer (yes, everything you see on UTC has been done by me), run my husband's business from home and on a good day I'm a self appointed superwoman (she who can do it all).I love blogging with my girls and I couldn't do it any other way!My first love is everything paranormal, but in the past few years I've re-learned to love contemporary romance.Every once in a while I like to mix things up with a historical romance, a steampunk or an LGBT book.Because I need variety to avoid book slumps.I don't always need an HEA although I prefer one, and I love authors that can rip my heart out and make me ugly cry.
Latest posts by Francesca (see all)