ARC Review: The Cad and the Co-Ed by Penny Reid and L.H. Cosway
I received this book for free from Author in exchange for an honest review. This does not affect my opinion of the book or the content of my review.

This post contains affiliate links you can use to purchase the book. If you buy the book using that link, I will receive a small commission from the sale.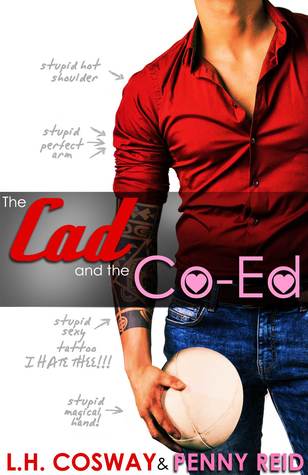 The Cad and the Co-Ed

Book Info
Released:
February 14th 2017
Series:
Rugby #3
Recommended Read!
"…nothing short delicious."
~ Under the Covers
I am starting to sound like a broken record, but who cares right?  I adore these two authors and this series always puts a smile on my face.  Early on when the trope is revealed (before the book even starts 😉 I was quite surprised and wondering how they would make it work without being too cliche.  In case you didn't notice by my icons above… it's a secret baby book.  Full disclaimer: that's not usually my jam because they can be so corny and predictable.  Well, leave it to these two wonderful authors to take an overdone trope and give us something to sink our teeth into that is nothing short delicious.
I was salivating to read this story from the moment we see Bryan, the party boy, interested in YOUNG and mousy Sean Cassidy's cousin, Eilish.  What I love about these authors is that you can't predict what you're going to get and definitely this book didn't go in the direction I was expecting.  But that made it all that much more exciting.  Bryan showed such a sweet and adorable side of himself.  Gone was the party boy and now he was this delectable man who drinks tea and read books on Friday nights while complaining about how loud their neighbors music is blaring… before even 10pm.  I just wanted to cuddle him!
Eilish on her side, even though she's still very young, she's had to grow up and taken on a lot of responsibilities on her shoulders.  Dealt with the disapproval of her family.  Educated herself, but making the right decisions for her child.  I mean… I couldn't help but admire her!  She had to grow up fast, and the fact she didn't really resent that as her friends were doing only made me love her more.  Definitely a very mature young woman.
The chemistry was spot on but they also meshed in so many other levels than purely sexual.  They both had to grow up and leave their old lives behind so they can start a new one together eventually.  And I couldn't have been happier with how it turned.  Plus, did I mention the secret baby?  I mean, I am a sucker for a cute kid.  Especially when there's a hot tatted up rugby player loving on him.  THE CAD AND THE CO-ED will warm your heart as well.
Favorite quote:
"What is love but two people going temporarily insane with need for one another?"
What did you think of our review?
Let us know your thoughts in the comment box below!
 ♡ Don't want to miss any of our posts? ♡ 
Follow Under the Covers: Facebook | Twitter | Tsu | GoodReads | Email 
Latest posts by Francesca
(see all)