Sinners vs Saints Fight Club: Jamie Fraser vs Barrons
Welcome everyone to another edition of our hero fight club!  This time around we wanted to find out who we ultimately really love.  Is it the bad boys with an edge of danger?  Or the good guys that make us melt?  To do that, this week we've put together a killer line up and have enlisted the help of some wonderful bloggers that will be making their case for their favorite heroes.  Who do you think will come out on top?
Kicking things off today….
Jamie Fraser vs Barrons
#TEAMSAINT: Jamie Fraser
I wanted to start off by saying that Jamie Fraser is an amazing book boyfriend.
As a matter of fact, James Alexander Malcolm Mackenzie Fraser (JAMMF) is an absolute SAINT.
If you're unfamiliar with JAMMF, let me fill you in on all the reasons I think he should be at the top of your book boyfriend list.
First off, he's a hot, Scottish, ginger-headed Highlander.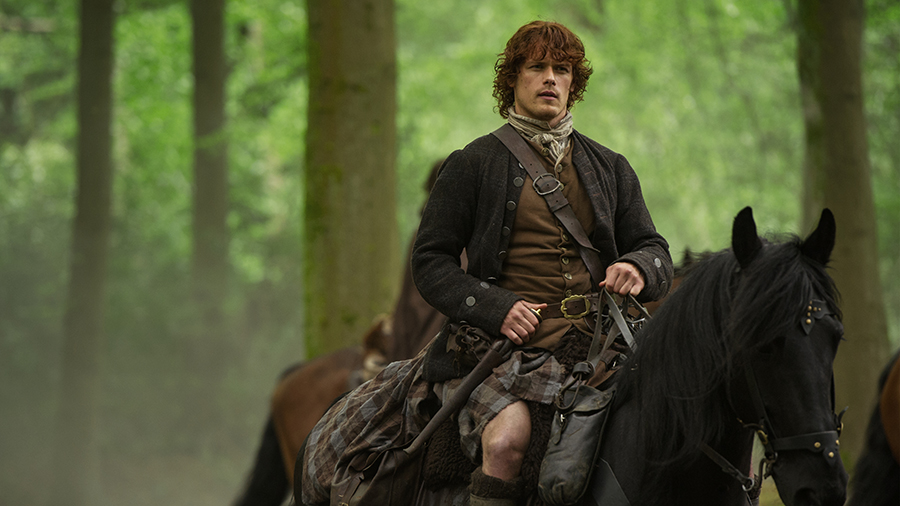 Oh, and he wears a kilt. So, score!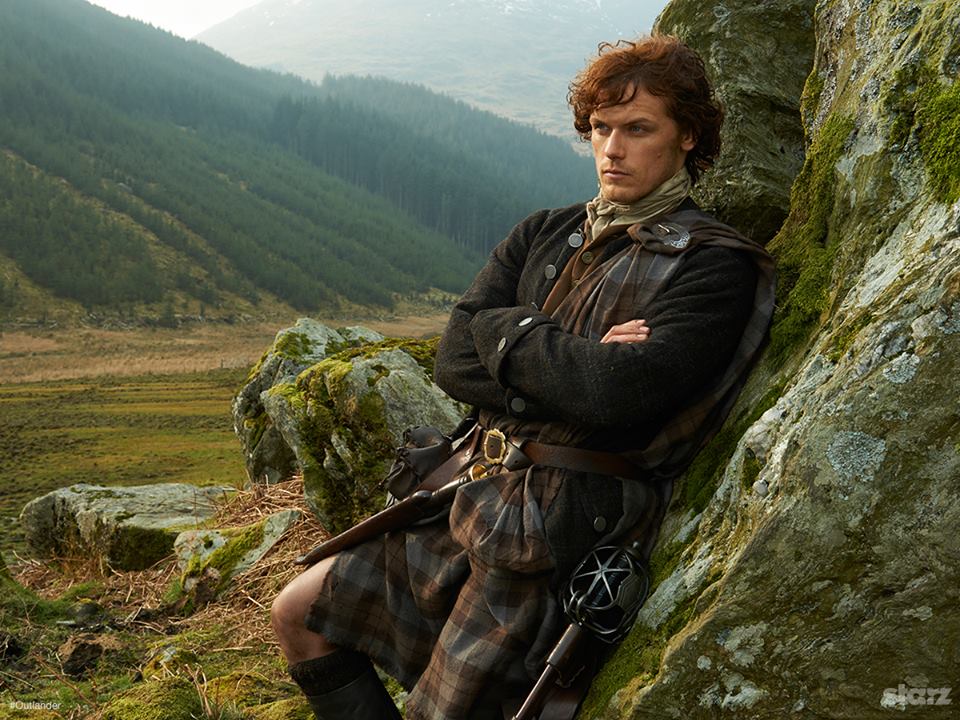 He's good with his tongue, er…I mean he speaks several tongues…*swoon*
He speaks English, Gaelic, French, and dabbles into Italian & Chinese (which you'll find in the later books in the Outlander series).
He's also an absolute wordsmith. He knows just what to say to make you feel all the things: protected, cherished, loved, and yes, turned on.
Let me break it down by pulling some Jamie Fraser quotes found throughout the series:
He's here to protect you…
"There is an oath upon her," he said to Arch, and I realized dimly that he was still speaking in Gaelic, though I understood him clearly. "She may not kill, save it is for mercy or her life. It is myself who kills for her."

"You are safe," he said firmly. "You have my name and my family, my clan, and if necessary, the protection of my body as well. The man willna lay hands on ye again, while I live."
He'll make you swoon whenever he vocalizes his undying love for you…
"If ye were no longer there—or somewhere—" he said very softly, "then the sun would no longer come up or go down." He lifted my hand and kissed it, very gently.
"When the day shall come that we do part," he said softly, and turned to look at me, "if my last words are not 'I love you'-ye'll ken it was because I didna have time."
"You are my courage, as I am your conscience," he whispered. "You are my heart—and I your compassion. We are neither of us whole, alone. Do ye not know that, Sassenach?"

"If I die," he whispered in the dark, "dinna follow me. The bairns will need ye. Stay for them. I can wait."
"Your face is my heart Sassenach, and the love of you is my soul"
He knows just what to say to get your juices flowing…
"Aye, verra good. Now then, if ye'll just put your hands above your head and seize the bedstead—"
"And I mean to hear ye groan like that again. And to moan and sob, even though you dinna wish to, for ye canna help it. I mean to make you sigh as though your heart would break, and scream with the wanting, and at last to cry out in my arms, and I shall know that I've served ye well."
"Does it ever stop? The wanting you?"
"Even when I've just left ye, I want you so much my chest feels tight and my fingers ache with wanting to touch ye again."
I rest my case.
~ Stephanie at No BS Book Reviews
Outlander

Book Info
Released:
January 1st 1991
Genre:
Historical Romance
,
Time Travel
Series:
Outlander #1
Published by
Bantam Dell
Pages:
896
#1 NEW YORK TIMES BESTSELLER • NOW A STARZ ORIGINAL SERIES

Unrivaled storytelling. Unforgettable characters. Rich historical detail. These are the hallmarks of Diana Gabaldon's work. Her New York Times bestselling Outlander novels have earned the praise of critics and captured the hearts of millions of fans. Here is the story that started it all, introducing two remarkable characters, Claire Randall and Jamie Fraser, in a spellbinding novel of passion and history that combines exhilarating adventure with a love story for the ages.

OUTLANDER

The year is 1945. Claire Randall, a former combat nurse, is just back from the war and reunited with her husband on a second honeymoon when she walks through a standing stone in one of the ancient circles that dot the British Isles. Suddenly she is a Sassenach—an "outlander"—in a Scotland torn by war and raiding border clans in the year of Our Lord . . . 1743.

Hurled back in time by forces she cannot understand, Claire is catapulted into the intrigues of lairds and spies that may threaten her life, and shatter her heart. For here James Fraser, a gallant young Scots warrior, shows her a love so absolute that Claire becomes a woman torn between fidelity and desire—and between two vastly different men in two irreconcilable lives.
#TEAMSINNER: Barrons
I feel like I should make a banner or something or write a freaking cheer. My main dude Barrons always brings out the cheerleader in me. From book one of the Fever series you know that this mysterious bookshop owner was about to ruin you for every other book man out there. First your feelings were all over the place cuz he was such an asshole, but then you started to realize that you're digging him and by book 5 (if you didn't naturally combust) you were totally in love. He was mysterious, yet sometimes an open book. He was an asshole, but so protective, loyal, and most of all you wanted in his squad (epitome of squad goals). While finding Mac kickass you secrelty hated her because she got the best of Barron's and sometimes the worst of him.
Let's get real though and share some highlights of when your panties dropped and you just couldn't even.
* When Mac did that dumb shit in Dreamfever and Barrons had to be ride or die type guy and sex the shit out of her. For me those tender glimpses was everything he's always been to me.
* When Shadowfever happened
* When you were trying to figure out what he is and his story and you find out and it broke your heart. You just wanted to touch him.
* When he was just existing….
* Then he said this "I watched you die today MacKayla. I need to fuck you". First he finally used her name and second if you were drinking tea you now have 3rd degree burns, and if you had a heart condition. I'm sorry you're no longer with us.
Overall, Barrons is hands down one of the best male characters out there. Love him or hate him hes unforgettable. There was no disguise with him and everyone knew where they stood with him. He wasn't always a good man but for most of it he was a great one.
~ Darien Moya  from Pants Off Reviews
Darkfever

Book Info
Released:
October 31st 2006
Genre:
Urban Fantasy
Series:
Fever #1
Published by
Delacorte Press
Pages:
309
MacKayla Lane's life is good. She has great friends, a decent job, and a car that breaks down only every other week or so. In other words, she's your perfectly ordinary twenty-first-century woman. Or so she thinks... until something extraordinary happens.

When her sister is murdered, leaving a single clue to her death—a cryptic message on Mac's cell phone–Mac journeys to Ireland in search of answers. The quest to find her sister's killer draws her into a shadowy realm where nothing is as it seems, where good and evil wear the same treacherously seductive mask. She is soon faced with an even greater challenge: staying alive long enough to learn how to handle a power she had no idea she possessed—a gift that allows her to see beyond the world of man, into the dangerous realm of the Fae...

As Mac delves deeper into the mystery of her sister's death, her every move is shadowed by the dark, mysterious Jericho, a man with no past and only mockery for a future. As she begins to close in on the truth, the ruthless Vlane—an alpha Fae who makes sex an addiction for human women—closes in on her. And as the boundary between worlds begins to crumble, Mac's true mission becomes clear: find the elusive Sinsar Dubh before someone else claims the all—powerful Dark Book—because whoever gets to it first holds nothing less than complete control of the very fabric of both worlds in their hands...
START VOTING!
First round of voting will be closing this Thursday.
Be sure to check in every day this week for a new first round battle to vote on!
Semi Finals will be Friday and Saturday and the Final Battle Sunday!
[polldaddy poll="9123020″]
OTHER FIRST ROUNDS:
 ♡ Don't want to miss any of our posts? ♡ 
Follow Under the Covers: Facebook | Twitter | Tsu | GoodReads | Email