BATTLE OF THE COVERS!
It's historical romance month at UTC and we want to recap some awesome genre covers of 2013. We've narrowed this down to 5 covers. Which one would you choose?
WHEN A MASKED MAN . . .

Twenty years ago Maximus Batten witnessed the brutal murders of his parents. Now the autocratic Duke of Wakefield, he spends his days ruling Parliament. But by night, disguised as the Ghost of St. Giles, he prowls the grim alleys of St. Giles, ever on the hunt for the murderer. One night he finds a fiery woman who meets him toe-to-toe—and won't back down . . .

MEETS HIS MATCH . . .

Artemis Greaves toils as a lady's companion, but hiding beneath the plain brown serge of her dress is the heart of a huntress. When the Ghost of St. Giles rescues her from footpads, she recognizes a kindred spirit-and is intrigued. She's even more intrigued when she realizes who exactly the notorious Ghost is by day . . .

DESIRE IGNITES A DANGEROUS PASSION

Artemis makes a bold move: she demands that Maximus use his influence to free her imprisoned brother-or she will expose him as the Ghost. But blackmailing a powerful duke isn't without risks. Now that she has the tiger by the tail, can she withstand his ire-or the temptation of his embrace?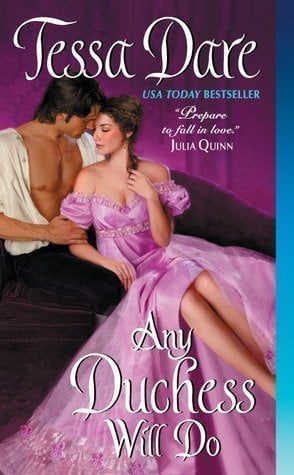 What's a duke to do, when the girl who's perfectly wrong becomes the woman he can't live without?

Griffin York, the Duke of Halford, has no desire to wed this season–or any season–but his diabolical mother abducts him to "Spinster Cove" and insists he select a bride from the ladies in residence. Griff decides to teach her a lesson that will end the marriage debate forever. He chooses the serving girl.

Overworked and struggling, Pauline Simms doesn't dream about dukes. All she wants is to hang up her barmaid apron and open a bookshop. That dream becomes a possibility when an arrogant, sinfully attractive duke offers her a small fortune for a week's employment. Her duties are simple: submit to his mother's "duchess training"…and fail miserably.

But in London, Pauline isn't a miserable failure. She's a brave, quick-witted, beguiling failure–a woman who ignites Griff's desire and soothes the darkness in his soul. Keeping Pauline by his side won't be easy. Even if Society could accept a serving girl duchess–can a roguish duke convince a serving girl to trust him with her heart?
Once blissfully in love . . .

Poppy Lane is keeping secrets. Her powerful gift has earned her membership in the Society for the Suppression of Supernaturals, but she must keep both her ability and her alliance with the Society from her husband, Winston. Yet when Winston is brutally attacked by a werewolf, Poppy's secrets are revealed, leaving Winston's trust in her as broken as his body. Now Poppy will do anything to win back his affections . . .

Their relationship is now put to the ultimate test.

Winston Lane soon regains his physical strength but his face and heart still bear the scars of the vicious attack. Drawn into the darkest depths of London, Winston must fight an evil demon that wants to take away the last hope of reconciliation with his wife. As a former police inspector, Winston has intelligence and logic on his side. But it will take the strength of Poppy's love for him to defeat the forces that threaten to tear them apart.
In Victorian London, if you're not a blue blood of the Echelon then you're nothing at all. The Great Houses rule the city with an iron fist, imposing their strict 'blood taxes' on the nation, and the Queen is merely a puppet on a string…

Lena Todd makes the perfect spy. Nobody suspects the flirtatious debutante could be a sympathizer for the humanist movement haunting London's vicious blue blood elite. Not even the ruthless Will Carver, the one man she can't twist around her little finger, and the one man whose kiss she can't forget…

Stricken with the loupe and considered little more than a slave-without-a-collar to the blue bloods, Will wants nothing to do with the Echelon or the dangerous beauty who drives him to the very edge of control. But when he finds a coded letter on Lena—a code that matches one he saw on a fire-bombing suspect—he realizes she's in trouble. To protect her, he must seduce the truth from her.

With the humanists looking to start a war with the Echelon, Lena and Will must race against time—and an automaton army—to stop the humanist plot before it's too late. But as they fight to save a city on the brink of revolution, the greatest danger might just be to their hearts…
He thinks she's an annoying know-it-all…

Hugh Prentice has never had patience for dramatic females, and if Lady Sarah Pleinsworth has ever been acquainted with the words shy or retiring, she's long since tossed them out the window. Besides, a reckless duel has left this brilliant mathematician with a ruined leg, and now he could never court a woman like Sarah, much less dream of marrying her.

She thinks he's just plain mad…

Sarah has never forgiven Hugh for the duel he fought that nearly destroyed her family. But even if she could find a way to forgive him, it wouldn't matter. She doesn't care that his leg is less than perfect, it's his personality she can't abide. But forced to spend a week in close company they discover that first impressions are not always reliable. And when one kiss leads to two, three, and four, the mathematician may lose count, and the lady may, for the first time, find herself speechless …

New York Times bestselling author Julia Quinn's enchanting third novel in the Smythe-Smith quartet is guaranteed to make you laugh out loud and tug at your heartstrings in equal measures.
VOTING TIME!
Books have the power to unite people and that is exactly what happened with us! Our love for books have brought us together and we've become good friends in a short amount of time. We "met" online through Goodreads and decided to share our passion of books with fellow book lovers. And that is how Under the Covers came to be…
Latest posts by Under the Covers Book Blog (see all)