I received this book for free from Publisher in exchange for an honest review.
This does not affect my opinion of the book or the content of my review.
BOOK INFO
Released:
Dec. 24, 2013
Series:
Elemental Assassin #10
Published by
Pocket Books
Pages:
400
Format:
eARC
Estep manages to add another layer to the multi-faceted character that is The Spider. ~ Under the Covers
THE SPIDER, book ten in the Elemental Assassin series is hands down the best of the series yet! I devoured this book, becoming wholly consumed in the story that Estep brought me on. Taking a step back from the life that Gin has created for herself, Estep reveals a vivid and interesting story that occurred years ago and has played a crucial part in what Gin has become today.
The Spider hasn't always been to untouchable and all-mighty. This time, we see a softer side of Gin when she was just starting out as an assassin. In what was meant to be an easy takedown, Gin soon realizes that complications have twisted this sick case into something far more deadly.
She is hired to take out a money mogul who also happens to abuse his daughter, Charlotte. Nothing pisses Gin off more than a man who preys on the weak. To get close to her target, Gin saddles up to his gorgeous son, Sebastian Vaughn. However, Gin makes a fatal mistake. She falls in love.
In a matter of weeks, Gin's life brightens again, helping her remember a time when she wasn't so angry at the circumstances of life. Sebastian brings warmth into her world. It's actually quite nice to see this side of Gin. She's often portrayed at the tough, take-no-shit type of character. I liked seeing her vulnerabilities. In a way, I think her love for Sebastian made her more real. She isn't so cold-hearted and ruthless, but capable of love. Estep manages to add another layer to the multi-faceted character that is The Spider.
But make no mistake, Gin isn't all mushy in this book. As you will see, several twists and turns are prevalent in this storyline, throwing me for a loop each time. I don't think I muttered, "Oh my God," so many times during a book. Estep executes her plan flawlessly. I'm very impressed by the way she was able to pull this off.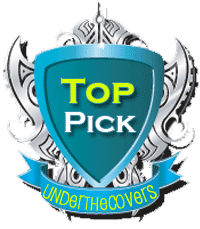 The way in which this book is written showcases Estep's talent as a writer. Eloquent and free-flowing, her writing matches the fast pace of her books.
Favorite Quote:
And when the world fell away, and the stars flashed before my eyes, and I finally came back to myself, I almost wanted to weep, knowing that this would be the first— and only—time that we would ever be together
What did you think of our review?
Let us know your thoughts in the comment box below!
♡ Don't want to miss any of our posts? ♡
Follow Under the Covers: Facebook | Twitter | Tsu | GoodReads | Email
I'm an obsessive makeup junkie and a compulsive reader. I like to call Under the Covers Book Blog my stomping ground, but when I'm not talking about books with my girls, I write New Adult Dystopian and Contemporary Romance under the pen name Ana Jolene (http://www.anajolene.com). I also work as a virtual assistant for authors. You also can find me as a reviewer and columnist for FreshFiction.com.

When it comes to books I'm pretty adventurous. I read everything from Paranormal Romance to Urban Fantasy, New Adult, BDSM, LGBT fiction, Cozy Mysteries and even YA. If it's got the littlest trace of romance in it, then I'll probably read it. That being said, my all-time favorite authors are J.R. Ward and Karen Marie Moning.

When I'm not submerged in a good book, you can find me musing about makeup and planners or dreaming about Kpop boys and beaches. Until then, check out my reviews and let's talk books!