I received this book for free from Author in exchange for an honest review.
This does not affect my opinion of the book or the content of my review.
BOOK INFO
Released:
24 September 2013
Series:
Cowboys & Brides #2
Published by
Sourcebooks Casablanca
Pages:
352
Format:
eARC


If you're going to pick up one Christmas book this season, I strongly suggest that you pick up Carolyn Brown's The Cowboy's Christmas Baby. ~ Under the Covers
Oh boy, sparks do fly when Lucas Allen returns from his tour of duty in Kuwait! When Lucas returns to his ranch to find his internet girlfriend toting a pistol in one hand and a baby in the other, he wonders if he should have stayed in the desert. Lucas can't believe he is seeing his internet girlfriend, Natalie Clark with a baby in her arms when they had been communicating via the internet for almost a year and Natalie never said a word about the little man. Nor is he very thrilled with the prospect of this beautiful woman being in his home tempting him, but that's exactly what happens because right before Lucas' homecoming, his long time housekeeper, cook and friend, Hazel has hurt her hip and begged the very talented Natalie to fill in for her until Christmas.
Natalie has been in a precarious position since she she became pregnant with her best friend, Drew's baby. In a drunken stupor the best friends since childhood fell into bed together before he returned to his tour in Kuwait. Natalie didn't even have time to tell him about her pregnancy before his death in the desert. After living in denial about her pregnant, it just never seemed a good time to tell Lucas, who she started chatting with upon their mutual friend's death.
Lucas thought he would be able to fall quickly into a relationship with Natalie, but baby Joshua could be a deal breaker. Only thing is, all the Allen men and all at the ranch have fallen in love with Joshua and leaving is going to be a very hard on everyone. If only Lucas would get over his stubbornness and see the woman he begun the internet friendship with, things might actually end well. There is never a dull moment in The Cowboy's Christmas Baby by Carolyn Brown, who's sassy personality comes out in each and every page. All the characters shines through in this story; I wanted to be a part of it. All the Christmas plans and the traditions put me in the holiday spirit and the sizzling romance doesn't hurt either. If you're going to pick up one Christmas book this season, I strongly suggest that you pick up Carolyn Brown's The Cowboy's Christmas Baby.
* ARC provided by publisher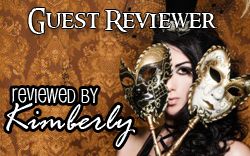 Let us know your thoughts by commenting below!
Kimberly is our main stay historical romance guest reviewer, her genre of choice.She's very involved in the romance community and is the founder of Book Obsessed Chicks Book Club, which started out in New York and now has several other branches.