Review: Sins of a Wicked Princess by Anna Randol
I received this book for free from Publisher in exchange for an honest review. This does not affect my opinion of the book or the content of my review.

This post contains affiliate links you can use to purchase the book. If you buy the book using that link, I will receive a small commission from the sale.
Sins of a Wicked Princess

Book Info
Released:
29 October 2013
Genre:
Historical Romance
Series:
Sinners Trio #3
Published by
Avon
Pages:
384
Format:
eARC


Anna Randol's knack for writing danger and suspense make this not just a romance but a wonderful mystery as well ~ Under the Covers
*Pouts* It's over, it's really over. The first book in the Sinners Trio, Sins of a Virgin shocked me but once I recovered I could only describe the book with one word; awesome. I happily awaited for the second book to be released and loved Sins of a Wicked Rogue. Now at last third book is out and Sins of a Wicked Princess is another winner.
Ian Maddox, or Wraith as he is secretly known, was recruited with three others from the gallows and given the choice to live if he gave his life in service to the crown. The government has now disavowed knowledge of the Trio and now they are on their own. Clayton and Madeline are now happily married and living productive lives but Ian is still uncertain of his fate. Frankly, he is quite content to leave the life of being a spy but first he must discover who is behind a hit list on his former associates.
Princess Juliana is a semi-exiled ruler of a small country that is sought after by the French and Spanish. When Wraith appears one night in her bedroom demanding to know who wants his friends killed, Juliana has no idea what he is talking about. Somehow the Trio has something to do with the toppling of Juliana's country. She soon finds that there is another plot to depose her of her throne and her brother may be at the center along with an unscrupulous and immoral Duke. The sparks fly between Ian and Juliana as soon as they meet but Juliana must do her duty to her country and marry someone of her ilk and Ian believes he is not for her, but at every turn the heat between them flares and the danger increases.
Anna Randol has done is again and I am very sorry to see the end of the Sinners Trio. Anna Randol's knack for writing danger and suspense make this not just a romance but a wonderful mystery as well. Ian's snarky mouth and the not-so-proper-princess Juliana with her scandalous skills such as picking locks, are fabulous characters. I loved how both of them at first thought they had to part ways, but then with the realization they couldn't be happy unless they were together, they both fought for what they truly wanted. In the end the spy and the princess overcome their social differences, making The Sins of a Wicked Princess a must read.
*  ARC provided by publisher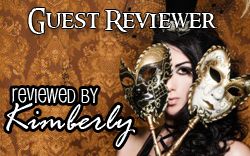 Did you like this review? If so, please tell us your thoughts in the comments!