You can't swing a cat in the romance world without hitting some beautiful or ruggedly handsome hero, who may or may not be all scarred up on the inside, but on the outside is a regular Adonis. So, it always grabs my attention when I get a hero that is less than perfect in the ol' looks department, and I don't mean just has a little bit of a scar, but actually ugly, or plain or properly disfigured. So here is a list of our Top 10 Ugly heroes…(We won't be doing any casting for this)
10. Edward Rochester – Jane Eyre by Charlotte Bronte
Jane Eyre was one of the first romance books I have read and Edward Rochester was one of the first book crushes I ever developed. Ugly and plain he may be but his dark intensity and love for the plain and strong willed Jane won me over, and he remains one of my favourite heroes.
Orphaned into the household of her Aunt Reed at Gateshead, subject to the cruel regime at Lowood charity school, Jane Eyre nonetheless emerges unbroken in spirit and integrity.

She takes up the post of governess at Thornfield, falls in love with Mr. Rochester, and discovers the impediment to their lawful marriage in a story that transcends melodrama to portray a woman's passionate search for a wider and richer life than Victorian society traditionally allowed.

With a heroine full of yearning, the dangerous secrets she encounters, and the choices she finally makes, Charlotte Bronte's innovative and enduring romantic novel continues to engage and provoke readers.
9. Jim Shrapshire – Kate Daniels series by Ilona Andrews
Jim may not be pretty, he may be a bit of a control freak, but he also makes my heart pound and not just because he's scary. Being Cat Alpha and BFF with the Beast Lord is a tough job but he has the brains, brawn and paranoia to get it done, and I love every slightly ugly incho of him.
Atlanta is a city plagued by magical problems. Kate Daniels will fight to solve them—no matter the cost.

Mercenary Kate Daniels and her mate, Curran, the Beast Lord, are struggling to solve a heartbreaking crisis. Unable to control their beasts, many of the Pack's shapeshifting children fail to survive to adulthood. While there is a medicine that can help, the secret to its making is closely guarded by the European packs, and there's little available in Atlanta.

Kate can't bear to watch innocents suffer, but the solution she and Curran have found threatens to be even more painful. The European shapeshifters who once outmaneuvered the Beast Lord have asked him to arbitrate a dispute—and they'll pay him in medicine. With the young people's survival and the Pack's future at stake, Kate and Curran know they must accept the offer—but they have little doubt that they're heading straight into a trap…
8. Edward de Raaf – The Raven Prince by Elizabeth Hoyt
Elizabeth Hoyt does the best unusual heroes, and Edward is one of my favourites, his pock marked and plain face may not be for everyone, but his quiet, gruff personality has my pulse racing and my heart melting.
There comes a time in a lady's life…

Widowed Anna Wren is having a wretched day. After an arrogant male on horseback nearly squashes her, she arrives home to learn that she is in dire financial straits.

When she must do the unthinkable…

The Earl of Swartingham is in a quandary. Having frightened off two secretaries, Edward de Raaf needs someone who can withstand his bad temper and boorish behavior.

And find employment.

When Anna becomes the earl's secretary, it would seem that both their problems are solved. Then she discovers he plans to visit the most notorious brothel in London for his "manly" needs. Well! Anna sees red—and decides to assuage her "womanly" desires…with the earl as her unknowing lover.
7. Alistair Munroe – To Beguile a Beast by Elizabeth Hoyt
Another entry on the list by Elizabeth Holt, but I could miss Alistair, it isn't often you get a scarred and one eyed hero. But his abrasive, unfriendly manner was just a cover for the gooey marshmallow he really was. One eye or two, scars or no scars Alistair was a great hero.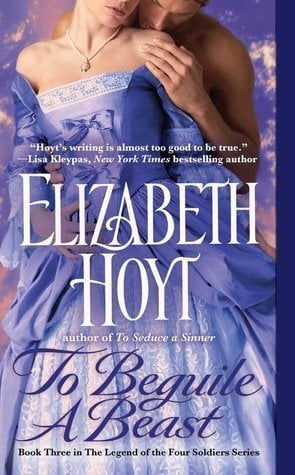 CAN A WOUNDED BEAST . . .

Reclusive Sir Alistair Munroe has hidden in his castle ever since returning from the Colonies, scarred inside and out. But when a mysterious beauty arrives at his door, the passions he's kept suppressed for years begin to awaken.

TRUST A BEAUTY WITH A PAST . . .

Running from past mistakes has taken legendary beauty Helen Fitzwilliam from the luxury of the ton to a crumbling Scottish castle . . . and a job as a housekeeper. Yet Helen is determined to start a new life and she won't let dust-or a beast of a man-scare her away.

TO TAME HIS MOST SECRET DESIRES?

Beneath Helen's beautiful façade, Alistair finds a courageous and sensual woman. A woman who doesn't back away from his surliness-or his scars. But just as he begins to believe in true love, Helen's secret past threatens to tear them apart. Now both Beast and Beauty must fight for the one thing neither believed they could ever find-a happy ever after.
6. Ripper – Unbeautifully by Madeline Sheehan
Ripper is unconventional in this list because he started out one way in the series, a beautiful, cocky biker that got any girl he wanted.  And then horror stroke and he almost lost his life, but ended up just terribly disfigured.  The end result is this new Ripper that is truly an intense guy only made more intense by tragedy.  And when he loves that's a whole load of that intensity all focused on one woman.  Might just make you explode.
Warning: This is not a story about fate or destiny. This is a story about pain, sorrow, and suffering. This is an impulsive whirlwind romance between two lovers that are not meant to be together. Theirs is not a world with sunshine and roses. Instead, their love blossoms in a secret world full of crime, violence, and death. Their story is about what can be born from nightmares.

Danielle "Danny" West is the daughter of Deuce West, President of the Hell's Horsemen Motorcycle Club. A sweet and beautiful girl, she loses her way, searching for things that are always out of her reach. Erik "Ripper" Jacobs is the Sergeant of Arms in the Hell's Horsemen. Once a man who always had a smile on his face, his life takes a turn for the worst when a tragedy befalls him, leaving him scarred and broken. During a midsummer night, Danny and Ripper's paths cross, forever changing their lives. Hastily, their lust turns to love until another tragedy forces them apart. On a journey that is marred with ugliness and chaos, Danny and Ripper must discover if their unforeseen connection can find the beauty in their world.

This is Danny and Ripper's story.

Everything has beauty. Even the ugly. Especially the ugly.
Because without ugly, there would be no beauty.
5. Christopher- Beast by Pepper Pace
Chris may have a badly operated on cleft palette that makes his face look a little monstrous, add freckles, pale pale skin and his larger than life body he is pretty scary to behold. But, he may be ugly on the outside, but inside he was beautiful, just thinking about him makes me sigh wistfully. Perfect. Man.
Pepper Pace's interracial fairytale is the story of Beast; a marine with a destroyed face and a plus sized beauty who has identity issues. A lesson learned is that beauty is not what is on the outside…In this romance that is taken from the Beauty and the Beasts' fairytale, it will leave you questioning 'who is the beauty and who is the beast?'
4. Zsadist -Lover Awakened by J.R. Ward
If you have been reading romance for any amount of time you would have heard of and probably read (IF NOT DO SO NOW!) the Black Dagger Brotherhood series, and have fallen in love with Zsadist. He really does life up to his name, cruel and violent Zsadist hates everyone, especially himself. But, beneath his scarred and scary visage beats the heart of a man in pain, he just needs to find the right woman to ease him.
In the shadows of the night in Caldwell, New York, there's a deadly war raging between vampires and their slayers. And there exists a secret band of brothers like no other – six vampire warriors, defenders of their race. Of these, Zsadist is the most terrifying member of the Black Dagger Brotherhood.

A former blood slave, the vampire Zsadist still bears the scars from a past filled with suffering and humiliation. Renowned for his unquenchable fury and sinister deeds, he is a savage feared by humans and vampires alike. Anger is his only companion, and terror is his only passion—until he rescues a beautiful aristocrat from the evil Lessening Society.

Bella is instantly entranced by the seething power Zsadist possesses. But even as their desire for one another begins to overtake them both, Zsadist's thirst for vengeance against Bella's tormentors drives him to the brink of madness. Now, Bella must help her lover overcome the wounds of his tortured past, and find a future with her…
3. Lucien – The Darkest Kiss by Gena Showalter
Did anyone else forget that Lucien was meant to be scarred up to his eye balls and scary ugly? I did. We are in double digits now in the Lords of the Underworld series and all I think of when I think of the Lord of Death is pure sexiness, he may be ugly but his calm leadership of the Lords and love for his mischievous Goddess washes everything else aside.
She has tempted many men…but never found her equal. Until now.

Though she has lived for centuries, Anya, goddess of Anarchy, has never known pleasure. Until Lucien, the incarnation of death–a warrior eternally doomed to take souls to the hereafter. He draws her like no other. And Anya will risk anything to have him.

But when the merciless Lord of the Underworld is ordered by the gods to claim Anya herself, their uncontrollable attraction becomes an anguished pursuit. Now they must defeat the unconquerable forces that control them, before their thirst for one another demands a sacrifice of love beyond imagining…
2. Xcor – Black Dagger Brotherhood series by J.R. Ward
Technically Xcor doesn't have his own book, but he very much deserves to have a place on our list. He is ruthless, cold and uneducated with a face only a mother could love and yet he has beaten his way to my heart. His loyalty and the strange vulnerability he has beneath the murderous bastard thing he's working discards any thoughts of him being ugly, all he has to be is mine.
#1 New York Times bestselling author J. R. Ward's "different, creative, dark, violent, and flat-out amazing" Black Dagger Brotherhood series continues as a vampire warrior crosses the line between life and death…into a world of dark dreams and darker desires.

Ever since the death of his shellan, Tohrment has been a heartbroken shadow of the vampire leader he once was. Brought back to the Brotherhood by a self-serving fallen angel, he fights again with ruthless vengeance, unprepared for a new tragedy. Seeing his beloved in dreams—trapped in a cold, isolated netherworld—Tohr turns to the angel Lassiter to save his former mate. The only way to rescue her is for Tohr to love another. As war with the lessers rages, and a new clan of vampires vie for the Blind King's throne, Tohr struggles between an unforgettable past and a hot, passion-filled future. But can his heart let go and set all of them free?
1. Terrible – Downside Ghosts series by Stacia Kane
We come to our number one spot which is completely OWNED by Terrible. His ugly face and rough tender words has sat his squarely on our top spot. Is Terrible ugly? Yeah, but after immersing yourself in these books, you forget all about his physical appearance as you watch his devotion and loyalty, not to mention his wicked hot expertise in the bedroom. Ugly or beautiful, Terrible will always be in our topspot.
IT'S A THIN LINE BETWEEN ALIVE AND UNDEAD.
Chess Putnam has a lot on her plate. Mangled human corpses have started to show up on the streets of Downside, and Chess's bosses at the Church of Real Truth have ordered her to team up with the ultra-powerful Black Squad agency to crack the grisly case.

Chess is under a binding spell that threatens death if she talks about the investigation, but the city's most notorious crime boss—and Chess's drug dealer—gets wind of her new assignment and insists on being kept informed. If that isn't bad enough, a sinister street vendor appears to have information Chess needs. Only he's not telling what he knows, or what it all has to do with the vast underground City of Eternity.

Now Chess will have to navigate killer wraiths, First Elders, and a lot of seriously nasty magic—all while coping with some not-so-small issues of her own. And the only man Chess can trust to help her through it all has every reason to want her dead.
We need more Terribles in the romance world!
Latest posts by Under the Covers Book Blog
(see all)