ARC Review: The Way Home by Cindy Gerard
I received this book for free from Publisher in exchange for an honest review. This does not affect my opinion of the book or the content of my review.

This post contains affiliate links you can use to purchase the book. If you buy the book using that link, I will receive a small commission from the sale.
The Way Home

Book Info
Released:
October 29, 2013
Series:
One-Eyed Jacks #2
Pages:
336
Format:
ARC
Gerard's writing has always been fabulous, but I think this book might be my favourite story she has ever written.  ~ Under the Covers
Because of the cover, I almost passed this book. I didn't know it was loosely tied to the BOI and the One-Eyed Jacks series. However, don't let the holiday-themed cover fool you. Yes, there is a holiday vibe to it, but if you read the blurb, you are immediately struck by a heady dose of angst and heartbreak. I thought I was ready for this book. But I never expected it to touch me so deeply.
Cindy Gerard is the master of Romantic Suspense. She simply excels when it comes to writing action-packed scenes that are highly detailed and infused with passion and fun. Similarly, her heroes have been some of the hottest in RS that I've read, so why then did I expect a different vibe to this story?
Well, there actually is a different vibe to it. There are highly detailed and often tragic scenes of the action, but Gerard also further explores the angst that has been so popular in stories today. Jess is a sweetheart heroine. Her husband was killed in Afghanistan four years ago. Since then, she hasn't lived for herself, instead busying herself with running the shop and generally avoiding anything that involved emotions. For too long, she hurt and I could understand her need to distance herself from that.
It isn't until Ty Brown, a former military person himself, returns to explore the ember of chemistry he sensed when he first met Jess. Though cautious at first, their romance soon blooms into something magical under the gentle care of this alpha male.
But it isn't suddenly a happily ever after for these two because soon Jess learns that her husband, J.R. or Jeff is actually alive. He suffers from reterograde amnesia which means he doesn't remember events, even those from his past. In fact, he has no idea that he has a wife back home waiting for him.
As Jeff recovers as much as a warrior can, he is aided by Rabia, an Afghani woman hiding from the Taliban. Just as Ty and Jess's romance festers slowly, Jess and Rabia also discover a meeting of hearts in this dark time. As you can expect, there is a ton of angst, but it makes this book so much more heartfelt and moving. I questioned how I would feel about the two couples: How would Gerard fit two romances in one book? Would it be potent enough? Would it be too much? Would I care about one couple more than the other?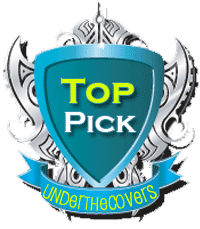 Honestly, the whole thing exceeded my expectations. Gerard's writing has always been fabulous, but I think this book might be my favourite story she has ever written. You can't fake the type of emotion Gerard squeezes out of you while you read this book. It's raw. It's real. And it's simply fantastic!
What did you think of our review?
Let us know your thoughts in the comment box below!
 ♡ Don't want to miss any of our posts? ♡ 
Follow Under the Covers: Facebook | Twitter | Tsu | GoodReads | Email