I received this book for free from Publisher in exchange for an honest review.
This does not affect my opinion of the book or the content of my review.
BOOK INFO

Released: October 1, 2013
Published by Penguin
Pages: 544
Format: ARC




"This is my second favorite book in the series!" ~Under the Covers
J. R. Ward is a master at her craft. She has a talent with words and manages to weave them in such a way that you can't help but connect with the story and the characters. Even as far-fetched as they may seem. It's real, dark and gritty. POSSESSION is no different.
After I read the previous book in the series I was a bit deflated on my excitement. There are still so many things I want to see and RAPTURE was not what I was expecting. In POSSESSION, the Fallen Angels series I back with a vengeance. This is my second favorite book in the series! It was that good! Topped only by ENVY.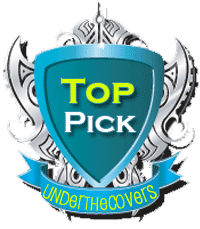 While a bit slow to start, once it had its claws in me I couldn't put it down. The words on the pages flowed as if I was watching a movie, enraptured and captivated. If there is one thing that J.R. Ward knows how to write is drool-worthy heroes and this book has more than one! I can't get enough of the men in the Fallen Angels series. And I love falling in love with her bad boys.
And while I usually don't fall in love with her heroines, Cait was extremely likeable. Not overtly strong but not afraid to face her desires head on.
Be prepared to be thrown with the few twists this book has in store for you, though. I did not see some of the events coming. POSSESSION is a bit of a game changer in the war.
By the time you read the last page, you'll want to get the next book right away!
Favorite Quotes:
"Want a little sin?"
"I'm a main-event kind of guy."
….And then he said the one thing that, later on, he would come to regret. "You're mine."
"I want you under me again."
"Fuuuuck," he said deeply.
Well, now. Wasn't that an entire thesaurus worth of compliments– a you-are-so-beautiful-totally-hot-freaking-awesome-blowing-my-mind all rolled up together.
And then he growled.
*ARC provided by publisher
Did you like this review? If so, please tell us your thoughts in the comments below!
I'm a 30 something sun lover living in the Big Apple (read New York).I'm a book and coffee addict and lover of all things elephants.

I get easily distracted by pictures of sexy guys and have tons of book boyfriends.I keep all my alpha males chained to my basement and guard them fiercely.*Back off bitches*I like to see Jason Momoa as a lot of those boyfriends, because ….. mmmmmmm JASON.MOMOA!

I'm a part time graphic designer (yes, everything you see on UTC has been done by me), run my husband's business from home and on a good day I'm a self appointed superwoman (she who can do it all).I love blogging with my girls and I couldn't do it any other way!My first love is everything paranormal, but in the past few years I've re-learned to love contemporary romance.Every once in a while I like to mix things up with a historical romance, a steampunk or an LGBT book.Because I need variety to avoid book slumps.I don't always need an HEA although I prefer one, and I love authors that can rip my heart out and make me ugly cry.
Latest posts by Francesca (see all)