I received this book for free from Purchased in exchange for an honest review.
This does not affect my opinion of the book or the content of my review.
But For You

Book Info
Released:
October 12, 2012
Series:
A Matter of Time #6
Published by
Dreamspinner Press
Pages:
242



I am saddened to see the end of Sam and Jory's stories but through all this, Calmes has gained a loyal fan out of me. ~ Under the Covers Book Blog
Writing this review is a little bittersweet. As I've been reading this series, I've been tweeting about my excitement and love for Sam and Jory. I've written the reviews and I've even had hour long conversations about this. There's no question: I'm obsessed so I'm sad that this is the last book for Sam and Jory that I get to read. However, many of you have come up to me to thank me for bringing this series to your attention. I'm glad that my excitement was infectious and that you got to experience Jory's hilarious antics alongside me.
In BUT FOR YOU, Jory has matured as much as he can. He still has that impulsive, scattered streak that makes him so loveable, but he has also gained a sense of responsibility now that he has two kids. Kola and Hannah are absolute gems. I loved their presence in this book. Not only do we see the protective, take-no-shit side of both Jory and Sam, but we also see a vulnerable, loving side to the couple that we haven't had a chance to see yet in this series. As Classic Calmes style, she injects this book with so much heart and so much love that you cannot help but fall in love with Sam and Jory's children. Though this is the first time they've been featured in the series, I feel like their personalities shine in this book.
When an ex-lover of Sam's comes back into the picture, it poses a lot of problems for Jory. Now with kids to take care of, Jory is understanding what it means to be responsible for others when Sam is not in the immediate picture. As Sam come and goes on his latest assignment, Jory naturally finds himself in some sticky situations. It only makes the story that much more unique.
Aaron is steadily growing on me. I loved his presence in this book. Seeing Jory play matchmaker was adorable. It was funny to see Aaron hanging up on Jory because Duncan was on the other line. It shows just how combustible their chemistry is while also provin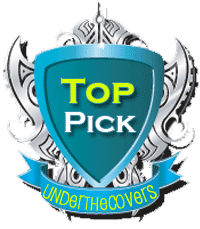 g that Jory was right all along; Aaron didn't truly love him. At least, not like how Sam loves Jory.
This series has taken me on for a ride. The last week that I've spent devouring a book each night has been thrilling, heartwarming and hilarious all at the same time. I am saddened to see the end of Sam and Jory's stories but through all this, Calmes has gained a loyal fan out of me.
I hope you give this series a try. No one is quite like Jory.
Did you like this review? If so, please tell us your thoughts in the comments!