I received this book for free from Publisher in exchange for an honest review.
This does not affect my opinion of the book or the content of my review.
BOOK INFO
Released:
October 1, 2013
Series:
Cassandra Palmer #6
Published by
Signet Select
Pages:
3657
Format:
ARC





…after this series is over (if she survives it of course!) then Cassie is going to need a long holiday on a hot beach with a hotter man (fingers crossed it's Pritkin) with an ice cold Pina Colada. ~ Under the Covers
We are now on book 6 of Cassie Palmer's head long plunge in to the Pythia role, so far she has managed to survive vampires, faeries, demons and even old gods. All with the help of a certain bad tempered, slightly insane and half incubus war mage John Pritkin. But in an infuriatingly selfless act he traded in his life for hers and now he is in the place he hates most with the person he hates most; hell with his father. And Cassie is determined to break him out.
I think I have said this after every single book, but damn, I am exhausted just from reading Cassie's mad dash from disaster to catastrophe and back again. The frantic pace of this series makes it hard to put down as we take magic carpet rides through hell and fight suits of armour in a Las Vegas casino, after this series is over (if she survives it of course!) then Cassie is going to need a long holiday on a hot beach with a hotter man (fingers crossed it's Pritkin) with an ice cold Pina Colada.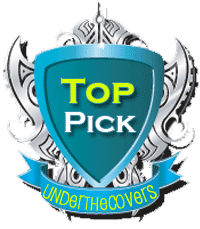 As well as the jaw dropping, heart racing action Karen Chance provides us with in the Cassie Palmer series, we also have the romance and a bit of a love triangle. I for one am firmly on Team Pritkin and this book more than any other really explores the depth of her feelings for the maddening war mage and just how far she would go to save him. It makes for a few tense moments both sexually and romantically as we see the two of them together.
But as well as action and romance, Karen Chance has woven a complicated and interesting story line of ancient gods and goddesses trying to enter the world. This is progressed further in this book as we learn more about Cassie's parent and the apocalyptic plans of the ancient gods and goddesses to destroy not just Earth but Hell as well.
Tempt the Stars had one hell of an ending, which left me with tears in my eyes and desperately hoping for more, the next book promises to be just as exciting as this one and I can't wait to get my hands on it.
*ARC provided by publisher
Did you like this review? If so, please tell us your thoughts in the comments below!
Gosh, we all seem to be admitting our ages…and I hate that I am at the point in life when admitting my age is a "thing"…whodda thunk it? I was kind of hoping I would remain 21 forever. However, I have moved out of that New Adult stage of my life and am now strictly in the Contemporary Romance age zone of 28. I would prefer to be in an Urban Fantasy arena, but I don't think I own enough black leather. However, I could probably squeeze into some PNR, I am fully prepared to give a horn job to my favourite demon, or suck on my sexy vamps…fangs and I am definitely up for some heavy petting with some fine looking shifters. Than again their's always Sci Fi…I am fully prepared to do the right thing and help some poor alien race with more 6 packs than a supermarket repopulate their planet. Not that I am loose woman or anything.

Annnnnd I will stop myself there, before I start waxing lyrical about my love of historical romance and fantasy as well; no one needs to know about my elf fantasies. As you can tell, I adore and day dream about most romance genres, and my three big loves are 1) reading about romance 2) writing about romance and 3) talking about romance with my gals. Which, is why I love Under the Covers so much, I get all my bookish needs satisfied and don't get judged when I talk about my favourite characters like they are real people. Which they are right?