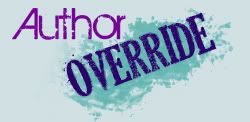 Author Override is the place where authors take the reins and take you on a journey into their world. Some may allow you into their private writing dens. Others may take you along with them on research trips or interviews. Whatever the case may be, sit back, relax and enjoy the ride because here you'll get an in-depth look into an author's musings.
Excerpt:
Lexi's phone chimed signaling an incoming call.
"Shit. Not now, Rubi," she muttered and picked it up. "Hey, Rubi, can I call you back? I'm trying to work on something—"
"Lexi?" Jax's voice took her by surprise. She sucked air and froze, unable to find words. "It's Jax. I, um…hope it's okay to call." He suddenly sounded guilty, like he thought he might have interrupted something. "I just thought it might be easier to figure out our schedules if we could talk them over together."
"I… I mean, of course. It's fine." She put a hand to her stomach, as if that would settle it. "I'm sorry.  Rubi was here a little while ago and I thought— Never mind. I'm just looking at my… Oh, I guess I already said that."
Jax laughed, the sound soft, deep and smooth. Lexi's body flashed hot with memories of those sure fingers sliding over her skin, his hot tongue behind her ear. The luscious, bone-deep craving she suffered whenever she thought of him created a heaviness between her thighs, and Lexi had to sit down before her legs went out.
"You sound like I feel," he said. "I've been sitting on the side of the road for fifteen minutes working up the nerve to text you."
All her muscles relaxed. She dropped her head into her hand. "Jesus, it's great to hear your voice."
"You just made my week, baby." His voice felt like a purr in her ear. "Let's work out these schedules so you can hear it in person. Though…" His voice deepened with suggestion. "I am sitting in my truck just off the intersection of highways 110 and 5. At this time of night I could be just about anywhere in the county within twenty minutes. All I need is an address, and we can spend all night looking at the fine points of these schedules…in the flesh."
Desire drilled through her body, making it difficult to think. On the fringes of her mind, his situation registered. "You're…on the side of the freeway?" She fought to clear her head. "Are you okay? Do you need…help…or something?"
"If I said yes…" He hesitated. "Would you come to me?"
Something about the way he said come to me made Lexi's blood bubble. Still the question hit her wrong and cooled the growing heat. Not because he'd asked, but because he had to ask.
"If you needed something, you could always call me. I'm sorry…" Her throat
squeezed with regret.
Jax waited a beat. "You're sorry…for what?"
"That I've created a situation between us that made you feel like you even have to ask."
But even through her frustration, his location sank in. He was awfully close to her studio and she couldn't help but wonder if that was sheer chance. One glance at Google could have told him everything he could have wanted to know about her career. About who she was. What she looked like. She'd thought about researching him at least a hundred times, but hadn't. Had wondered if he'd done the same.
"Jax…?"
"Lexi," he answered, his voice smoky.
Her mind and body warred—her brain suspicious, her body needy. She couldn't just forget about the men in her past who'd been difficult to shake. At the time, she couldn't have imagined any of them acting so immature or insecure. If she just put those instances out of her mind and believed it wouldn't happen again, she'd find herself right back in that hot seat.
She forced air into her lungs. "What are you doing at the intersection of 110 and 5 at this time of night in the middle of the week?"
"I was dropping a friend at home, stopped to talk on my phone, got the job in New York and…thought of you." He paused. His voice came quieter. Softer. "I must be close. You sound nervous."
She closed her eyes. Oh, God, that voice. He could be caressing her through the phone. She replayed the sexy words he'd said to her that night.
Tell me what you want, Lexi.
I'll do anything.
You feel so good, baby.
"Fifteen minutes," Jax whispered, pushing her toward the edge. "I'll speed."
Lexi blew out a breath, dropped her head back to look at the ceiling and swore.
"If you're not with anyone," Jax asked, his voice growing contemplative, "and we both know how good it is between us… Tell me again why you're resisting this pull."
Her stomach seemed to float, giving her a giddy-queasy sensation. "The truth is," she said, "nothing's very clear anymore."
A moment of silence hung. His breath seemed to thicken over the line just before he breathed, "God, I miss you, Lexi."
The underlying vulnerability in his voice ripped her open.
"I know that sounds crazy," he went on, "considering how little time we spent together, but… I can't stop thinking about you, and knowing I can't see you again…it's just…"
"Hard," she finished. "I know. I miss you, too."
He breathed out, heavy and sharp, like the wind had been knocked out of him. "Baby…"
The almost-groan rippled over the connection and prickled Lexi's skin. She grasped at her last strands of safety.
"I don't want to hurt you." Even if Lexi could push all the image issues aside, even if she could forget about the partnership, her long hours and dedication to the business had always caused major problems in her previous relationships. And she certainly couldn't cut back. Not now. "This is a critical time for me. The shop demands more of me than there is to give. I just…don't have anything left."
"I understand what it takes to run a business on your own. And I'm a big boy, Lex. Let me worry about me. If you want me, take me. I'm offering."
A couture wedding dress designer to the rich and famous, Lexi LaCroix's image means everything. Raised on the wrong side of the tracks, her years of polish and hard work are finally about to pay off. She's on the cusp of landing a partnership that will place her designs in high-end shops around the world, fulfilling lifelong dreams and providing financial security. But when she crosses paths with a sexier-than-sin, bad-boy biker who makes her realize how much living she's sacrificed for her success, one touch is all it takes to threaten her carefully choreographed life.

Jax Chamberlin has been screwed over by gorgeous gold-diggers one too many times. Though he runs his own stunt company, all of America knows his family name, his Hollywood face, even his net worth, all years after he's given up acting. Finding a woman who doesn't plan to use him as a stepping stone to success is virtually impossible, so when the charming and mysterious Lexi offers him a chance at a totally anonymous hook-up during an out of town trip, Jax accepts. Only Lexi is more sextacular than charming, and Jax wants more. Lots more.

But Lexi's got a major hang-up over his renegade lifestyle, and Jax isn't willing to change his ways. Especially not when he discovers who she really is. Because if she finds out his connections could catapult her to the top of her career, he's afraid the fantasy woman he's falling for might just end up like all the rest. And this time, it's not just his bad-boy reputation at risk, but his heart, too.
About the Series:
RECKLESS is the first book of a trilogy series: Renegades.
The rough and ready stuntmen of Renegades are experts in the fine art of death and destruction on the big screen. The best of the worst.
When it comes to tearing it down or blowing it up, no one can do it better, faster or with more flare than a Renegades' bad-boy on a mission. When it comes to pleasing a women, no one can do it with more intensity or eroticism than that bad-boy with the need.
And while women come hot and fast for the sexy Renegades, holding on to the right woman may be the hardest stunt they've ever had to pull off.
COMING AUGUST 2013
Stay posted of its release date by following Skye on Twitter, Facebook, and signing up for her newsletter
Meet Author Skye Jordan:
Sometimes fun, sometimes naughty. Always romantic.
I am a USA Today Bestselling Author writing under the pseudonym Skye Jordan for my more … sexually heated … works.
My Skye Jordan novels are all about enjoying that little wild streak we all have, but probably don't let out often enough. About those fantasies we usually don't get the opportunity to indulge. About stretching limits, checking out the dark side, playing naughty and maybe even acting a little wicked. They're about escape and fun and pleasure and romance.
And, yes, even love. Because even as Skye Jordan I'm just a happily ever after kinda gal. (Or, in some cases, happily for the foreseeable future.)
Website: http://skyejordanauthor.com
Facebook: https://www.facebook.com/SkyeJordanAuthor
Twitter: https://www.twitter.com/Skye_Jordan

To celebrate the upcoming release of RECKLESS, Skye is gifting (27) total digital copies of RECKLESS upon its release, (9) $10 eGC's to Amazon.com, and (3) fabulous Grand Prizes consisting of designer purses.
Please follow the below Rafflecopter directions. Full terms and conditions, prize details and eligibility can be found on the 'Terms' located on the widgets.
Grand Prize Giveaway:
Find more stops:
Visit Skye's Website: http://skyejordanauthor.com OR go to: http://events.litconnect.com/virtual-book-tour-reckless-by-skye-jordan/
Latest posts by Under the Covers Book Blog
(see all)