ARC Review: Rock Chick Revolution by Kristen Ashley + Rock Chick Revolution Road Tour
I received this book for free from Author in exchange for an honest review. This does not affect my opinion of the book or the content of my review.

This post contains affiliate links you can use to purchase the book. If you buy the book using that link, I will receive a small commission from the sale.
Rock Chick Revolution

Book Info
Released:
August 13, 2013
Series:
Rock Chick #8
Pages:
530
If you haven't read this series, you need to start RIGHT NOW, they are full of laughs, full of heart and even better choc full of some sexy assed alpha males and some sassy females to keep them on their toes. ~ Under the Covers
The final tale in the series is about the last single gal within the Rock Chick, Ally Nightingale and a new(ish) addition to the Hot Bunch Lorenzo "Ren" Zano. Ally has finally found what she wants to do; sleuthing seems to run in the Nightingale blood and becoming a private detective like her brother Lee suits her perfectly. However, with two overprotective big brothers and a few bad guys gunning for her, not to mention a kind of boyfriend who doesn't like the idea much, she may find it harder then she thinks.
It was was with a sense of both excitement and trepidation that I opened the last of the Rock Chick books, excitement as we finally get Ally's book and trepidation as I DON'T WANT IT TO END!! What will I do without my regular dose of Rock Chicks and the Hot Bunch!? Why must all good things come to an end?
But come to end they have, and it was a spectacular way to go, leaving Ally's book to the end was genius, we have all come to love her through the last 7 books and her independence and strong will make the last book explosive and emotional as we watch this fantastic series wind down. This book differs slightly from the others as Ren and Ally are sort of together at the beginning of the book and as you progress through we watch as they both come closer together as Ally opens herself up.
Ahhh, Ren…although not my favourite of the Hot Bunch, he is still a classic KA alpha male and I love every last one of them. Sexy, strong, kind but also in Ren's case slightly more laid back than usual, he was perfect for Ally, stepping forward when she needed him, but also (after a few fights!) supporting her decisions, even when he didn't like them. Together they were great and I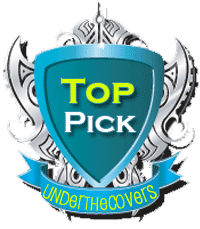 am glad the series has ended with a bang.
Like every book in this series, as well as the explosive passion you get from the main couple, you witness the friendships and love in the group, as well as a bit of action and crazy antics. What has made this one of my favourite series is the aforementioned friendships and connections, I love reading about the other girls in the group, seeing friendship given as much time and valued as much as romance is beautiful. Another thing that KA does really well is epilogues, and this one is no exception, it leaves you with a big smile on your face and may be a tear in the eye as you wave goodbye to your favourite characters, quietly hoping they make a cameo in future books and series by Ms Ashley!
If you haven't read this series, you need to start RIGHT NOW, they are full of laughs, full of heart and even better choc full of some sexy assed alpha males and some sassy females to keep them on their toes.
Here is my final Hotness of the Hot Bunch scale!
Hot Bunch "Hotness" 
1. Hector- Wild & Wicked
2. Hank- Guy Next Door with an Edge
3. Luke- Silent & Sexy
3. Mace- Intense & Broody
4. Vance- Knicker Meltingly Sexy
5. Eddie- Smouldering Mexican Bad Boy
6. Lee- Dashing & Dangerous
7. Ren – Italion Stallion!
*ARC provided by author
Rock Chick Revolution Road Tour:
Clue: Girls working here might be heavy on the makeup
For your next clue visit www.2geekgirlsreviewbooks.com
When you have all your clues for today, enter them here and you can win one of the prizes below https://sites.google.com/site/rockchickrevolutionroadtour/
Righteous
Rock Chick  Back Stage  Pass
(Grand Prize)
30 minute private – one-on-one Skype (video or text) chat with Kristen. A signed copy of all 8 Rock Chick Books
Rebel Rock Chick VIP (2nd place)

A signed copy of Rock Chick Revolution
Rock Chick Groupies (3rd – 5th place)

An e-copy of Rock Chick Revolution for you or a friend.
Winners will be randomly selected from the scavenger hunt responses using an outside program to pick the winners. The winners will be notified via email after the contest ends and their name will be posted on Kristen's Facebook Fanpage. Readers can enter the contest once per by submitting their scavenger hunt questions daily or at the end of the contest.
Reading Order & Buy Links
Did you like this review? If so, please tell us your thoughts in the comments below!