Interview and Giveaway with Raine Miller!
Today we have Raine Miller, author of the Blackstone Affair series. I am quite a big fan of this series. You honestly cannot go wrong with Ethan Blackstone! Help us welcome Raine to UTC! It's her first visit here and we are happy to have her for Burning Up July!
Welcome to UTC, Raine! We are thrilled to have you here for our Burning Up July event! Your Blackstone Affair series has taken the world by storm. Did you ever expect your books to make so much noise when you started writing them?
Never in a zillion years did I expect any of this to happen.
What inspired you to write this series?
I was looking on Shutterstock for an image I could use for a book cover for another book I was writing and found the picture of the naked woman with her legs up.  It really struck me hard and I got the inspiration for Naked.  What if you were a nude model and met the man who bought your portrait?  I sat down and wrote the first chapter, sent it off to my beta reader to get her input, and wrote the book in 3 weeks.  I set aside everything else I was working on to write Naked.  It consumed me and was very easy to write.  The words just poured out of me.  I wish all books were that easy to write. 
Ethan Blackstone is a character who has made legions of readers fall at his feet. What is it about Ethan that you think readers love about him? 
Well, I think being British has something to do with it.  American women are suckers for a sexy Brit.  I think the filthy mouth on him is also something that strikes a chord.  😉
Is there someone – a celebrity perhaps? – that you envision as Ethan? How about as Brynne? 
It's a well known fact that I based Ethan's physical characteristics on David Gandy, British model.  For Brynne, I wanted someone who was not super gorgeous but has that special something that causes people to notice her.  I chose Sarah Ann Macklin, also a British model, (and former girlfriend of David Gandy)
*sigh* Everyone here knows just how much I adore Gandy!!!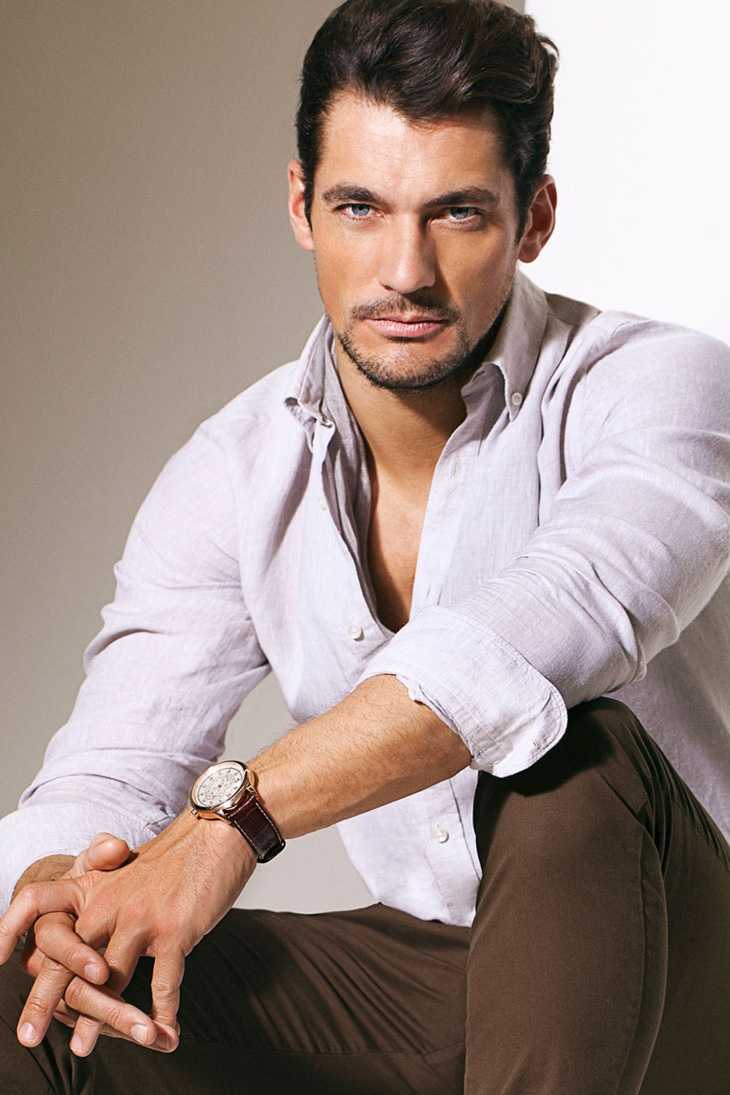 What is your favorite quote from EYES WIDE OPEN, your latest installment in the series? 
It always amazed me how easy it was to carry her.  I knew why.  It was because she carried my heart with her wherever she went.  My heart was in her hands, and carrying her was some form of self-preservation maybe.  Holding her, holding me up.
I couldn't explain it, but I understood it.  Made perfect sense to me.
I said it again.  "I'll always find you, Brynne."
I am thrilled to hear that you will be writing a part four (or book 4) in the series!! Can you tell us a bit about what readers can expect from this next release? 
Book 4 will take Ethan and Brynne beyond their HEA and into married life awaiting the birth of their little "peaches."  There will be a character from the past who shows up and some new conflict.   The book is more of a standalone, but some of Ethan's demons will be specifically addressed as well as Brynne's journey forward without her father.  The overarching theme is…forgiveness.
Were there any particular writers that influenced your craft or your desire to be a writer? 
Yes.  I can say that I was influenced a great deal by JR Ward's style and specifically her talent with the male voice.  I prefer reading it, and writing it.  Writing an entire romance novel from the hero's pov was a personal goal of mine.  All In was the result and I am very proud of that book.

Can you give us a peek into the day of a writer? Do you write every day? If so, for how long? 
I have busy times and then I take time off from writing.  I have learned I can't force it, so I don't try to.  Some days are more heavy on the promotion and business aspect of things.  Some days are more creative and I get to do the fun stuff like research a topic or design a book cover.  Generally I am not a fast writer—steady and slow is my style.  I always have a detailed outline to work from and go from there.  I like to interconnect my historical romances with my contemporary ones, so I have quite the involved family tree/genealogy thing going on that I have to keep organized.  So far, all 5 of my books are connected in some way.  I like doing that, and love when fans discover the hidden "Easter Eggs" they find in one of the historical books that relates back to Blackstone Affair.
You are hosting a dinner party. If given the chance to invite characters from other series, who would they invite? 
James and Bianca Cavendish (RK Lilley's Up in the Air series) and Aiden and Emma Fitzgerald (Katie Ashley's Proposition series)  This is not as far-fetched as you might think.  We have talked about writing something where all three of these couples meet.  *grinning*
Great choices! I love those series! Thanks so much for stopping by!

Raine is graciously giving away a signed copy of ALL IN with a Captain E. Blackstone dog tags! To enter, just tell us which celebrity you would like to see as the inspiration of a new hero in a book!
The second part in The Blackstone Affair series! Looming danger. A love worth fighting for. A man who'll go all in.

Ethan Blackstone has a problem on his hands. He's broken Brynne's trust and she's left him. He's unwilling to live without her and isn't giving up—he's dead-set on getting his beautiful American girl back. The passion between them was explosive, but the secrets they hid from each other are dark and chilling and are powerful enough to destroy their shot at a life together. With political threats now directed at Brynne, Ethan is running out of time and he'll need to gather all his strength and agility to protect her from the dangers that could take her away from him forever. Will Ethan be able to save Brynne from a past that keeps her locked in fear? Will he ever feel the warmth of her touch, the solidity of her trust again? This is a love-struck man who is willing to do whatever it takes to possess the heart of the woman he loves. He'll go to any lengths to protect her. He'll go all in.

Here is the fiery story of what happens when two people surrender to a love so great it can heal the scars of the past and give way to a life of pure, rapturous ecstasy.