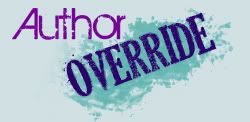 Author Override is the place where authors take the reins and take you on a journey into their world. Some may allow you into their private writing dens. Others may take you along with them on research trips or interviews. Whatever the case may be, sit back, relax and enjoy the ride because here you'll get an in-depth look into an author's musings.
Idealism
by Michele Zurlo
We all know people who see the best in everyone. They're positive and always ready to lend you a shoulder for support or to cry on. Less scrupulous people can take advantage of their good nature, and others dismiss them as idiots or dreamers.
But often those dreamers aren't airheads. They're idealists. They approach relationships and situations with a can-do attitude. Nothing is impossible and they'll give up on no one. I envy people like that. I think I used to be one–or maybe I've just always longed to be an idealist.
I'm not one.
Katrina Legato, the heroine in Re/Paired is an idealist. You first met her in Re/Bound. She played the part of Malcolm's supportive sister. They enjoy a close sibling bond that continues into Re/Paired–and it causes a sticky situation.
You see, Katrina has spent eleven years nursing a crush on her big brother's best friend. Keith Rossetti. Malcolm has banned the relationship. Keith, a hot FBI agent and Dom, doesn't treat his submissives very well. They never stick around for more than a few weeks.
He subscribes to the philosophy that women are only good for one thing. He has maintained a friendship with Katrina because he knows she deseres to end up with a man who can love, cherish, and appreciate her generous heart. He knows he's not that man.
What kind of woman could know all of that and still focus on his good qualities? An idealist. Don't get me wrong–Katrina is not pushover. She doesn't put up with his crap, and Keith is forced to make some hard decisions.
In other areas, Katrina's idealism puts her into more danger. She has picked up a stalker, and someone is sabotaging her at work. They very qualities that work for her with Keith blind her to the peril lurking nearby.
Excerpt:
She'd always wanted Keith, but she'd held her emotions in check, instinctively understanding that he didn't have anything more to give. The plea tumbled out, surprising her with its desperate quality.
"Train me."
His entire body tensed, not that he'd been the portrait of the relaxed man a moment ago. "You don't know what you're asking." He didn't turn around to look at her as he dismissed her request.
"I do too know what I'm asking." Then she realized her mistake. Submissives didn't demand. They asked. They begged. At least she'd done that last part right. And they knelt, naked, at their Master's feet.
Keith whirled on her, controlled fury glittering from his emerald eyes. Unnerved by an expression she'd never seen on him, Katrina trembled even more.
If she knew anything about Keith, she knew better than to show weakness at a moment like this. He was the ultimate predator, and he regarded her as prey. Rivulets of pleasure ran across her belly. The raw air of danger seeping from his pores excited her like nothing else. She wanted to be naked and kneeling at his feet. She wanted him to show her what it felt like to belong to him.
Moving slowly, she lifted the hem of her shirt.
"What the hell are you doing?"
"Taking off my clothes." She would prove to him that she was serious. "I'm not ignorant, just not trained. You want me to get on my knees and ask properly, right?"
He gripped her hand hard, halting her attempt to undress and hurting her a little. It must have shown on her face because he eased up on the pressure. "Kat, I don't want you to ask at all. I didn't mean to kiss you like that."
Which either supported her point or should hurt really, really badly. He had been overcome with passion, just like she had been. Was it a momentary thing, or did he still feel the pull of passion unsated? She put her other hand over his, holding it lightly. "But you did."
A shadow of pain passed behind his eyes, a haunted look she'd seen before. "You're not cut out for that kind of life. You're too…" He shook his head, a short movement she barely detected.
When he didn't continue, she tried to force the issue. Something inside wouldn't let her drop it, no matter how uncomfortable it might be. "Don't you dare call me delicate. I want this. I want to learn about this side of myself."
He took his hand away and leaned down so that his face was the only thing she could see. Though she could read the desperation in his eyes, he spoke through clenched teeth. "I spank my submissives whenever the whim strikes me. They're mine to use however and whenever I want. I make them kneel at my feet and crawl naked across the room. I tie them up and flog them. I hurt them because I get off on their pain. I torture them sexually. Sometimes I tie them up and don't touch them at all. I make them do anything I want, just because I can. You're too good for that."
Standing over her, he was the very essence of intimidation. He might scare anyone else with his growled warning, but not her. She knew him too well to think he would ever hurt her in a way she didn't want to be hurt. Nobody had flogged her before, and she was sure nobody had spanked her the way he would, but nothing he said sounded horrible to her. She'd never fantasized about crawling, but she had considered the other things. It was difficult to imagine submission when she didn't know what it really felt like, what it would really be like.
She lifted a hand and caressed his smooth cheek. "This is what I want, and I trust you."
When he closed his eyes and seemed to luxuriate in her affection, she thought she had him. But then he gently removed her hand from his cheek and dropped it between them. "I know you do. That's why I'm telling you no. I thought the kiss would fail, that it would help you get over me."
The shaking in her knees had its root in her humiliation. "But you felt it too." And now she sounded like a petulant child. Rejection sat heavy on her chest.
"I'm sorry. I really am. But you're one of the few people I care about. I can't do that to you." Misery etched lines around his mouth. "I just can't take the chance I'd lose your friendship."
This was difficult, as painful for him to say as it was for her to hear. She realized that now. She realized she'd stepped over a boundary he'd put in place long ago, and she knew how much he needed those impenetrable lines.
"I'm sorry." And she was. Sorry she'd asked. Sorry he'd refused. "I shouldn't have asked you. Can we forget about it?"
He nodded. "I'm sorry too, Kat."
For more information, you can find her at :
Michele is graviously giving away a
$10 Amazon gift card to one lucky commenter!
Extra entries are available for signing up for her newsletter, liking FB page, things like that 😉
Latest posts by Under the Covers Book Blog
(see all)