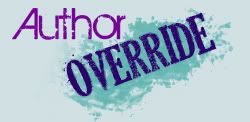 Author Override is the place where authors take the reins and take you on a journey into their world. Some may allow you into their private writing dens. Others may take you along with them on research trips or interviews. Whatever the case may be, sit back, relax and enjoy the ride because here you'll get an in-depth look into an author's musings.
I often get asked how I ended up living in Central America. Simple. Love!
I met my Guatemalan husband at college in the US. When we both graduated, he proposed, I swooned, and without a second look back, moved to this beautiful Spanish-speaking country. Now, I've lived here for over 16 years!
So, I thought I'd take you on a ride through my life in this gorgeous cultural paradise – also known as the Land of Eternal Spring.
Here is a picture of my husband and I when we first moved to Guatemala. Fresh out of college and married six months later.
Now sit back and relax while I take you on a ride to some of my favorite places and some of my favorite things in my adopted country.
Antigua, Guatemala:
Those are my two oldest with a "carpet" made of sawdus. It's a Guatemalan tradition during Easter week and processions walk over the carpets. It takes hours to create and only minutes to destroy.
The Volcanos:
View of Guatemala City with volcano in background.
The black-sand beaches:
My oldest leaving his mark.
The proximity to other Central American countries. Here are a few pictures from a trip to Panama:
In Panama City
Hubby and I at the Panama Canal
The Food:
Tamal. It's a tradition to eat these on Christmas Eve.
Ceviche Truck
Tortillas
The Culture:
"Chicken Bus"
Woman carrying infant on the side of the street.
This is just a small glimpse into my life here in Guatemala. As you can see, there are many parts that are beautiful, but the most important to me is my family. They've helped me create my own personal love story in the Land of Eternal Spring.
Pick up a copy of my debut novel, Time Changes Everything, released by Entranced Publishing at all major online retailers. You can also download a free novella, The Boy Next Door, which is a sweet romance prequel to Time Changes Everything on Smashwords.
Thanks for "visiting" Guatemala!
SALUD! CHEERS!
Now your turn: What exotic location have you visited? Where would you like to create your own love story?
Time Changes Everything will be available May 13 through Entranced Publishing.
Amanda Larson is dedicated to her job and doesn't want to make time for anything else. Until she runs into Jake Edwards. He used to be the cute boy next door; now he's a sexy, big shot lawyer.
Jake Edwards isn't interested in commitment. He's successful, sexy, and single–and that's how he likes it. When he reconnects with Amanda, Jake realizes he might have to rethink his philosophy on the carefree, bachelor lifestyle.
But, is it too late for them? Or can he convince her that he's ready to give her his heart?
Author Bio
Reading romance has always been at the top of Melinda's favorite past times. After hectic days of teaching English to middle school students, Melinda finds time to write and read in the evenings. She lives in Guatemala, Central America with her husband, three boys and German Sheppard. She enjoys being the queen of her household and dreams of being pampered fully by her boys once they are grown. Melinda loves reality TV, traveling, blogging and playing Words With Friends.
Website: www.melindadozier.com
Blog: http://melindadozier.blogspot.com
Twitter: www.twitter.com/melindadozier

Melinda will be giving away a $25 Amazon gift certificate and an ecopy of Time Changes Everything. Winner will be announced on Melinda's blog May 25. Good luck!
Latest posts by Under the Covers Book Blog
(see all)