I received this book for free from Purchased in exchange for an honest review.
This does not affect my opinion of the book or the content of my review.
Heart of Iron

Book Info
Released:
May 7, 2013
Genre:
Steampunk
Series:
London Steampunk #2
Published by
Sourcebooks Casablanca
Pages:
448
Format:
ARC


I was a little apprehensive about Heart of Iron could it live up up to my extremely high expectations? In short…YES! It absolutely did, it may have even surpassed them. ~ Under the Covers
Lena Todd knows she is prey in a den of predators, something that becomes more apparent the longer she moves through the Echelon's world as a debutante; however, she is also a perfect spy, what Blueblood would expect the supposedly empty headed and flirtatious Lena of working for the Humanists? But it soon it becomes hard to see who is friend and who is foe, and the only time she ever feels safe is when she is around Will Carver a Verwulfen who she has had a tendre for since first laying eyes on him, even if he has always pushed her away.
Kiss of Steel was one of my favourite reads last year, it was packed full of action, adventure, romance and some fantastic characters, so I was a little apprehensive aboutHeart of Iron could it live up up to my extremely high expectations? In short…YES! It absolutely did, it may have even surpassed them.
Heart of Iron had everything I loved about the previous book, the action and romance as well as a fast paced and interesting plot and has starting developing the world the Bec McMaster has created and added new exciting elements and character in. This book kept me turning the pages not just because I couldn't wait to see what was going to happen between Lena and Will but also because I wanted to see what would happen in next in the dangerous world that they have been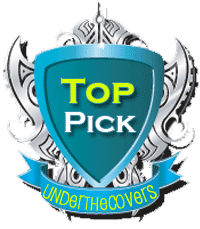 plonked in.
But the romance…normally I don't like books about barely 20 and beautiful debutantes but I found I really liked Lena , she may never be my favourite heroine but I also wasn't overwhelmed with the need to stab her in the eye with something sharp and shiny so it was a win. I did love Will though, he. Was. Delicious. All growly and broody and intense, it gives me the shivers! They made a great couple together, they both saw beneath the veneer that the other showed to the world and made a great couple.
This was a fantastic book, with an awesome cover and I can't wait to see what happens next, I am definitely going to be picking up the next book in the series and recommend you give the first book a try if you haven't already.
Did you like this review? If so, please tell us your thoughts in the comments below!