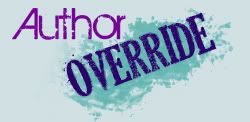 Author Override is the place where authors take the reins and take you on a journey into their world. Some may allow you into their private writing dens. Others may take you along with them on research trips or interviews. Whatever the case may be, sit back, relax and enjoy the ride because here you'll get an in-depth look into an author's musings.
25 New Yorker Insights Learned in Undressed by Avery Aster
Sex
Your vagina can take a guy's shaft and nuts…at the same time.
Always name your butt plug after Anderson Cooper.
Pre-ejaculation while jetting a plane over Italy causes turbulence.
Never let a dog sleep in your bed, especially three dogs. It'll ruin your sex life.
If he's as hung as an Evian bottle, it's best to look away.
Money
Always retain the legal services of female lawyers, particularly ones named; Sarah Goldbaum and Hannah Goldstein.
Never allow your mother to spend your line of credit on a psychic from the Caribbean.
Sexual frustration leads to good business practices, enough to earn three hundred million dollars.
If Bergdorf's, Barney's and Saks Fifth Avenue reject your upcoming fashion collections try selling it to JCPenny's.
Use your American Express reward points wisely.
Life
Bellini cocktail consumption will induce foot fetishes.
Swedish Fish, Now & Later, and Gummy Bears from Dylan's Candy Bar are perfect for your fuck-it bucket.
Everyone should be so lucky to have a best friend like Taddy Brill.
Never drive a Ford Thunderbird off a cliff thinking you're Thelma & Louise.
Stay away from any woman named Scilla or Ottavia.
Fashion
Wearing Tory Burch ballet flats while racing a sports car may cause ones clitoris to hum.
Think twice before sitting Lady Gaga and Madonna next to one another at your fashion show.
Prada and a condom, when worn together, are known to make bisexual men go bonkbuster cra-cra.
Altering a vintage Valentino dress, formerly worn by socialite Nati Abascal, may land you on the red carpet.
We should all get fucked in Fendi.
Love
When in love, you can have as many orgasms as you like…in one day!
Slow dancing to Giuseppe Verdi enhances one's emotional state.
Never argue with your lover in public, above all—never in front of Anna Wintour, Marc Jacobs, or Karl Lagerfeld.
Playing Simon Says, in bed, may lead one to reveal their true feelings. So will strip dancing in front of him to the song Girls, Girls, Girls by Mötley Crüe.
And finally, he must always say, "I love you," first.
UNDRESSED
By Avery Aster
Book 1 in The Manhattanites series. (78,000 words, M/F, HEA, Erotic Romance, Contemporary)
Milan's notorious playboy, Prince Tittoni, seems to have everything—Lamborghinis, exotic women, palaces throughout Europe and business success. Ramping up his fabric company to go global with a new apparel brand, he ruthlessly stops supplying fabrics to the American client who inspired the collection. But once they meet, what's he willing to give to get her in his bed?
Upper East Side designer Lex Easton has already endured her fair share of hard knocks. She'll be damned if she'll let an Italian stud muffin knock her down. So what if she named her favorite vibrator after him? With Fashion Week approaching, she'll do whatever it takes to secure the fabrics she needs to make her clothing line an international success—even sleep with her rival.
Lex's Louboutins are dug in deep to win this war. All's fair in love and fashion!
Inside Scoop: Though the hero and heroine remain monogamous, their Prada-wearing friends indulge in a ménage a trois and other fashionable sexual fun and games.
EXCERPT:
She gasped. He'd lost his mind. Lunacy swirled rampant around them today. "No way! I don't need to ration a sellout to your subdivision for more than a second. I can tell you right now, the answer is no." Hell to the no.
"Your quick 'no' is because I refused to say 'yes' to sex. They say men think with their dicks. I hope you do not run Easton with your—"
"Shut it!" I'm gonna punch you. Lex inhaled and fisted her hands. She reflected on what Taddy or Vive might say right now. She'd give him an earful sampled by second bestie "Viveca Farnworth" sarcasm style. Massimo deserved it. "You could have fucked me 'til your uncut, overexposed on the blogs, 'too ginormous for my snatch' pecker fell off. And I'd still no way never ever in a thousand years sell, loan, sample you my Easton. And to answer your question, I run my company with my pussy, and twenty-four other pussy-sporting employees. Easton girls do not allow dickheads or cocks in our fashion world. Period." She recrossed her arms and quirked her jaw up to illustrate physical defiance coordinating with her ruthless words.
Massimo's face remained impervious. She heard him jingle loose change in his pocket. He coughed, cleared his throat and said, "An acquisition is the solution viable for us both. Girasoli will acquire Easton. You will work for Girasoli and receive full benefits, health care, retirement, an expense account, you name it. Girasoli will give your entire team plenty of vacation time—whatever you want."
"Come again?" Hell to the maaaybe.
"Today, watching what you did with the designs confermato my interest. Girasoli needs you. And Easton needs Girasoli. It is best for everyone. Think it over."
"There is nothing to think over." She bluffed. A regular paycheck with benefits versus her unstable startup and lack of cash, which flowed out, never in, made her pussy cream more than thinking about Massimo's fat dick.
"When you are ready, I will have my attorneys draw up the paperwork, assuming you agree on the price. Would you care to know the prezzo I'm offering for Easton?"
"No, I would not. Easton is priceless. There isn't enough money in the world for my baby." Easton was her child. An all consuming, demanding, fulltime, pain in her ass child, but she loved her two-year-old Easton regardless.
"Girasoli will wage five times Easton's annual gross," Massimo enticed without hesitation.
"Last year's gross? Or this year's projected revenue?"
"This year," he affirmed.
She did the calculations in her head and rounded up to the nearest million. "Three hundred flippin' mil." Hell to the Yaaah.
About the Author:

Avery Aster is an American novelist who pens erotic romance for Ellora's Cave. As an Upper East Side resident and a graduate from New York University Avery is celebrated for giving readers an inside look at the city's glitzy nightlife, socialite sexcapades, and tall tales of the über-rich and ultra-famous. "I write about what I see in my metropolis which never sleeps—Manhattanites on the quest for a passionate thrill," Avery says. "By and large, my characters are drop-dead gorgeous, ripped straight from the headlines and on the hunt for their next conquest."
Undressed, book one, launched The Manhattanites series exploring people's forbidden desires of lust and longing. When Avery's star-studded cast unites it always feels like forever and everyone has a once-in-a-lifetime experience. Log on to AveryAster.com for upcoming book releases or email [email protected] to join The Manhattanites fan club.

Avery will be awarding a 6-month membership to Dylan's Candy Bar Candy of the month Club to one randomly drawn commenter. In the novel, the heroine makes herself Fuck-it Buckets which are candy filled buckets from Dylan's Candy bar (or any candy store) when she's stressed out.
To enter, leave a comment on this post and be sure to leave your email address so Avery can contact you if you win.
Increase your chances of winning by commenting on all the other blogs participating in the book blast.  Today only.  To view the list of participants, click here.
Latest posts by Under the Covers Book Blog
(see all)