Author Override: Sydney Somers
Author Override is the place where authors take the reins and take you on a journey into their world. Some may allow you into their private writing dens. Others may take you along with them on research trips or interviews. Whatever the case may be, sit back, relax and enjoy the ride because here you'll get an in-depth look into an author's musings.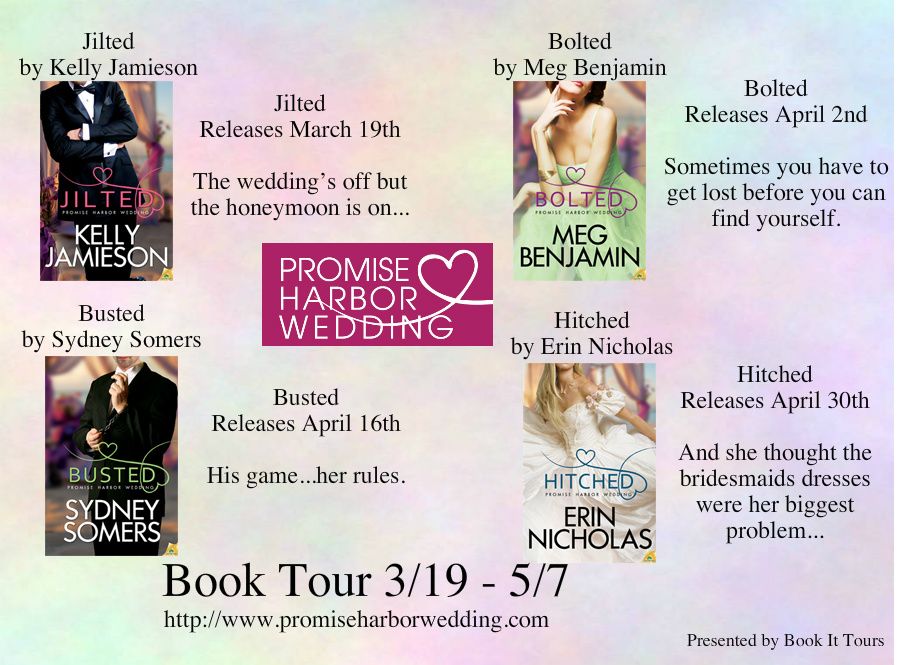 ~ SYDNEY SOMERS ~
Thanks so much to UTC for having me and helping me celebrate the release of the third book in the Promise Harbor Wedding series, Busted. I thought it would be fun to give you guys a little inside glimpse at the heroines from the series, especially Hayley Stone, and how I imagined their conversation might go if all four of them sat down together for drinks.
Hayley Stone watches the other three women across the bar from her. She's at least two drinks past feeling like the odd man out, especially since Devon, Allie and Greta have so much more in common with each other. But since Hayley's best friend Gavin happens to be head over heels in love with Allie—so head over heels that he stormed into the church on Allie's wedding day to prove it—she's determined to get to know all three women much better.
Her family's sports bar closed early, giving the women the place to themselves. The jukebox plays in the background, occasionally drowned out by the whir of the blender. Margaritas aren't on Stone's menu, but tonight is a special occasion. There's also wine on the go and talk of bar shots. Hayley knows it's gonna be hell going to work in the morning.
HAYLEY: tops her drink off, pretending not to feel Devon's attention shift to her
DEVON: Okay, I've got to know. What on earth possessed you to arrest Jackson? I mean the Jackson Knight. Reputed playboy. Hockey all-star.
ALLIE: *smiles* And hot enough to break a few laws according to all local puck bunnies.
GRETA: Maybe Hayley really just wanted him cuffed to her bed.
DEVON: *grins* No that came later.
HAYLEY: There weren't any handcuffs involved. Well during the arrest but not…you know. *takes a long drink of her margarita and wishes she'd started with bar shots*
ALLIE: Uh-huh. *looks unconvinced*  I've thought about handcuffing Gavin a time or two. *she glances pointedly at Devon and Greta*  Oh, like you two haven't thought about it with Josh and Hank.
GRETA:  *shudders*  I really don't want to think of my brother cuffed to anyone's bed, thanks. No offense. *she looks at Devon*
DEVON: *grins* None taken. *looks a little guilty, like that particular scenario may or may not have already taken place*
ALLIE: *laughs* You always were the wild one.
DEVON:  I'm the wild one? I have one word for you. Alaska.
HAYLEY: She's got you there.
*everyone bursts out laughing*
GRETA: *turns her attention to Hayley* So juvenile delinquent to bad-guy catching cop, huh?
HAYLEY: *arches a brow at the bridesmaid who'd disappeared*  I wasn't the only trouble maker in my day.
GRETA: *takes innocent sip of her drink*  I have no idea who else would be that impulsive. *grins* But at least I didn't steal any cars.
ALLIE: *bumps Greta with her arm* No, but the color you died your hair a few years back was almost criminal.
*more laughter*
DEVON: But seriously, Hayley. You arrested Jackson and then took him to the wedding. As your date!
HAYLEY: *shrugs* I was doing my job?
ALLIE: *stares at the bottom of her empty margarita glass* You'd think arresting him would have sent him running in the opposite direction.
HAYLEY: *suspiciously quiet*
GRETA: And what was up with you two showing up at the wedding looking like you two had just picked a fight with a bale of hay?
HAYLEY: With a tree actually.
DEVON: *eyes widen in shock* Wait, there was a wedding?
*the four laugh until their stomachs hurt*
ALLIE: *glances at Devon* It probably should have been you standing up to object the wedding.
DEVON: *grins* I wasn't wearing the right shoes for that. *keeps a straight face for about 2 seconds* Besides, there's nothing as memorable as Gavin bursting in during the ceremony.
GRETA: Unless he'd also been wearing a bear costume *winks at Hayley*
HAYLEY: That costume is in the past.
ALLIE: God I hope so. I don't think Gavin could take hearing any stories about you that involve bear costumes and handcuffs.
HAYLEY: *studies Allie* You know what's more interesting than costumes and handcuffs? The details on what happened between you and Gavin in Alaska. Spill already.   *tops up all everyone's drinks and settles in for the rest of the evening*
You can get to know all the women of the Promise Harbor series better by visiting our website –http://www.promiseharborwedding.com
Busted
His game… Her rules.

Hockey star Jackson Knight has a hundred reasons not to return to Promise Harbor, but none of them are good enough to get him out of attending his best friend's wedding. Even with a career-ending knee injury, every puck-bunny in town will be gunning for him.

Worse, getting a pair of cuffs slapped on him at the bachelor party could ruin any chance of getting back in the game, even as a coach. Unless he can convince the arresting officer to smooth things over—by going to the wedding as his date.

Hayley Stone figures posing as Jackson's girlfriend is the least she can do to salvage his reputation. Plus, having a man with a toe-curling smile on her arm will keep her ex off her back.

What starts as a simple plan to deflect small-town pot-shots unexpectedly becomes a sizzling night that hits Jackson like a full-body-check to the heart. Now he's determined to prove that she's the best of reason of all to come home—for good.
FOLLOW THE TOUR

3/19 Under the Covers
3/19-22 Smutketeers
4/19 My Secret Romance
3/21 The Book Tart –
3/25 Ms. Romantic Reads
3/29 – Delighted Reader
4/1 Delilah Devlin
4/3 Under the Covers
4/4 The Book Tart
4/8  Ms. Romantic Reads
4/11 The Smutty Kitty 
4/12 Day Dreaming Book Reviews
4/16 Under the Covers
4/17 – Delighted Reader
4/18 My Secret Romance
4/19 Ms. Romantic Reads
4/23 – Delight Reader
4/29 Ms. Romantic Reads
4/30 Delighted Reader
4/30 Under the Covers
5/1 The Book Tart
5/2 My Secret Romance
5/2 Reality Bites
5/5 Scorching Book Reviews
5/6 Day Dreaming Book Reviews
About the Author
A born and raised Maritimer, Sydney Somers fell in love with writing when she finished her first story, Jenny and the Glowing Green Mittens. After attempting her first book in high school, she set writing aside to focus on school. While getting her degrees in psychology and education, Sydney tried her hand at journalism between part time jobs before finally returning to her love of writing.
Twenty-five novels and novellas later, Sydney is thrilled to spend her days slaying demons, running with shape-shifter packs and making the people in her head fall wildly in love. When she's not writing or curled up with a good book, Sydney can be found chasing after her herd of kids, talking her way into a gourmet meal, exterminating rogue dust bunnies or joking about the pending zombie apocalypse. She loves hearing from readers and invites them to contact her anytime. http://www.sydneysomers.com

Latest posts by Under the Covers Book Blog
(see all)