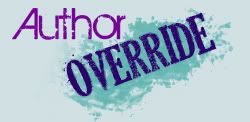 Author Override is the place where authors take the reins and take you on a journey into their world. Some may allow you into their private writing dens. Others may take you along with them on research trips or interviews. Whatever the case may be, sit back, relax and enjoy the ride because here you'll get an in-depth look into an author's musings.
~ ERIN NICHOLAS ~
Barney's Chowder House
Promise Harbor, Massachusetts
Gavin Montgomery has just approached the table where Hayley Stone and Jackson Knight are having dinner and invited Jackson for a beer so he can check his best friend's new boyfriend out.
Hayley turns wide eyes on Gavin, then slides out of the booth, grabs his sleeve and pulls him away from the table.  "What do you mean you need to "check him out"?" she hisses.
Gavin tucks his hands in his back pockets.  "I mean, I need to be sure he's good enough for you."
Hayley rolls her eyes.  "You've never checked any of my other boyfriends out."
Gavin grins.  He doesn't really need to check Jackson out. Hayley Stone can take care of herself. He just wants to rile Hayley up.  Living so far away in Alaska means he's far away from his best friend and razzing her via Skye isn't the same thing as in person.
"You've never dated a hockey player before.  And you've definitely not dated the hometown hero before."
Hayley finally gives him a half grin.  "I know, it's crazy right?"
Gavin shrugs.  "Well, I think having all your front teeth is overrated.  So if you're into that…"
Hayley slugs him in the arm.  And when Detective Stone slugs someone, they feel it.  Gavin rubs his arm.
"He has all his teeth, thank you very much.  In fact," Hayley says with a sly smile.  "All of his parts are intact and fully functional."
Gavin winces.  "And this may be why we've never talked about your boyfriends before."
"Really? The idea of me having hot sex with a hockey player on a daily basis creeps you out?"
Gavin nods.  "Yes.  Absolutely."
Hayley crosses her arms.  "Hmm.  Maybe I need to take Allie out for coffee and be sure she knows what she's getting into with you."
"My best friend, who's known me forever, and the love of my life, who I would like to know me for the rest of my life?  Yeah, I think she's going to be too busy for coffee."
"Uh, huh.  There's probably a girl code or something that says I have to tell her all about you."
"Most of what you know about me won't be… flattering to me, Hayley."
She grins.  "I know.  You're probably worried I'll tell her about the time you dressed up like a girl to get behind the scenes at that cheerleading competition."
Gavin raises his eyebrows.  "Then I'll be forced to tell Jackson about the little business you set up forging parents' signatures at twenty bucks a pop, Detective Stone."
"Then I'll tell Allie about the time you threatened to hurt the three other guys who were going to audition for Romeo in the eighth grade school play because you wanted to kiss Rachel Porter."
"Does Jackson know that you have a secret crush on Sheldon on Big Bang Theory?"
Hayley narrows her eyes.  "Does Allie know that you shush people when Pink comes on the radio?"
Gavin narrows his eyes too and leans in. "Jackson will probably love to know that you saw Magic Mike six times."
Hayley gasps and slugs him again.  "That's going too far."
Gavin laughs and rubs his arm.  "Okay, okay.  Let's agree that we both know way too much about each other.  Things that Allie and Jackson never need to find out."
Hayley shudders.  "Agreed."
Gavin reaches out and grabs her, pulling her in for a hug.  "Love ya', Stone."
She wraps her arms around him.  "Ditto."
He kisses the top of her head, then says against her hair, "And if you ever tell Allie that I saw Magic Mike even once, I'll never speak to you again."
Hayley laughs and squeezes him.  "Deal."
Hitched
The Promise Harbor Wedding, Book 4
Erin Nicholas, April 30, 2013
And she thought the bridesmaids dresses were her biggest problem...
Allison Ralston would rather be anywhere other than this wedding.  Even if the wedding is hers.  Especially since the wedding is hers.
But Allie's determined to restore her family's happiness, and if tying the knot with longtime family friend, Josh Brewster, is the way to do it, then she'll walk down that aisle, toss that bouquet and drink that champagne.
Oh, she'll definitely drink the champagne.
There's only one thing that could get Gavin Montgomery back to Promise Harbor.  And she's about to say I do to another man. Now he's back to claim what's his—even if he has to do it in the middle of her wedding.
Allie is shocked—and okay, a little turned on—when Gavin literally sweeps her off her feet. Safe in his arms, she succumbs to fatigue, stress, and yes, the champagne, only to wake up in his bed. In Alaska.
Now that he's put four thousand miles between Allie and all her responsibilities, Gavin's determined to show her that they can make a life together.  If he has his way, the next wedding Allie will be planning will be theirs.
Warning: Contains a guy so in love he's willing to break up the wedding of the season, a bride who just needs to get to, well, anywhere else, and enough hot sex to take them from New England to Alaska and back again.
TOUR SCHEDULE
3/19 Under the Covers
3/19-22 Smutketeers
4/19 My Secret Romance
3/21 The Book Tart –
3/25 Ms. Romantic Reads
3/29 – Delighted Reader
4/1 Delilah Devlin
4/3 Under the Covers
4/4 The Book Tart
4/8  Ms. Romantic Reads
4/11 The Smutty Kitty 
4/12 Day Dreaming Book Reviews
4/16 Under the Covers
4/17 – Delighted Reader
4/18 My Secret Romance
4/19 Ms. Romantic Reads
4/23 – Delight Reader
4/29 Ms. Romantic Reads
4/30 Delighted Reader
4/30 Under the Covers
5/1 The Book Tart
5/2 My Secret Romance
5/2 Reality Bites
5/5 Scorching Book Reviews
5/6 Day Dreaming Book Reviews
Author Bio:
Erin Nicholas has been reading and writing romantic fiction since her mother gave her a romance novel in high school and she discovered happily-ever-after suddenly went a little beyond glass slippers and fairy godmothers! She lives in the Midwest with her husband who only wants to read the sex scenes in her books, her kids who will never read the sex scenes in her books, and family and friends who say they're shocked by the sex scenes in her books (yeah, right!).
For more information about Erin and her books, visit www.ErinNicholas.com, www.ninenaughtynovelists.blogspot.com, or groups.yahoo.com/group/ErinNicholas.

Latest posts by Under the Covers Book Blog
(see all)