Shiloh's WRECK OF A BLOG TOUR!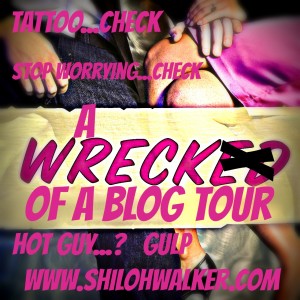 Shiloh's WRECK OF A BLOG TOUR!
Enter to win a date with Shiloh Walker** (drinks at RT 2013 or Lori Foster/Duffy Brown RAGT)
She's out to wreck her life…he's out to remake it…check out Shiloh Walker's WRECKED.
Previously titled WRECK THIS LIFE

In the nineties, Abigale Applegate and Zach Barnes were the most beloved sitcom child stars in the world. Then they grew up and left Hollywood behind…

Whatever happened to Abigale Applegate?

She's been wondering the same thing.

With her Hollywood dreams long gone, Abigale now has a nice, neat, uncomplicated life—until the day her perfect fiancé needs to talk. Dumped, a little more than shattered, and totally confused, Abigale turns to Zach, her best friend since forever, to help her pick up the pieces. He does it with a gift—a copy of Wreck This Journal. She can vent her frustrations, and sketch out a new plan. Zach just hopes he's part of it. Because he's been in love with Abigale his entire life.

When the journal falls into Zach's hands, he discovers Abigale wants a new man. And fast. Nothing more than a hot distraction. Zach has a strategy, too. He's going to be that man. It's his last chance. Abigale might be out to shake up her life, but Zach's out to reinvent it. Now, all he has to do is convince Abigale that life can go as planned.
Excerpt
"What in the hell just happened?"
Zach's lips touched the back of her neck. "Well, I'm no expert, but I think you kissed me," he said, his voice teasing. "And I'm pretty sure we both enjoyed it. But maybe we should try again."
And then she found herself on her back, staring up into a pair of dark blue eyes that she knew very, very well. They'd always seemed to glint with mischief, or trouble . . . but she'd never realized just how much they glinted with that kind of trouble.
Not until now.
As his mouth came down on hers again, Abby barely had time to catch her breath. Then she was wondering why she'd even bothered. He stole the oxygen right out of her with his kiss. His tongue stroked along hers, moving into her mouth with an easy assurance that belied his words.
I'm no expert.
Oh, yes. Yes, he was…
A WRECKED OF A BLOG TOUR mini interview
Q: Do you have a tattoo?
Shiloh: Yep…it's a feather quill on the back of my right shoulder.  Quills…writers.  Made sense to me.
Q: How do you feel about friends to lovers romances?
Shiloh: I'm very partial to them…I married a guy I'd been mostly friends with all my life (I say mostly because I'd had a crush on him since I was 11.)
Q: Have you ever used the WRECK THIS JOURNAL thing?
Shiloh: I bought one…it inspired the idea behind WRECKED.
Q: Do you journal?  
Shiloh: I played with the WRECK journal, and still have it sitting on my shelf.  Did a few ideas inside it while I was writing the book, but I'm not much of a journaler.  I do most of my writing in my books and my blog.
Q: Are you more like Zach (just let life happen) or Abby (try to plan things out)?
Shiloh: Mostly Zach…I let life happen, but I do tend to try and control stuff.  I can't plan worth crap, though and organization evades me.  That would drive Abby nuts.
Answer the Qs and play along!  Win a date with me & my laptop…or a copy of WRECK THIS JOURNAL.

Under The Covers Wrecks This Post:
Do you have a tattoo?
Francesca: No, but I can't wait to get one.  I've wanted one for the longest time and I have two places I want them but just haven't come up with the right idea for what to tattoo.  It had to be special so I'm waiting for special.
How do you feel about friends to lovers romances?
Francesca: Love the trope.  It makes me all happy, and giggly and gooey inside.  That is to read about it.  Would I consider it in real life.  Hell no.
Have you ever used the WRECK THIS JOURNAL thing?
Francesca:  I can't say I've ever even heard of it until this book.  But after reading WRECKED I'm starting to see the appeal.
Do you journal? 

Francesca:  I used to when I was a kid.  After I realized I'm too lazy to sit down and rehash my day on paper I gave up on the idea.
Are you more like Zach (just let life happen) or Abby (try to plan things out)?
Francesca:  I am more like Zach.  Life is meant to be lived not planned.  Although up to when I was 18 I was 100% Abby.  Just quickly realized that Zach's POV is a lot more fun and have never looked back.
**The Fine Print**
**I'll buy you a drink ~I can't buy you alcohol if you're under 21, though~ we'll sit there and chat and while we drink, you can have ten minutes to poke around on my laptop (FYI, you won't have access to all my books…but the winner gets a sneak peak at coming soon projects…ten minutes, max, and there will be no pictures, no copying, etc…)
If the winner isn't able to attend either function, I'll send you a GC for the cost of two drinks (approximate value is probably about $30 ~going by RT drink prices ~to BN or Amazon).