BOOK INFO

Released: April 2008
Series: Kate Daniels #2
Published by Penguin
Pages: 260
Format: Paperback

This series is one of my favourites, not only does it have a heroine whose sarcastic and kill-first-think-later attitude I love, Team Andrews have also created a world where literally anything could happen and still make perfect sense. ~ Under the Covers
Magic is now an everyday occurrence in Atlanta, shapeshifters, vampires and all the other creatures for myth and legend have all came out to play when magic once again hit the world. But every 7 years there is a magic flare, a time of really strong magic where for a few days gods could potentially walk the Earth. Kate Daniels with the help of the ever arrogant Beast Lord Curran must try and work together again and stop the world being over run by gods and demons.
To say I am a massive Kate Daniels fan is a teeny tiny bit of an understatement. This series is one of my favourites, not only does it have a heroine whose sarcastic and kill-first-think-later attitude I love, Team Andrews have also created a world where literally anything could happen and still make perfect sense.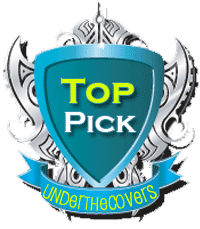 Like Magic Bites this book is fast paced and full of action with Kate stumbling from one disaster to the next with little pause for a breather. This frantic dash through events as she races to try and save not only her newly acquire friends, but also Atlanta really kept me turning the pages.
However, this isn't just a couple of hundred pages of poking things with a sword, we also see Kate start to develop friendships that she has previously shunned and learn more about her past. We also see the continuing developments with Curran you could cut through the tension between them with a knife!
I am still fanatical about this series, action, romance and an interesting fast moving plot, I loved it!
Reading Order & Buy Links
Did you like this review? If so, please tell us your thoughts in the comments below!
Gosh, we all seem to be admitting our ages…and I hate that I am at the point in life when admitting my age is a "thing"…whodda thunk it? I was kind of hoping I would remain 21 forever. However, I have moved out of that New Adult stage of my life and am now strictly in the Contemporary Romance age zone of 28. I would prefer to be in an Urban Fantasy arena, but I don't think I own enough black leather. However, I could probably squeeze into some PNR, I am fully prepared to give a horn job to my favourite demon, or suck on my sexy vamps…fangs and I am definitely up for some heavy petting with some fine looking shifters. Than again their's always Sci Fi…I am fully prepared to do the right thing and help some poor alien race with more 6 packs than a supermarket repopulate their planet. Not that I am loose woman or anything.

Annnnnd I will stop myself there, before I start waxing lyrical about my love of historical romance and fantasy as well; no one needs to know about my elf fantasies. As you can tell, I adore and day dream about most romance genres, and my three big loves are 1) reading about romance 2) writing about romance and 3) talking about romance with my gals. Which, is why I love Under the Covers so much, I get all my bookish needs satisfied and don't get judged when I talk about my favourite characters like they are real people. Which they are right?