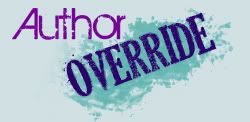 Author Override is the place where authors take the reins and take you on a journey into their world. Some may allow you into their private writing dens. Others may take you along with them on research trips or interviews. Whatever the case may be, sit back, relax and enjoy the ride because here you'll get an in-depth look into an author's musings.

HelenKay Dimon
Thank you for having me here today to talk about my newest release, NO TURNING BACK.
People ask all the time where inspiration comes from. I can honestly say the inspiration for a secondary character in this book, the heroine's best friend, comes from a dear friend from high school.  Renee is smart and talented and completely loyal. She is the one you can always count on to tell you the truth. She would not let you walk around with food in your teeth or buy that outfit you thought was awesome but really made your butt look like the back of a bus. Renee is an artist and very creative, yet very practical. I love those dueling characteristics.  So, when it was time to write Mallory, I though a little bit about Renee.
Take a look at a snippet between Mallory and the heroine, Leah, and I think you'll see what I mean. We all need a friend like Mallory.
"This is not a date," Leah said, knowing it was unlikely Mallory would listen any better this time than she did that morning on the phone, or during the call last night or ten minutes ago when Leah said it again.
"Did you shave your legs this morning?"
She had last night but that was more about not wanting to be a hairy beast than Declan. Rather than get all defensive and do that thing where her voice went up really high and have Mallory shoot her that I-told-you-so look, Leah stayed non-committal. "What?"
"Uh-huh." Mallory opened the thin top drawer of the dresser and dug around. When she turned back she had one hand full of pink silk and another with white lace. "Leg shaving means date. Date means sexy undies. Pick something pretty."
"This is a business meeting." Leah grabbed the bras and underwear and threw them in a ball on the top of the dresser. She pointed at the big whiteboard sitting in her bedroom doorway and blocking their way inside and out. "And could you maybe help with this?"
"I'm trying to figure out why you'd bring Declan here when it's Hanover investigation central. I mean, come on. You have a whiteboard. Where the heck did you even get that thing, the police station?"
From the elementary school, but Leah refused to admit that or come clean about how hard it was to break it down and shove it in the car to bring it home. "I needed to spread out."
"Which brings me back to the previous question."
She dropped on the edge of the bed and let her shoulders fall along with her body. "Because I can't have my dad or one of his friends see me with Declan."
"But if it's a business meeting . . ." Mallory closed one eye. "Or are you still denying?"
"All business." No matter what Leah dreamed about doing with Declan after she saw him last night.
"That's a shame."
The first in a fun, new contemporary romance series from beloved author HelenKay Dimon.

AVAILABLE DIGITALLY FOR THE FIRST TIME
The Hanover brothers inherited some bad behavior from their con artist father. Now three strong women will make honest men out of them.

After ten years in the Army and four overseas deployments, Declan Hanover is ready for life away from a military base. Sweetwater, Oregon, a sleepy coastal town, seems like the perfect place to start over. His plan is to work out a deal with his brothers and the bank to let him keep the estate they've inherited, Shadow Hill. But he wasn't prepared for Leah Baron, whose family lost everything to his father's cons—including the house Declan intends to make his own…

Leah thinks Declan is just like his conman father. He possesses a bad boy charm that makes her heart pound, but that doesn't mean she can trust him. All she wants is to get close to him so she can get her house back. But Declan has other ideas. He doesn't mind being in close proximity to Leah—as long as it's in the bedroom…
About the Author
HelenKay Dimon spent the last twelve years in the most unromantic career ever – divorce lawyer. After dedicating all that time and effort to helping people terminate relationships she is thrilled to write romance novels full time. Her books have earned praise, appeared on besteller lists and won numerous awards. Her first single title, YOUR MOUTH DRIVES ME CRAZY, was featured in Cosmo as a "Red-Hot Read" for August '07 and spotlighted at E! Online. Her novella, "It's Hotter At Christmas" from the KISSING SANTA CLAUS anthology, was featured in Cosmo as a "Red-Hot Read" for November '09.

Ms. Dimon is graciously giving away an ebook copy of NO TURNING BACK to one lucky Maiden.
Latest posts by Under the Covers Book Blog
(see all)