I received this book for free from Author in exchange for an honest review.
This does not affect my opinion of the book or the content of my review.
BOOK INFO
Released:
Mar. 19, 2013
Series:
Beyond #2
Pages:
400
Format:
ARC
BEYOND CONTROL is too hot for words! Sizzling, sensual, singe-your-eyebrows-hot doesn't cover it. Read it for its worldbuilding, read it for its great characters, read it for its stellar writing. Whatever you do, just READ IT! You don't be disappointed. ~ Under the Covers
Oh Dallas! Dallas, Dallas, Dallas, you dirty boy! *looks around* Oh, sorry! Got a little distracted there. That's what the kingpin, Dallas O'Kane does to me. If you haven't read the Beyond series by Kit Rocha, you are SERIOUSLY missing out on some of the hottest men on the planet! A friend of mine called this book a "buffet of bad boys" and that is exactly what Dallas, Jas, Ace, Mad, Bren and Cruz are. Think the ultimate bad boys – all tatt'd up with brawn and brains. And the most important thing? Their willingness to do anything and everything and of course, their stamina 😉
I read this book for many, many reasons. The first thing that caught my eye was the cover. Beautiful in its simplicity, the cover stands out amongst a sea of others. Both sensual and erotic, it aptly describes the series without any words, painting a picture that helps me as a reader bring the world and its characters to life.
The second thing is the writer. Kit Rocha is the other pen name of kickass writing duo of Moira Rogers. I've enjoyed many of their other books but this series has to be my favorite of theirs. I will admit that I was hesitant about the dystopian aspect of the series just because it isn't my favorite genre to read. However, I took a leap and wow, did it pay off! I absolutely fell in love with the world that Rocha had introduced in the first book, BEYOND SHAME. Furthermore, I felt like this book added onto that, creating more and more layers to an intricate world. That's all Rocha and their writing skill.
The authorial voice is strong and poignant, capturing my attention from the very first page until the very end. I read this book in half a day and was pining for more afterwards.
What sets this series apart from other works by these two authors is the focus on the sex. Sometimes, when you think erotica, you think sex, sex, sex. This series has plenty of sex to go around, you can bet on that, but Rocha manages to infuse the sex scenes with vulnerability, trust, total devotion and love. That alone is tough to do between a hero and a heroine, but Rocha manages to do it while involving other characters as well.
As I mentioned before, there's plenty of no-holds-barred sex. The six-way is ample proof of that but through it all, Rocha is able to make it also about Dallas and Lex and their connection. Dallas' need for control is their greatest obstacle and taming Lex is both a challenge and a game. Amongst the warm bodies and the hotter-than-hell sex, it's still really all about Dallas and Lex. I'm impressed that any author can accomplish that amongst sex that could incinerate you on the spot.
I've been looking for a new erotic romance author like Lorelei James and Cherise Sinclair. Kit Rocha has made that short list.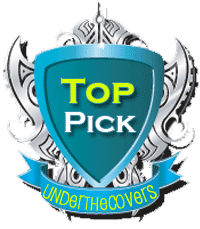 BEYOND CONTROL is too hot for words! Sizzling, sensual, singe-your-eyebrows-hot doesn't cover it. Read it for its worldbuilding, read it for its great characters, read it for its stellar writing. Whatever you do, just READ IT! You don't be disappointed.
P.S. I AM CLAIMING DALLAS O'KANE FOR MY HAREM! Better yet, I'm claiming Jas, Ace, Mad, Bren and Cruz too!!
Favorite Quote:
"Do you trust me?"

Her eyes locked with his – for once, clear and unguarded. "Yes."

Finally.

His blood pumped fire through his veins as he splayed his fingers across her chest, his thumb canted toward one shoulder and his pinky brushing the other. She looked deceptively delicate in moments like this, small under his hand, but there was nothing fragile about the heart beating under his palm.

And it belonged to him. "Ink," he said, the word edged with all his desire. "O'Kane for life."

"For life," she echoed, covering his hands with hers.

What did you think of our review?
Let us know your thoughts in the comment box below!

♡ Don't want to miss any of our posts? ♡
Follow Under the Covers: Facebook | Twitter | Tsu | GoodReads | Email
I'm an obsessive makeup junkie and a compulsive reader. I like to call Under the Covers Book Blog my stomping ground, but when I'm not talking about books with my girls, I write New Adult Dystopian and Contemporary Romance under the pen name Ana Jolene (http://www.anajolene.com). I also work as a virtual assistant for authors. You also can find me as a reviewer and columnist for FreshFiction.com.

When it comes to books I'm pretty adventurous. I read everything from Paranormal Romance to Urban Fantasy, New Adult, BDSM, LGBT fiction, Cozy Mysteries and even YA. If it's got the littlest trace of romance in it, then I'll probably read it. That being said, my all-time favorite authors are J.R. Ward and Karen Marie Moning.

When I'm not submerged in a good book, you can find me musing about makeup and planners or dreaming about Kpop boys and beaches. Until then, check out my reviews and let's talk books!