I received this book for free from Publisher in exchange for an honest review.
This does not affect my opinion of the book or the content of my review.
Our December

Book Info
Released:
October 5, 2013
Genre:
Contemporary Romance
Series:
The Making of a Man #1
Published by
Love Lane



"If you have ever considered trying m/m romance a try, this is the book to start with." ~Under the Covers
Wow!!!  Just wow!!  Words cannot even describe how much I loved this book, but nonetheless, I will try.
OUR DECEMBER begins with a glimpse of an already established couple, Jared and Alex, who, even at such a quick glimpse, the reader can tell are so very much in love.  It is Christmastime, and before long, we are taken back 14 years to see how these two amazing men got their start.
Jared is a 20-year old man, thrown into adulthood faster than most.  His dad has died, leaving Jared to take over his construction company.  He is trying to take the reigns in a seamless manner, is working hard to keep the company alive, and is also trying to provide for his mother in the way that his father previously did.  Working on a job at the local college has attracted the eye of Alex, who boldly approaches him and asks Jared if he is gay.  His courage at doing so begins what will quickly become a very sweet friendship and a beautiful relationship.
There's just one small problem – Alex is 15.  Even so, Jared cannot help but be mesmerized by Alex's gorgeous smile…it lights up his world and takes his breath away every time he sees it.  But above all else, Jared is a man of integrity.  So while he and Alex forge their friendship, there is a strong mutual attraction on both of their parts, but Jared keeps things strictly platonic and establishes rules for them and their burgeoning relationship: while Alex is 15, there is to be no touching.  And even with such a strict rule, it's amazing how Adams weaves such a beautifully romantic tale.
There are so many things that I just absolutely loved about this book.  First and foremost, I loved seeing how Jared and Alex got their start.  I love watching a couple get to know one another and establishing a foundation on which to build, and these two boys do just that.  They spend a great deal of time together, and yes, they are both attracted to the other, but there is so much more to it than that.  Jared not only becomes a friend to Alex, but a mentor as well.  Which leads me to the next thing I loved about this book – the characters.
Alex, only 15, has his whole life ahead of him.  He's in high school, is so young, so innocent, and yet so sure of what he wants in life.  He has big dreams and aspirations, and after developing his friendship with and growing attraction to Jared, he knows that in ten years he will have graduated from MIT, work with the best contractor in town (e.g., Jared), and wake up next to Jared every morning.  Jared, who is so mature in so many ways for being 20, is similarly attracted and drawn to Alex, but he believes that Alex's feelings will change with time, and is willing to let him go when he needs or wants to.  In the meantime, though, he is there for Alex as a support system as he tries to fully understand his sexuality, his feelings, and growing up in general.  And because Jared is so full of integrity and character, he holds true to the limits he's imposed on his relationship with Alex even when he wants more.
In time, Alex is sent away to prep school, and the separation is difficult for both of them.  Fortunately, Alex's best friend, Clark, has become close friends with Jared, so at least Clark and Jared have each other to keep them occupied during Alex's absence.  This leads me to another favorite aspect of this book – the supporting characters.  Clark is Alex's very straight BFF.  He doesn't fully understand "the gay thing," as he so eloquently puts it, but he is there for Alex whenever he's needed, no matter what.  Added to the depth of friendship that he provides for Alex, and eventually Jared as well, Clark's sense of humor and his endless appetite for greasy food are so enjoyable to read.  We also get a glimpse of the type of character that Alex's father is as well, and the love he has for his son is so evident and seemingly unconditional, which is always so refreshing to read.
Lastly, I just love the chemistry and tension that builds so beautifully between Jared and Alex.  Due to their age and the limits imposed upon them, there really aren't any sex scenes for them, but the simple beauty of their love and respect for each other more than makes up for it.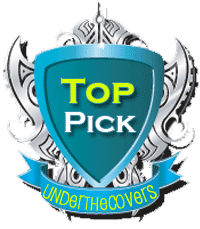 I seriously cannot recommend this book enough. If you have ever considered giving m/m romance a try, this is the book to start with.  Adams has written such a wonderful story of growth, love, and romance, and developed each part of it magnificently.  Jared and Alex's tale is so heartwarming, and their love just pours off the page.  Adams finishes OUR DECEMBER by closing the circle of the story that she began – by bringing it back to them 14 years later, highlighting the importance of their time at Christmas…and what a poignant and beautiful time it is.
*Review copy provided by publisher
Did you like this review? If so, please tell us your thoughts in the comments below!