I received this book for free from Purchased in exchange for an honest review.
This does not affect my opinion of the book or the content of my review.
BOOK INFO

Released: May 1, 2007
Series: Adrien English #1
Published by MLR Press
Pages: 232

I could do nothing else but read this book in a single sitting and after I was done, I was still thinking about it, which prompted me to rush out and get book two. It's like crack! ~ Under the Covers
The Adrien English Mysteries have been on my radar for such a long time that I decided to finally take the plunge. Though FATAL SHADOWS isn't the first of Lanyon's work I've read, it is the first full-length one and it wholly consumed me the whole time I was reading it. I could do nothing else but read this book in a single sitting and after I was done, I was still thinking about it, which prompted me to rush out and get book two. It's like crack!
Adrien English is a gay bookseller by day and a mystery writer at night. The cops have shown up telling him that his best friend has been murdered. Adrien is receiving creepy phone calls and weird gifts from a secret admirer and senses that someone is stalking him. But the cops actually think he is trying to divert attention from himself as he is one of their prime suspects.
Adrien and homophobic homicide detective Jake Riordan have an interesting relationship. The thing I love about Lanyon's writing is that he infuses dry humor in the most unexpected places. It works so well because it's clear that Adrien and Riordan are two opposite. How do you get a homophobic cop and an intrinsic gay man together? Lanyon uses humor to break down whatever barrier stands in the way and by the end of the book, readers feel as if this could be the beginning of something new and special.
I am very intrigued about Riordan's S/M encounters. That will definitely spice things up and I hope that Lanyon explores Jake's character more fully. I am desperate to learn more about him!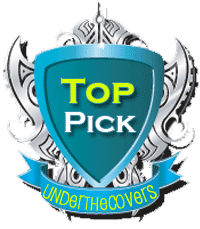 As for the mystery aspect, I loved it! I was able to figure out the killer early on, but interestingly enough, it never diminished the interest I had in this book. In fact, I think it made me read faster because I wanted to verify if I was right or not.
In the end, FATAL SHADOWS drew me in like beacon. It didn't let me go until I flipped that last page and I'm sure that it will be the start of a whole new obsession. I'm jumping right in!
What did you think of our review?
Let us know your thoughts in the comment box below!
 ♡ Don't want to miss any of our posts? ♡ 
Follow Under the Covers: Facebook | Twitter | Tsu | GoodReads | Email
I'm an obsessive makeup junkie and a compulsive reader. I like to call Under the Covers Book Blog my stomping ground, but when I'm not talking about books with my girls, I write New Adult Dystopian and Contemporary Romance under the pen name Ana Jolene (http://www.anajolene.com). I also work as a virtual assistant for authors. You also can find me as a reviewer and columnist for FreshFiction.com.

When it comes to books I'm pretty adventurous. I read everything from Paranormal Romance to Urban Fantasy, New Adult, BDSM, LGBT fiction, Cozy Mysteries and even YA. If it's got the littlest trace of romance in it, then I'll probably read it. That being said, my all-time favorite authors are J.R. Ward and Karen Marie Moning.

When I'm not submerged in a good book, you can find me musing about makeup and planners or dreaming about Kpop boys and beaches. Until then, check out my reviews and let's talk books!

Under the Covers Book Blog Comment Policy
Please read our comment policy here.