BOOK INFO

Released: October 12, 2013
Series: The Making of a Man #2
Published by Love Lane




"A heartfelt and gripping love story." ~Under the Covers
Adams has done it again! The second book in The Making of a Man series, A PLACE TO RUN, was another amazing story of the beautiful love shared between Jared and Alex.
Just like OUR DECEMBER, Adams begins A PLACE TO RUN with a glimpse of Jared and Alex in present day, enjoying each other's company, playfully teasing each other, and still experiencing the passion, desire, and love that was so evident throughout the first book. Before long, though, Adams takes the boys back about 14 years, picking up a few months later than when the majority of OUR DECEMBER took place.
Now that Alex is 16 and Jared has lifted the "no touching" rule (although he has imposed the "no touching below the waist" rule), things are starting to get a little tougher for these fellows. Their desire for each other continues to burn, and the touching they do allow themselves only fans the flames, making things a bit harder most of the time (ha, pun not intended). 😉
To make matters worse, Alex still has not told his mother that he is gay. Jared encourages him to do so, repeatedly, but before Alex has a chance, his mom finds out from another source. To say that she doesn't take it well would be the understatement of the century.
Well, to change things up a bit, I thought I would do this review a bit differently and list what I so love about these characters and this book in particular:
Jared's integrity: it is second to none. Period.
Jared as a "Mom" to Clark: his integrity leads to a "no cussing" rule, which Clark tries to follow, but finds it difficult at times (which is funny in its own right).
Alex's pout: sends a punch to Jared's gut every time (and boy, does Alex know how to work it).
Alex's smile: still lights up Jared's world.
Clarks' continued addiction to the Greasy Dog.
Alex's Dad: his unconditional love for Alex continues, as does the trust he has for Jared. He is an amazing father.
We learn more about Jared's past – how he came out, his reaction to it, and how he learned from it.
The way Alex ingrains himself into Jared's life and soul: he is so optimistic, young, and innocent. He wears his heart on his sleeve and makes no apologies for it.
How passionate Alex and Jared's kisses are, and the way they hold each other's faces and comb their fingers through the other's hair. *sigh*
Jared's growl: RAWR!
Clarks' parents: just all around awesome folks.
The comments made when Alex cooks – cracks me up every time.
Meeting Stevie: she was a big part of Alex and Clark's lives as children, and it's great to have another character introduced into the story.
Jared's Mom: she is simply amazing, and I just love the relationship she has with Jared.
Tattoos, pie and pi: enough said. 😉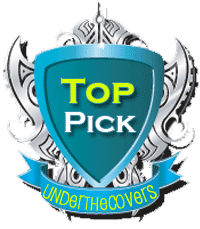 Of course, there were some things that I didn't "like" about the book, too, but they just made the story that much better. A book cannot be full of perfection – that's unrealistic. Every relationship has troubles and difficulties, and Alex and Jared have their share of them. The primary problem is Alex's bitch of a mom. She is homophobic and completely disapproving of Alex's relationship with Jared, which in turn causes additional stress in their relationship. Of course, that strain may have caused me to shed a few tears. But as with all good books, it is perseverance and a hard-fought love that makes a relationship that much better. And to feel such intense emotion just tells me how good a writer Adams truly is.
Again, Adams delivers on all things needed to make A PLACE TO RUN a heartfelt and gripping love story. If you loved OUR DECEMBER, you'll be sure to love this one as well. Now if you'll excuse me, I need to get back to the boys…they beckon me some more (and thank Adams for that!).
*Review copy provided by publisher
Did you like this review? If so, please tell us your thoughts in the comments below!
I am a wife and mom of two sassy and fabulous kids, and I have decided I will be forever 39.After college, I became a paralegal and read only legal documents and eventually some baby naming books.Then about six years ago, I needed to check out all the hype of some teenage vampire romance, and that was all she wrote.It didn't take me long to rediscover my love of reading that I had throughout my youth, and I was devouring every paranormal romance and urban fantasy series I could get my grabby hands on.

Through Amazon forums and Goodreads, I met a lot of amazing women with that same passion, including the lovely ladies who started UTC.While those genres will always be two of my favorites, I have discovered that M/M romance is my primary love.That kiss between Qhuinn and Blay in Phury's book (you BDB lovers know what I'm talking about!) sealed the deal for me.I love a story where love is hard fought and hard won.I am also a firm believer that EVERYONE deserves love and a happy ending, and the beauty in achieving that is what keeps me coming back for more.

I have amassed quite a collection of book boyfriends through the years, with the top two being John Matthew and Jamie Fraser.**le sigh**In the M/M genre, my best buddy is Randy Jensen.Two of my favorite tropes are Friends to Lovers and Out for You, and I enjoy just about any subgenre - PNR, UF, contemporary, historical, RomCom, Young Adult, Erotica, Mystery/Thriller - in my M/M romance.As long as it is written well, eventually gives me an HEA, and makes me have all the feels, I am one happy girl.