Love is in the Air Giveaway Hop!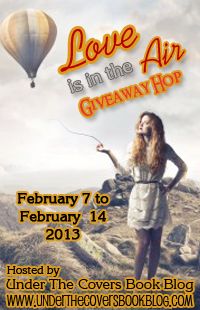 It's here!!!  Valentine's Day is just around the corner and it's time to start hopping and win some awesome books.  We are hosting LOVE IS IN THE AIR for the second year, and we are excited about all the prizes you'll be able to win hopping.  Check out all the participating blogs (list at the bottom of this post).
Now check out what we have to give away!
You are seeing that right.
It's a copy of ILLICIT by Opal Carew.
This is not even out for sale until February 26!
What began as a steamy weekend fling is about to change their lives forever.

When Lindsay receives a mysterious invitation to live out her most illicit fantasies, she thinks it's her best friend playing a joke.  Little does she know, the invitation is from someone else.  Someone who knows her deepest desires…and intends to fulfill them.

Erik is a man of many secrets, and he intends to keep it that way.  When he invites Lindsay to his mansion, he thinks it's just for a steamy weekend fling.  But from their first night together, there's an inexplicably deep connection that shakes him to his core.  And with Lindsay in his arms, he feels both thrilled and unnerved.  As Lindsay brings his fantasies to life, he's unwilling to let her go. But can he tell her how he knows her deepest desires, and will she stay with him if she learns the truth?

You're invited…to explore your most forbidden desires with ILLICIT from author Opal Carew.
And now it's time to start hopping. Have fun!