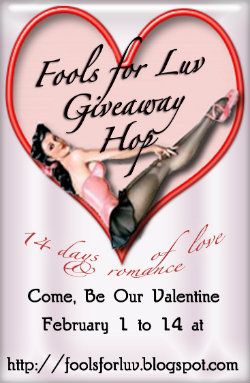 Hosted by Steph at Fangs, Wands and Fairy Dust
And Dana at Readaholics Anonymous
We are happy to be participating in the FOOLS FOR LUV hop today!  *sigh*  February always makes us think romance, what with Valentine's Day and all.. and for the second year in a row we are running a historical romance month at UTC.  So we thought, what better way to celebrate this hop than by starting off our historical romance giveaways?
We have something a little different and a lot special.  One of our favorite historical romance authors is here with us today to kick off our historical month and share with you all about herself and her awesome books.  If you haven't read her, then you're missing out and you should rectify that immediately.  Without further delays…. here's SARAH MACLEAN (giveaway at the end of the post)

~SARAH MACLEAN ~
Welcome to UTC, Sarah! You're kicking off our second annual "A Scandalous Affair" Historical Romance event!
Thanks so much for having me! I'm thrilled to be here . . . UTC is one of my Internet addictions. I'm a shameless lurker.
So let's start by asking, why did you decide to write Historical Romances? What was it about this genre that appealed to you?
I've been reading historical romance since I was way too young to be reading romance. I practically cut my teeth on Judith McNaught, Jude Deveraux, Johanna Lindsey and Julie Garwood, and once I started down the historical romance path, I never looked back.
I love the breathlessness of historicals – the way that every glance, every touch, every movement can mean something. It's harder to capture that deceptively simple excitement in contemporaries, I think . . . which is why I find myself so drawn to historicals.
When readers think of Historical Romance, your name often pops up. How does it feel to be recognized as an go-to author in this genre?
Wow! Well, first, thanks! I don't actually think of myself as a go-to author in the genre . . . One Good Earl Deserves a Lover is my only sixth book—my fifth romance novel—and with so many amazing women on their 15th, 20th, 40th book . . . the idea that I'm anything but a newbie is a bit foreign to me!
What I can say is that I've been really lucky to have such fantastic readers who were willing to take a risk on me in the early days of the Love By Numbers series, and willing to come on this Rules of Scoundrels journey with me. I'm constantly amazed that I get to write love stories for a living—and it doesn't escape me for even a moment that I'm only able to do it because of my awesome readers.
ONE GOOD EARL DESERVES A LOVER is your most recent release. Can you tell us why you decided to pair a nerdy heroine with a sexy hero?
Well, as a nerd myself, I believe all bizarre, brainy women should have a chance to win over a completely unattainable scoundrel!
It all goes back to the breathlessness I talked about earlier. Winning the scandalous bad boy is the not-so-secret fantasy of all of us, isn't it? It's why we have soft spots for rockstars and why we love rakes. I'd written the wallflower-rake story before (in Nine Rules to Break When Romancing a Rake), but this time, I wanted to give the rake a specimen of woman he'd never met before – the brilliant oddball.
Pippa is such an unconventional heroine. From all your heroines, who would you say is most similar to you in personality.   
That's an impossible question – they all have a little bit of me in them. I've got Callie's self-consciousness and Isabel's control-freakishness, Juliana's ability to say the wrong thing at the wrong time always, Penelope's loyalty and Pippa's head for random trivia. They're all a little bit me. Every time he reads one, my husband says they're all a lot of me. So . . .
The hero of the third book in the series, NO GOOD DUKE GOES UNPUNISHED is Temple. What can you tell us about the mysterious Temple?
Temple is the opposite of quiet, perfect, cerebral Cross. He's all physical–a broken-nosed, bare-knuckle boxer who, aside from being massive, brutally intense and wickedly sexual, is widely believed to be a killer. And for him, finding love and happiness will take a bit of work.
Can you tell us a bit about your day-to-day writing routine?   
I wish I could say I had a routine. I wish I was one of these authors who writes 1000 words a day before lunch . . . I'd even take before dinner. But I'm not. Some days I fiddle about and end up with 5 new words. Other days, 5000.
You write a book one word at a time. As long as every time you sit down there are new words added to the manuscript, you're doing ok.
If you could collaborate with any author on a project, who would you like to work with and why?   
I'm currently collaborating on a short story with my dear friend and critique partner, Carrie Ryan, who you might know from her brilliant zombie series that began with The Forest of Hands and Teeth. Carrie is often my first read on a manuscript, and we spend hours on the phone talking through plots and characters and motivations. She's an amazing writer and creative mind. It doesn't seem that romance and horror would go together easily, but we're having an awesome time trying!
What was the last great book you read?   
I loved Q by Evan Mandery. It was one of those books that chose me in a local bookstore. I was won over by this line on the back cover copy: Shortly before his wedding, the unnamed hero of this uncommon romance is visited by a man who claims to be his future self and ominously admonishes him that he must not marry the love of his life, Q.
It's 100% worth reading.
What's next for Sarah MacLean?   
Temple's book, No Good Duke Goes Unpunished, out in the Fall, followed by Chase's (I can't believe the series is almost finished!) in 2014!
Lady Philippa Marbury is…odd.

The brilliant, bespectacled daughter of a double marquess cares more for books than balls, for science than the season, and for laboratories than love. She's looking forward to marrying her simple fiancé and living out her days quietly with her dogs and her scientific experiments. But before that, Pippa has two weeks to experience all the rest–fourteen days to research the exciting parts of life. It's not much time, and to do it right she needs a guide familiar with London's darker corners.

She needs…a Scoundrel.

She needs Cross, the clever, controlled partner in London's most exclusive gaming hell, with a carefully crafted reputation for wickedness. But reputations often hide the darkest secrets, and when the unconventional Pippa boldly propositions him, seeking science without emotion, she threatens all he works to protect. He is tempted to give Pippa precisely what she wants…but the scoundrel is more than he seems, and it will take every ounce of willpower to resist giving the lady more than she ever imagined.
About Sarah MacLean
New York Times and USA Today bestselling author Sarah MacLean grew up in Rhode Island, obsessed with historical romance. Her love of all things historical helped to earn her degrees from Smith College and Harvard University before she finally set pen to paper and wrote her first book. Sarah now lives in New York City with her husband, their dog, and a ridiculously large collection of romance novels.

We have an awesome opportunity today!  You can win a SIGNED copy of the first book in Sarah's THE RULES OF SCOUNDRELS series, A ROGUE BY ANY OTHER NAME.  This giveaway is open for US only.
Start Hopping
Latest posts by Under the Covers Book Blog
(see all)