Kelly Jamieson: With Strings Attached Tour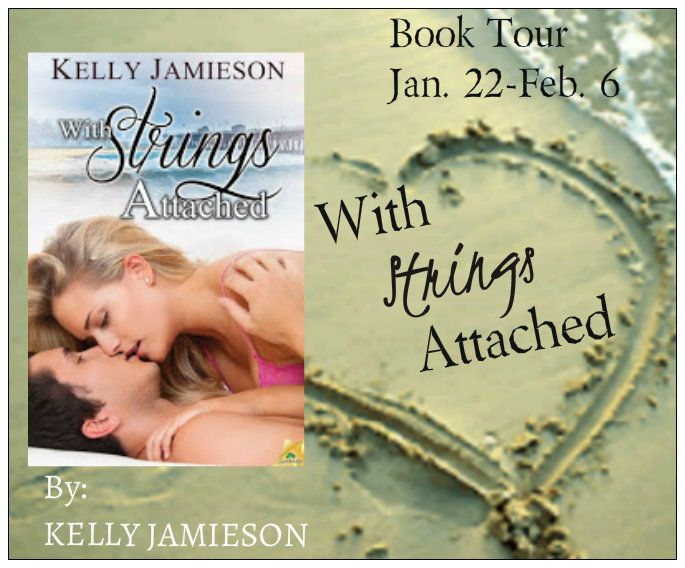 Friends to lovers romances are one of my favourite romance tropes, maybe because my husband and I were friends for many years before we fell in love. I love reading about those feelings changing, and the fears involved in that. There's always the risk that you'll lose your friend if the romance doesn't work out. But the rewards may make it worth it!
With Strings Attached is a friends to lovers romance, with a bit of a twist – Corey and Matt are already lovers. They're "friends with benefits". They've been burned in relationships in the past, and now having regular, hot sex with someone with no strings attached is perfect for both of them.
They're pretty happy and content with this arrangement — until Matt's old friend Dylan Schell arrives for a visit. He's a sexy bad boy, a professional surfer with a hot body and a wicked smile. And he likes Corey.
Corey's attracted to Dylan too. She knows she and Matt aren't in a committed relationship and she's free to see (or sleep with) whoever she wants to. But she senses this doesn't make Matt happy and she doesn't want to come between the two friends. So what's the solution that's a win for everyone? A threesome!
But sometimes when you think there are no strings attached, there really are, and sometimes they get tangled up, and sometimes…you want strings attached.
Anyone else fallen in love with your best friend?
Genre: Contemporary, Menage
Publisher: Samhain
Release date: 1/22/2013
Length: Novel
Series: San Amaro Singles
The melting point is where it all comes together…or makes a big mess.
San Amaro Singles, Book 1
Corey Fenwick keeps her bitter past as hidden as the sweet centers inside the handmade chocolates she sells to a growing list of upscale customers. Experience has taught her the only person she can rely on is herself, so her best-friends-with-benefits relationship with Matt is perfect—no strings attached.
After his last girlfriend deemed him "boring", Matt Ferber watched her ride off on the back of a Harley with a rock musician. Figuring he's doomed to "let's just be friends" with the women he cares about, the arrangement with Corey suits him fine too. Until his old friend Dylan Schell rolls into town to hang out while recovering from a surfing injury.
The sexy bad boy makes Corey's mouth water, and she figures a harmless fling won't hurt, especially when Dylan suggests she come between him and Matt—in bed.
It's a win-win-win situation…until somehow there are strings attached. And too late they realize they're getting all tangled up.
Product Warnings
This book contains an independent woman, two hot guys, some trash talking, a little jealousy, a few beers, chocolate body paint and scary stuff like falling in love.
BUY YOUR COPY TODAY AT:
Samhain Publishing – Amazon – Barnes & Noble – Kobo
Kelly Jamieson – Bio
I'm a married mother of two who lives a very ordinary life outside of my imagination. When I'm not writing I'm usually reading. I also like to cook and that means I like to read cookbooks and cooking magazines. In the summer I enjoy spending time gardening and in the winter I like to read gardening magazines and seed catalogues. I love lying on the beach or on my deck with a glass of wine and a good book. I also love to travel. As you can see, pretty much all my activities involve reading somehow! Although I don't have as much time for it any more, I also love to shop, especially for clothes and shoes. Some think I'm obsessed with shoes but that is not true (although my husband would point out that there is no room left in our closet).
I love to hear from readers, so Tweet me on Twitter, leave me a comment on Goodreads or Amazon or my blog , or email me at info (at) kellyjamieson.com.
Follow the Tour!
1/22 – The Book Tart – http://thebooktart.com/
1/25 The Smutty Kitty – http://thesmuttykitty.com/
1/27 Under the Covers – https://www.underthecoversbookblog.com/
1/30 Belle's Book Bag – http://bellesbookbag.blogspot.com/
2/3 Scorching Book Reviews – http://scorchingbookreviews.blogspot.com/
2/5 Harlie's Books – http://www.harliesbooks.com/

Kelly Jamieson is offering up two prizes with this book tour. One Grand Prize Winner will win a Sterling Silver Rembrandt Book Charm with chain and a follow-up winner will receive a mouth watering chocolate body paint kit. So if you want to win be sure to fill in the Rafflecopter, tweet, comment, and follow the tour for more chances. Best of Luck!!
Latest posts by Under the Covers Book Blog
(see all)