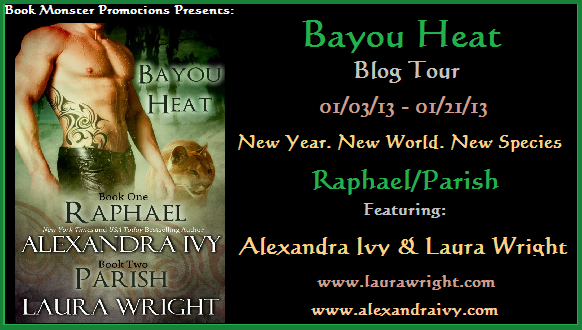 Hi from Laura Wright and Alexandra Ivy and welcome to the Wildlands!  Below we've tried to answer any questions related to our new series.  We're so excited with this new venture and hope you'll enjoy our sexy, lethally gorgeous puma shifters. 
**BAYOU HEAT is a series of novellas set in the world of the Bayou Wildlands. It is a new series for us, unrelated to our vampire worlds. Each book is novella length and there will be 2 books per download. Each story follows the other, but it written separately.
1. Did you write these books together? Or are they two separate stories? Bayou Heat
is a new world and a new series. Alex and I are writing our own stories within this world. Each story follows the previous one, so they are completely and totally connected.
2. Is Bayou Heat out yet? The first book (Raphael and Parish) will be out January 7th, 2013. We'll keep you updated on the next two books.
3. Are they available for pre-order? Because BAYOU HEAT is an E-Series and Alex and I are self publishing it, there can be no pre-ordering. Unfortunately. 🙂
4. Where can I get these books? January 7th BAYOU HEAT will be available on ALL ereaders: Kindle, Nook, Sony, Kobo etc.
5. Will they also be available in print? Not at this time. But we will let you know if this happens in the future.
6. How about Audio? Not at this time. But we'll let you know if it does. 🙂
7. I would love to review these for my blog! Can I get an ARC? Because these are being e-released the ARCs are extremely limited. Please contact Carla by clicking HERE if you're interested in ARCs, interviews, or to set up guest blog appearances.
8. Is Bayou Heat related to either one of your series? BAYOU HEAT is a stand alone series, completely new and not related to either one of our series.
9. Will there be future books? Depending on demand we hope to continue with the books.
If you enjoy the series we hope you'll help spread the word!!
Bayou Heat Series
New Year. New World. New Species.
LEGEND OF THE PANTERA
Hidden in the depths of the Louisiana bayous, the Pantera, have become little more than a legend to most humans. It's rumored that in the ancient past twin sisters, born of magic, had created a sacred land and claimed it as their own. From that land was born creatures who were neither human or animal, but a mixture of the two. Faster and stronger than humans, they have hyper acute senses, and when surrounded by the magic of the Wildlands they're capable of shifting into pumas. It was also whispered that they possess other gifts. Telepathy, witchcraft, immortality, and the ability to produce a musk that could enthrall mere mortals. Mothers warned young girls never to roam alone near the swamps, convinced that they would be snatched by the Pantera, while young men were trained to avoid hunting anywhere near the protected Wildlands. Not that the warnings were always successful. What girl didn't dream of being seduced by a gorgeous, mysterious stranger? And what young man didn't want to try his skill against the most lethal predators?
As the years passed, however, the sightings of the Pantera became so rare that the rumors faded to myths. Most believed the entire species had become extinct. Sadly they weren't entirely mistaken…
Raphael & Parish
Book #1 and #2 in the Bayou Heat Series
Available Now:
The brilliant and dangerous diplomat of the Pantera shapeshifters, Raphael has devoted his life to discovering the key to the infertility that is threatening the extinction of his
puma race. Creating a vast network of spies worldwide, he never expected to discover that the answer might be beneath his very nose. But when Ashe, a beautiful human female, crosses his path, his most primitive instincts are stirred.
Unable to resist, he takes her to his bed, and is shocked when she becomes pregnant with his child. It's a miracle that might prove to be the salvation of his people, but only if he can keep her safe from the mercenaries determined to kill her.

Untamed and undeniably sexy, Parish, leader of the Pantera hunters, rarely leaves the magic of the Wildlands to deal with the humans he despises. But with the prized and risky Pantera birth on the way, puma shifter, Parish must travel to New Orleans to find and bring back a human doctor. The moment he sees the lovely, talented and all too human Dr. Julia Cabot he cannot resist the wild, potent drive to make her his. Betrayed and destroyed by love, Julia will not let her heart choose her path again. But as she and Parish fight to save the life of an unborn child, a fierce and overwhelming bond develops between them, threatening her frozen heart with the secret hope and ultimate temptation of love and family.
BAYOU HEAT BLOG TOUR
01/3  – 01/19
01/03 – Close Encounters with the Night Kind
01/04 – Paranormal Haven
01/05 – I Smell Sheep
01/06 – Book Monster Reviews & LITERAL ADDICTION
LIVE CHAT w/ Laura & Alexandra on January 6, 2013 from
2:00 – 3:00pm EST (1-2pm CT, 12-1pm MDT & 11am-12pm PDT).
01/07 – Twitter Party with Lit Connect
01/08 – Book Lovin' Mamas
01/09 – Books-n-Kisses
01/10 – United by Books
01/11 – Under the Covers
01/12 – Reading Between The Wines
01/13 – Julie Kenner's Blog
01/14 – Riverina Romantics
01/15 – Cocktails and Books
01/16 – All Things Books
01/17 – The Reading Café
01/18 – Ramblings From This Chick
01/19 – Over the Edge
01/20 – Mad Hatter Reads
01/21 – Vampires, Werewolves & Fairies. Oh My!
About Laura:
Author of the Bestselling Mark of the Vampire series, Laura Wright spent the early years of her life immersed in the worlds of singing, acting and competitive ballroom dancing. But when she started writing, she knew she'd found her true calling. Laura lives in Los Angeles, California with her husband, two children, three dogs, two frogs and two fish. She's been thrice nominated for a Romantic Times Reviewer's Choice Award, and loves hearing from her readers.
Connect with Laura:
Website / Facebook / Twitter / Goodreads
About Alexandra:
Alexandra Ivy is the New York Times bestselling author of the Guardians of Eternity series, the Immortal Rogues series and the Sentinels.
Alexandra graduated from Truman University with a degree in theatre before deciding she preferred to bring her characters to life on paper rather than stage. She currently lives in Missouri with her extraordinarily patient husband and teenage sons.
Connect with Alexandra:
Website / Facebook / Twitter / Goodreads

To celebrate the release of Bayou Heat we're giving away a fun bag filled with Bayou Heat, Mark of the Vampire and Guardian of Eternity swag. Just tell us your favorite supernatural creature. Vampires, Weres, fairies…oh my 😉
Latest posts by Under the Covers Book Blog
(see all)