I received this book for free from Publisher in exchange for an honest review.
This does not affect my opinion of the book or the content of my review.
BOOK INFO

Released: January 21, 2013
Series: Falling Sky #2
Published by Riptide Publishing
Pages: 212
Format: ARC






MORE! I WANT MORE!!! ~ Under the Covers
I'm going to try to contain my excitement for this book so bear with me.
SOMETHING NEW UNDER THE SUN is book two in the Falling Sky series and OMG, THIS BOOK IS SO FREAKING AMAZING!
Well, that lasted about two seconds.
But seriously though…I discovered L.A. Witt's writing very recently. After having read her Christmas short called "Candy Caning" (great title!) in the Come All Ye Kinky Anthology, I knew I had found a new M/M author who captures the wit, the characters and their passion in a well-written story. Since then, I've been stalking her backlist trying to find more titles that would sweep me off my feet. So far, Witt has not let me down!
SOMETHING NEW UNDER THE SUN is an interesting mix of genres. You've got some sci-fi elements. There's vampires. Obviously, you get your M/M romance in there and I would say it has the pacing of a well-written Urban Fantasy novel as well. The action is non-stop and ass-kicking, making for a thrill ride that you never want to stop!
In addition to the intense action, Witt delivers a unique world where the Gutter and Sky are two separate entities, yet are so close together. The standard of living is the major difference and when you read, you'll see just how well Witt has developed this world.
Since this is book two in the series, I still believe you can read this as a standalone because Witt gives new readers a recap of past events. That's always a plus for me. However, I do suggest reading the first book. You'll want more even after book two! I know I do *hint for L.A.* ;P
Liam and Daniel are to die for! I fell in love with them so quickly and I think readers will enjoy their witty banter and their easy way of handling each other. However, that isn't to say everything is always rosy between them. It's the way their handle their differences that I think makes them more well-rounded, fleshed-out characters. I have certainly enjoyed their time together and am hoping for more adventures with them!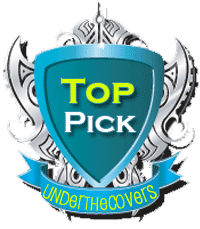 If you're looking for a M/M romance with stellar characters, intense pulse-pounding action and witty dialogue, then L.A.Witt is your answer. She will deliver, satisfy your craving and have you begging for more!
MORE! I WANT MORE!!!
*ARC provided by Netgalley
Did you like this review? If so, please tell us your thoughts in the comments below!
I'm an obsessive makeup junkie and a compulsive reader. I like to call Under the Covers Book Blog my stomping ground, but when I'm not talking about books with my girls, I write New Adult Dystopian and Contemporary Romance under the pen name Ana Jolene (http://www.anajolene.com). I also work as a virtual assistant for authors. You also can find me as a reviewer and columnist for FreshFiction.com.

When it comes to books I'm pretty adventurous. I read everything from Paranormal Romance to Urban Fantasy, New Adult, BDSM, LGBT fiction, Cozy Mysteries and even YA. If it's got the littlest trace of romance in it, then I'll probably read it. That being said, my all-time favorite authors are J.R. Ward and Karen Marie Moning.

When I'm not submerged in a good book, you can find me musing about makeup and planners or dreaming about Kpop boys and beaches. Until then, check out my reviews and let's talk books!