~ AUTHOR OF THE MONTH ~
Cara Harley interviews her hero Michael Marsden
I found this interview really fascinating and a lot intimidating, mostly because Mike is one of my all time favorite heroes.  I want readers to love him as much as I do.  Mike's a guy who says what he means and means what he says so … here goes!
~ Carly
What did you think the first time you saw me?
I was at Joe's.  I turned around and there you were in a short skirt, those long legs, your hot body and cowboy boots.  And I thought I should stay far far away from you because one touch and it'd be all over for me.
When did you know for sure I was the one for you?
We were sitting in my parents' house for Sunday night dinner.  Everyone was joking around about finding old friends on Facebook.  You and Sam mentioned a couple of your old boyfriends and I couldn't see past a red haze of jealousy.  I didn't want any other man touching you.  Yeah, I knew then you were mine.
What do you love about being a cop?
I like being in control.  Stop laughing.  I'm not talking about our sex life.  I'm serious.  I like the authority I have to make sure good people don't have to put up with shit from low lives.
What is your favorite thing about me?
You really want me to say that here, baby? I love how you yell out my name when you … (Yes, I slapped my hand over his mouth!)
While I'm positive I have no annoying habits or traits, is there anything I do that drives you crazy?
You have this little independent streak that makes me freaking crazy.  I'd like you to lean on me a little more.
If you could take me on any fabulous, all-expenses-paid vacation where would it be?
Well, since we wouldn't leave our hotel room, I'm not sure it matters.  Seriously? Anyplace I can see you in a bikini, baby.
Sometimes I dream about our future and what our lives will look like 10 years from now.  What's your dream of what our future will look like?
You, me, our house, kids, a boy and a girl, a scruffy mutt following me around.  Yeah.  That.
PERFECT FIT


Serendipity # 4
and
Serendipity's Finest # 1
Carly's NY Times Bestselling SERENDIPITY series was such a hit with readers, she brings you back to the picturesque upstate NY town, where three siblings have grown up in the shadow of their proud and respected police chief father. But what do love, fate, and fortune have in store for the next generation of Serendipity's finest?

MIKE
Always feeling like the odd man out in his family, Michael Marsden wanted to make it on his own. So he escaped Serendipity to become an undercover cop in Manhattan, where the Marsden name wasn't known. But Michael's independence is compromised when he returns home to replace his sick father as chief of police. Back in the shadow of his family, he's as lost and restless as ever, until he's challenged by someone he never anticipated.

CARA
Cara Hartley is the Serendipity cop with whom Mike had a one night stand three months earlier. Neither expected anything more but fate has other things in store. When Mike returns as Cara's boss, the sexual tension between them is impossible to ignore – and the unexpected emotional connection continues to grow. But Cara's a small town girl while Mike has a wanderer's blood in his veins.

Together their chemistry explodes but …
Both are convinced a future together is impossible. Until Mike's real father's secrets come back to haunt him and he realizes there are some things worth staying and fighting for. Including Cara.
Purchase Links: Amazon | B&N
Check out the rest of the Serendipity series here!  And stay tuned to the blog next week when we explore more about the characters in this series.  Don't miss it.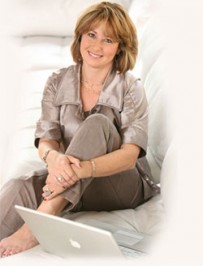 About our Author of the Month!
N.Y. Times and USA Today Bestselling Author Carly Phillips has written over 30 romance novels with contemporary characters and small town settings that today's readers identify with and enjoy.  She's a writer, a knitter of sorts, a wife, and a mom to two daughters (16 and20!) and two crazy dogs (a 1 year old Havanese named Brady and a 4 year old wheaten terrier named Bailey).  In addition, she's a Twitter and Internet junkie and is always around to interact with her readers.   Carly lives in Purchase, New York and would love for you to like and follow her on the 'Net!
Find Carly on the web:
Carly's Website – www.carlyphillips.com
Carly on Twitter – www.twitter.com/carlyphillips
Carly on Facebook – www.facebook.com/carlyphillipsfanpage
Carly on Pinterest – www.pinterest.com/carlyphillips

Berkley is graciously giving away one of Carly's three previous Serendipity books (Serendipity, Destiny or Karma) to a winner in the U.S.   The book is the winner's choice.
Latest posts by Under the Covers Book Blog
(see all)