BOOK INFO

Released: April 9, 2010
Pages: 420
Format: eBook

… in this book, you see them grow together from being friends to the realization that actually, they love each other to distraction and the passion grows with it ~ Under the Covers
Annie Wells has just run away from home. It may be a little late in life as she is 27, but after spending months locked in her room by her father with only scraps for food she finally manages to escape. Hiding for the night in a barn, she doesn't realize that it is Cord Bennett's, a man with a reputation of the devil as well as being half Indian, but Annie has never believed this and is proven right when he offers her food and shelter and money to escape. That's when the mob, led by Annie's father arrives, almost killing Cord, forcing them to marry and almost raping Annie.
No doubt about it, this book has a harrowing start, Annie and Cord's marriage is born in violence and blood, but something beautiful grew from it anyway. With many romances what you have is a great amount of lust and passion which a few days later they interpret as love, in this book, you see them grow together from being friends to the realization that actually, they love each other to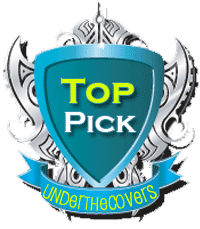 distraction and the passion grows with it. I liked this change of pace, it is both more realistic and was lovely to read.
As well as the relationship with eachother, there is also the relationship with Cord's large clannish family, who, like everyone else believe he is some kind of cold blooded killer, they still love him, but they are afraid of him. Annie's anger at his family and loyalty to Cord is one of the reasons I really liked her. But seeing the rift slowly and painfully healing as a whole lifetimes worth of misunderstandings on both sides is revealed was almost as good as watching Annie and Cord fall in love.
Perhaps this isn't the most well written book, although there are some lovely quotes, I found myself having to read sentences again and think about it before they made sense, but it didn't lessen my enjoyment of this book, as I really couldn't out it down and will be looking at more of Ms O'Connell's books.
Quote I loved…

As he finally stopped fighting sleep, he wondered if maybe, just occasionally the gods designed a woman fit for a king or a prince and then gave her to an ordinary man. Maybe they did such a thing once in a while, knowing an ordinary man would treasure her more, love her better. Maybe they even let him keep her-for a while
Did you like this review? If so, please tell us your thoughts in the comments below!
Gosh, we all seem to be admitting our ages…and I hate that I am at the point in life when admitting my age is a "thing"…whodda thunk it? I was kind of hoping I would remain 21 forever. However, I have moved out of that New Adult stage of my life and am now strictly in the Contemporary Romance age zone of 28. I would prefer to be in an Urban Fantasy arena, but I don't think I own enough black leather. However, I could probably squeeze into some PNR, I am fully prepared to give a horn job to my favourite demon, or suck on my sexy vamps…fangs and I am definitely up for some heavy petting with some fine looking shifters. Than again their's always Sci Fi…I am fully prepared to do the right thing and help some poor alien race with more 6 packs than a supermarket repopulate their planet. Not that I am loose woman or anything.

Annnnnd I will stop myself there, before I start waxing lyrical about my love of historical romance and fantasy as well; no one needs to know about my elf fantasies. As you can tell, I adore and day dream about most romance genres, and my three big loves are 1) reading about romance 2) writing about romance and 3) talking about romance with my gals. Which, is why I love Under the Covers so much, I get all my bookish needs satisfied and don't get judged when I talk about my favourite characters like they are real people. Which they are right?