Christmas with Holly

Movie Review
Dec 9, 2012
Hallmark

"Sweet but not memorable." ~Under the Covers
So as you all may know, we are big Lisa Kleypas fans here at Under the Covers. Last night ABC was showing CHRISTMAS WITH HOLLY, which is based on the first book in the Friday Harbor series, CHRISTMAS EVE AT FRIDAY HARBOR. First let me say that I loved the book! (READ THE UTC REVIEW HERE and you can enter to win a copy of the book until Dec 13 here).
The story in the movie followed the book pretty close, witha few minor exceptions. Being a TV movie, the acting was not perfect and felt a little "acted" instead of "real", if that makes sense. However, Sean Faris did very well as the lead in the movie, he was definitely my favorite. The whole time the movie was playing I kept thinking I've seen his face before and couldn't remember where. But after looking at his filmography, I can't think of where. Maybe just online pictures 🙂 However, I think he did the best of the whole cast.
I think I enjoyed this movie BECAUSE I loved the book. Now, if I hadn't read the book I probably would've turned it off because it came off as a bit too sweet for my taste. Being a Christmas movie though, if you are in the mood for something with a bit of feeling of the holidays, then give this a try for sure! Best enjoyed with a nice cup of hot cocoa.
Encore presentations will start next week.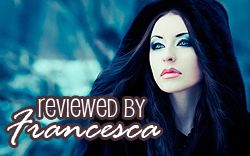 I'm a 30 something sun lover living in the Big Apple (read New York).I'm a book and coffee addict and lover of all things elephants.

I get easily distracted by pictures of sexy guys and have tons of book boyfriends.I keep all my alpha males chained to my basement and guard them fiercely.*Back off bitches*I like to see Jason Momoa as a lot of those boyfriends, because ….. mmmmmmm JASON.MOMOA!

I'm a part time graphic designer (yes, everything you see on UTC has been done by me), run my husband's business from home and on a good day I'm a self appointed superwoman (she who can do it all).I love blogging with my girls and I couldn't do it any other way!My first love is everything paranormal, but in the past few years I've re-learned to love contemporary romance.Every once in a while I like to mix things up with a historical romance, a steampunk or an LGBT book.Because I need variety to avoid book slumps.I don't always need an HEA although I prefer one, and I love authors that can rip my heart out and make me ugly cry.
Latest posts by Francesca (see all)