IT'S COWBOY WEEK AT UTC!
With rising energy costs and such cold weather this winter, we at Under the Covers have come up with a sure fire way of keeping you warmed up over the holidays…guaranteed to get you hot under the collar (and Under the Covers) these men with have beautifully tight bodies, rugged manliness and talented hands…welcome to Cowboy Week!
We are showcasing 7 brilliant series, all featuring cowboys we would love to get our mouth and hands all over and showing you the best of what this popular sub genre has to offer! And I am sure we can squeeze in some hot cowboy eye candy in as well…
So Cowgirls grab your Stetson, buckle up your boots, it is time to lasso you some cowboys!
Today we are going back in time because there is nothing better than a historical romance book set amongst cowboys.  And there's one author that does it exceedingly well.   That is the talented Emma Lang.
The Circle Eight series is full of drama and a sense of family that draws you in.  You feel completely attached to all of this characters and you go through their ups and downs with them.  sometimes funny and sometimes very emotional.  This series feels as if you are watching a great western movie while still giving you that romantic kick that you need.
~ Francesca
A little over a year ago when I first met Beth Williamson AKA Emma Lang in person at my first Lora Leigh's RAW weekend, I was given the first book in the Circle Eight Series, Matthew, to read. I was new to the whole Western Romance genre at the time and had just read a few short stories to get acquainted with Beth's work.
When I returned home from the conference and delved into Matthew, I was so taken with this story. To this date, and almost 3 books into the Circle Eight series, I feel like a part of the family and eagerly await each book like a child waiting for Santa Claus at Christmas.
~UTC Guest Reviewer Kimberly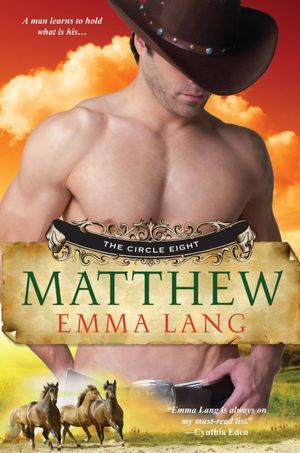 MATTHEW
A man learns to hold what is his

It is a vast spread in the eastern wilds of the newly independent Republic of Texas, the ranch their parents fought for … and died for. To the eight Graham siblings, no matter how much hard work or hard love it takes, life is unthinkable without family…

In the wake of his parents' murder, Matthew Graham must take the reins at the Circle Eight. He also needs to find a wife in just thirty days, or risk losing it all. Plain but practical, Hannah Foley seems the perfect bride for him . . . until after the wedding night.

Their marriage may make all the sense in the world, but neither one anticipates the jealousies that will result, the treacherous danger they're walking into, or the wildfire of attraction that will sweep over them, changing their lives forever.
Matthew Graham, the oldest of the passel of eight Grahams is left to care for his siblings after the murder of his parents, and the disappearance of the youngest sibling Benjy. The Circle Eight is in jeopardy though and Matthew is left with a dilemma. In order to hold on to the Circle Eight and make the ranch prosper, he must marry in 30 days. This is where town's girl Hannah Foley comes in to play. Quirky Hannah never thought of marriage or even a large family, but that doesn't stop her from helping Matthew out and in the process getting way more than they both bargain for.
~UTC Guest Reviewer Kimberly
BUY NOW: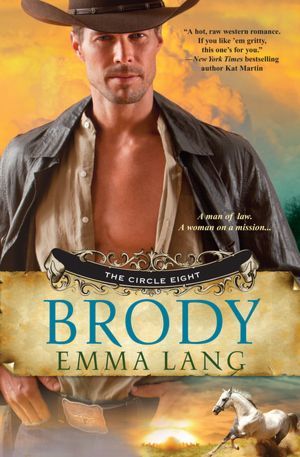 A year after their family was brutally torn apart, the Graham siblings begin to put their lives back together at their ranch in East Texas. With their parents gone, their bonds will truly be tested…

Olivia Graham has worked hard to take care of her family at the Circle Eight Ranch. But their family circle was broken when their young brother Benjy disappeared. Liv can't shake the feeling that he must be out there, somewhere.

Brody Armstrong, a handsome but rough-around-the-edges Texas Ranger, has been working on their case for months, and now he has a promising lead.

As Liv follows him across the rugged Texas landscape and into Mexico, she'll begin to find the answers she needs—as Brody finds a passion he didn't know he wanted…
We first met Brody, a Texas Ranger, and Olivia Graham in MATTHEW. Olivia, outspoken and sometimes overbearing, she has never been the same since Benjy diappeared. When the brooding Brody, who has been searching for clues to the youngest Graham's whereabouts, sets out to try to find the boy, stubborn Olivia follows. This book is a revelation for Brody as well as Olivia and they journey these two take is an eye-opener and one of my favorite books.
~UTC Guest Reviewer Kimberly
BUY NOW:
COMING SOON
CALEB
Available February 2013
Caleb Graham, now a Texas Ranger for four years, has been sent on a mission. He is to evict the squatters from property the government has seized and has been given free reign on how to get it done. Widow and superior blacksmith, Aurora is ignorant of the eviction from the only home she has ever known and when Ranger Caleb comes a calling she puts up a good fight and in the process gets hurt. Caleb feels guilty for hurting Aurora and when he takes her to a nearby hacienda for medical attention, the two fall into criminal activity and intrigue that pulls the two very different people together.
~UTC Guest Reviewer Kimberly

5 lucky winners will get pretty CALEB swag hot off the press! International.
Latest posts by Under the Covers Book Blog
(see all)